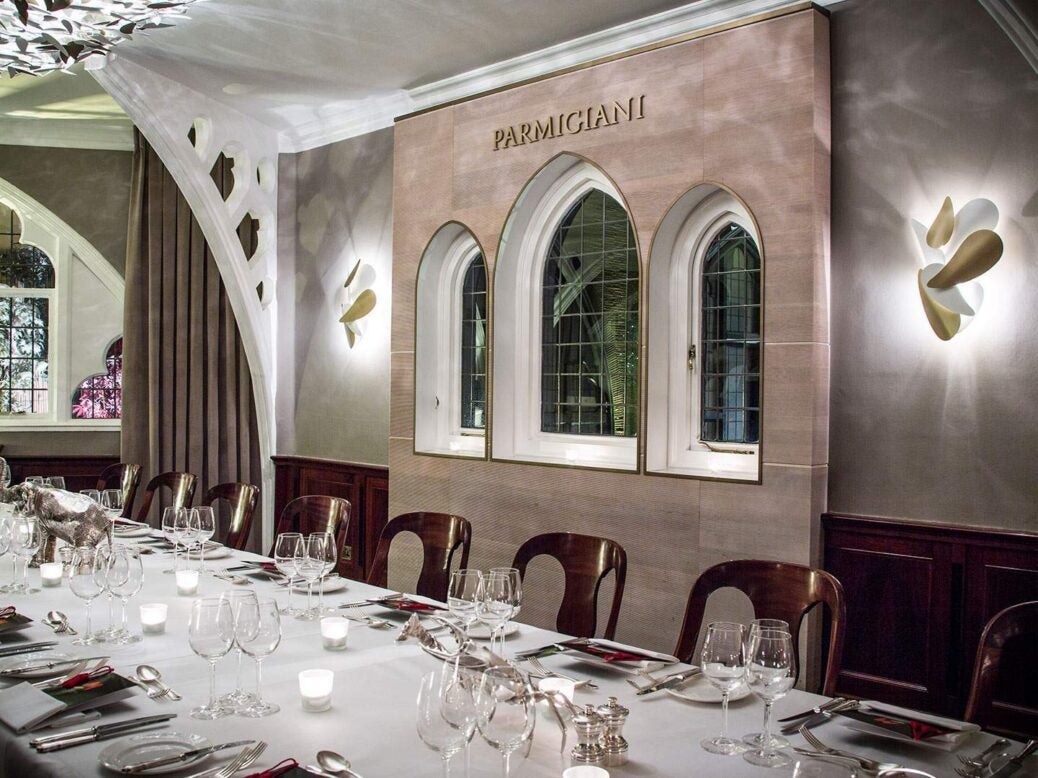 Ronel Lehmann heads to Belgravia establishment Mosimann's and finds plenty to smile about 
You know that feeling when you are going up an escalator and a complete stranger coming the other way smiles at you, taking you by surprise and forcing you to smile back. It was the same experience finding oneself seated in Mosimann's with the serving staff acknowledging you with incredible warmth. I noted that Mosimann's has two m's and two n's and wondered how easy it will be to get the order of spelling incorrect.
Unusually, I was a guest this time and so tried to behave like one, enjoying the adulation metered out to me as a crisp glass of Provence Rosé wine was served, properly chilled, unlike in some establishments where it arrives tepid and then requires the further intervention of an ice bucket.
My host was happy to sample a glass of Pinot Noir which was refilled copious times before we were guided to the table. The canapes were delicate arrangements filled with essential morsels which fired the imagination, designed to make the palate salivate in expectation of what was to come.
The good thing about the menu choice was that the lunch of the day didn't require much studying, as the best selection jumped out of the page at you. I find too much choice difficult, although my host deliberated about degustation of a kind before he settled on my preferred main course.
Seeded bread arrived as soon as we were seated, together with Mosimann's branded sparkling mineral water. I wondered whether there was a granite rock source beneath us in Knightsbridge housing a bottling plant.
My starter was English asparagus dressed in small leaves of herbs and two golden croquettes of salted cod. My host opted for lamb sweetbreads and both dishes were really delicious.
Unusually there was no interlude as we had savoured every last taste from the starters, so as soon as the plates were cleared, the beef cheeks, slow roasted with mashed potato, carrots, broccoli greens and marrow arrived pretty much instantaneously.
Either the kitchen was running ahead of time, or we had been talking for so long, time had passed us by requiring urgent cheeks service. I have never enjoyed cheeks quite like it, so soft with a gravy reduction thick with beauty, smoothness and so satisfying.
To my host now, the Guinness Book of Records most travelled man, who achieved over 700 flights on Concorde and is a world-class expert on travel, hospitality and cuisine. He beckoned the cheese trolley for a plate of five cheeses, including a very pungent French cheese that was so ripe, a flight would have to return to the Gate if a passenger unwrapped it before take-off.
He managed to deftly select all the accompaniments' including grapes, walnuts, other nuts and a variety of crispbreads. This was a man at home. He is a founding member of the establishment, and the sommelier obliged him with a dessert wine specially selected for the occasion. Meanwhile back at the cheese trolley, I decided to enjoy a plate of three cheeses, more on the hard goat's cheese scale, respecting other guests in the restaurant.
By the time that dessert arrived, I was thinking it was going to be rude if I indicated that there was no room. The arrival of banana tarte fine tatin was an incredible moment. The bananas were deconstructed to small slices, levitating gently on a wheel of pastry and coconut ice cream.
This was a moment to remember and I polished the plate, pausing just once to remember how full I was before dessert arrived. Opposite me, my host devoured his bread and butter pudding with homemade custard and cream. Just when you thought it was over a long box resembling Schnapps shots on a wooden paddle arrived containing champagne chocolate truffles.
I felt that I had been tutored in the correct way to approach the chocolates as I noticed each of the ladies on an adjoining table, helping themselves to two chocolates simultaneously using both hands. I hesitated whether to follow this lesson in etiquette and helped myself to one only, much to the surprise of the waitress who beckoned my other hand to follow suit.
I wondered whether there was a champagne chocolate truffle shortage in Knightsbridge or whether this was an extension of camaraderie and friendship which allowed ladies to fill their handbags with chocolates in order to share with family and friends later.
A single expresso arrived and petit fours under a brandy basket which needed to be broken before it revealed yet more sweet delicacies.
Before I left the restaurant, I went in search of a sculpture of Anton Mosimann, crafted by Professor Nadey Hakim, the world renowned British-Lebanese transplant surgeon. The likeness is so real, it was as if the great man himself had cooked our dinner whilst wearing his famous coloured bow tie.
I declined a lift to the station in favour of some fresh air and a walk to the tube station. As I descended the escalator, I must have smiled at so many strangers travelling the other way.
Ronel Lehmann is Founder and Chief Executive of Finito, the employability specialists