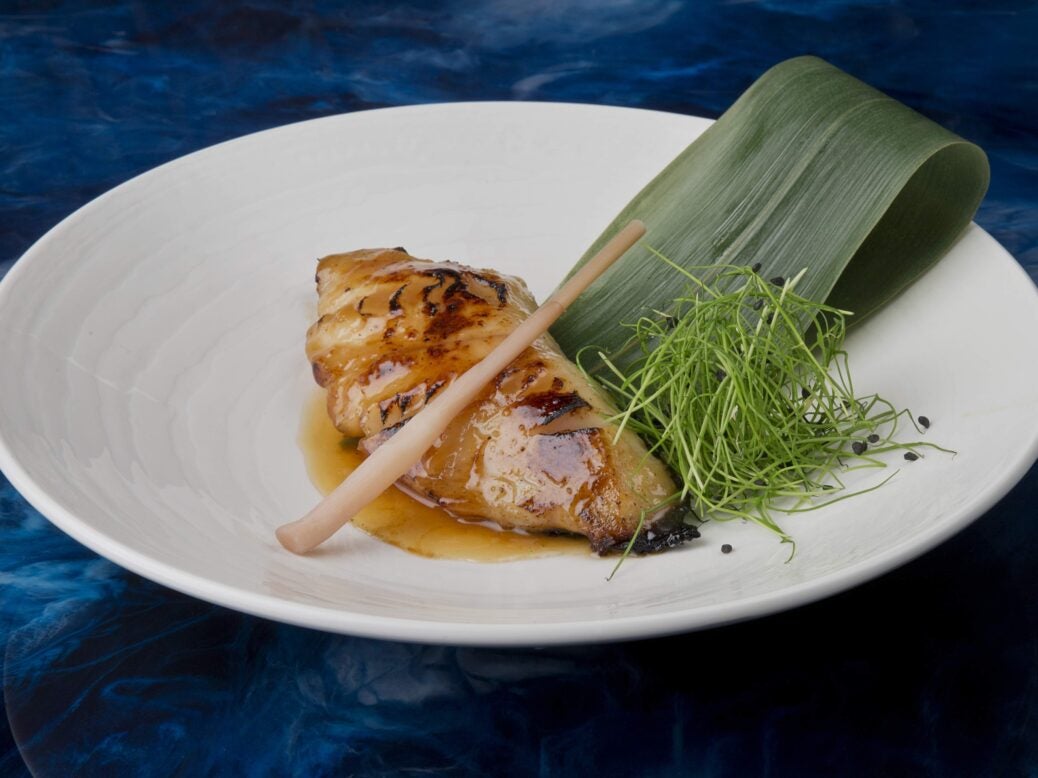 A Lebanese/Japanese fusion might sound testing to even the most adventurous gourmand, but there is plenty to enjoy at Mezemiso, writes Arun Kakar
It's raining, dark and cold – not the best conditions to be heading to the 15th floor of the Crowne Plaza. But this is where the next adventure in fusion dining has taken us.
Mezemiso brings together Japanese (it's always Japanese) and Lebanese, two seemingly disparate cuisines that it claims are 'somehow connected by the special attention they give to their land, therefore, crops rich in flavour and herbs full of aromas'. Right then.
But I've learnt not to be sceptical about fusion. Zela, which tied together Mediterranean and Japanese fare in what sounded like a random cuisine generator-cum-marketing concept actually turned out to be pretty good.
So it's up in the great glass elevator, into a restaurant that is, as you'd expect refined and uses typically moody lighting. The twinkling lights of the city skyline still glisten, even if they are slightly blurred by the rain. It's quiet, too: when we enter there are more staff than diners, which you could argue is the epitome of 'attention to detail' service, but wow, it's intense.
A cursory glance at the menu yields nothing in the way of understanding except that this doesn't seem like fusion in the sense that it strictly blends together the cuisines into single dishes. The menu is split between Japanese and Lebanese sections so you're not going to find sashimi in your tabbouleh or hummus in your nigiri.
Rather, then, the challenge for Mezemiso is to make these two elements cohere and to enable the vacillation between the two to be as seamless as possible. Recognising this, we're more than happy to let the waiter take us on a journey through their concept.
After two delicious cocktails, we're crack into some Lebanese starters. Hommos topped with lamb shawarma, Warak Inab B'zeit stuffed vine leaves and spicy potatoes served with a warm pitta. Both the hommos and vine leaves take the honours – they are excellent.
The ubiquity of the stuff, in its varieties taking up whole supermarket shelves to its pride of place in every middle-class fridge, makes it an intriguing inclusion here. Fine dining, we're led to believe, plays with things, talks in a conceptual language of journeys and evocation. It doesn't do simple. This hommos manages to straddle that line, with its tangy directness undercutting the richer mousse. The lamb is an unnecessary indulgence, but boy is it tasty. The Warak Inab B'zeit is stronger still, its vine leaves encasing pockets of flavour – it's a lighter note to balance out the scale of the denser, heavier hommos.
The Japanese side of the kitchen tags in for the main course. Miso black cod, black pepper ribeye steak is served alongside a green salad and jasmine rice. It's wonderful, even if it is like eating at a different restaurant. The black cod is undoubtedly the highlight of the day and by the end, we're scrambling over the last of its flakes. Flavours are weighted, delightfully balanced and linger in that delightfully moreish way. The ribeye steak is also fantastic, packing a kind of intrinsic quality that only the best meat can yield, the 'all you have to do is cook this well' sort that chefs dream of playing with like putty.
This kitchen has made swift work of the steak here, smattering it liberally in a traditionally-minded black pepper sauce that draws out the juice of the meat, giving it the space to enhance and develop what is probably the evenings most complex dish. The salad, we jointly conclude, is there to help us keep our conscience clean.
Our desserts take us back to Lebanon with Miske Bel Ashta and Ousmalieh. The former – dollops of clotted cream in between slabs of mastic ice cream sprinkled with crumbled pistachio – is a wild sugar rush of fragrance and fun. The Ousmalieh completes the one-two punch with yet more clotted cream inside a wiry semolina case. We eat these slowly – food this thick is not to be rushed. Both together make for a spectacular, sugary send off.
Does Mezemiso answer any questions for those wondering how on earth these two cuisines go together? Yes and no. This a restaurant that builds bridges between Lebanon and Japan more than it is with synthesising the two as you'd find in more orthodox fusion outlets (if fusion cuisine can indeed have its orthodox members).
In doing so, it offers several avenues for its diners to entertain. One could simply stick to one side of the menu, or altogether go a step further than we did and mix Lebanon and Japan during the same course. For a new concept, there is promise here. Fortunately, one can be assured that however they choose to mix and match, the individual offerings will be of a gold standard.
Arun Kakar writes for Spear's