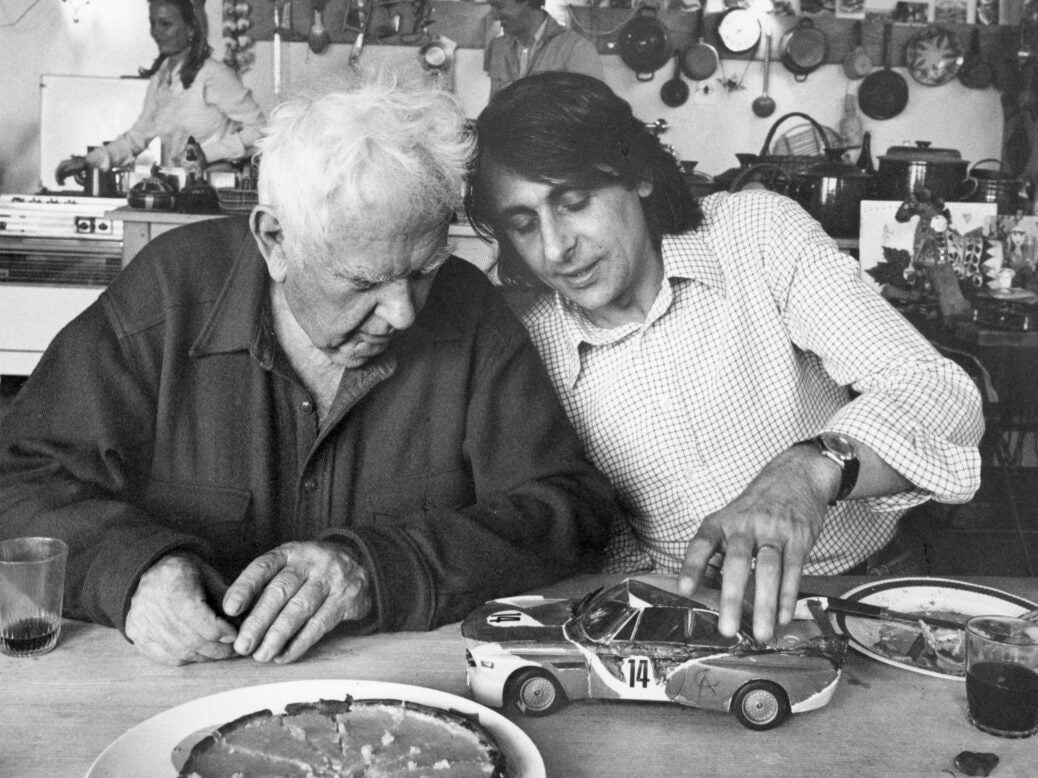 Auctioneer Hervé Poulain has spent his life combining his love of fast cars and art, writes Christopher Silvester.
Hervé Poulain is the fastest auctioneer in the world — not with his hammer, but at the steering wheel. Eleven times he did the 24-hour race at Le Mans. Once, in 1979, he noticed a little, older guy in a Ferrari, who was also racing. It was the 51-year-old movie star Paul Newman. Poulain was a mere 39 at the time and had commissioned an artist to paint his car — it was the first 'art car'. Newman came third in the race and Poulain sixth, but at least he came sixth because his painted car was not optimised for racing. Poulain did the race again, aged 54, 55 and 58.
Poulain was one of the first auctioneers in the world to preside over classic car sales for collectors. He was also the creative force behind the 'art car'. He was an auctioneer but also a pilote, as the French call a racing driver, and he wanted to do something that served both his passions: motor racing and art. The art car was intended to celebrate the romantic aspects of the automobile: the heroism of the driver, the dream of the past for those who collected classic cars, and the inspiration that cars had given to artists and designers. The first four art cars were a partnership with BMW; the manufacturer offered the car and then Poulain arranged for an artist to personalise the car.
Born near Mont Saint-Michel in Normandy, he started driving as a teenager in his mother's car, a Renault Floride. Living outside Paris, he didn't know what an auctioneer was, didn't even know that such a job existed. 'I was already driving very fast, but just on ordinary roads. I was driving my brother's car, a Gordini, and my brother said, "Maybe you should try to do a race, because I think you're driving fast and very well." And so I did my first race at 28. That's very late for a pilote.'
He had begun taking an interest in some historical pieces of furniture — 'You know, Empire style, whatever.' His teachers saw in him the ability to develop talent in this field. 'They were also fascinated by the fact that whenever I did a presentation at school I spoke very well and with no nerves at all.' So they suggested he train as a commissaire-priseur, as the French call an auctioneer.
Forty-seven years later, Artcurial, France's third-largest auction house after Christie's and Sotheby's, is still benefiting from that talent. 'We have the world record for collectors' cars at auction,' Poulain points out. 'We sold a Ferrari for €32 million. I don't remember what it was in pounds, but it was a record.' A couple of weeks before the sale, the 75-year-old had been in Scandinavia, racing on the snow and ice against other senior drivers.
He entered the classic car auctioneering business in 1973 and he would race on weekends, preferring the endurance races such as Le Mans. 'At the time when I was racing the vingt-quatre at Le Mans, I was right to be careful about the car,' he says. 'To push it, but not too far, to be cautious about it. I crashed cars twice, but have never been injured. It's kind of a miracle, because when I was young, many died. Some died in the fire of the car, but they were crazy, they were kind of like "knights" of the times.'
For Poulain, endurance racing is more interesting than Grand Prix racing, and he still goes to Le Mans because Artcurial now organises the official auction for the Le Mans Classic every two years. How does he think the market for classic car collectors has changed during the course of his career?
'With 19th-century furniture, the market is dead for it. Your children will not be interested if you want to give them your 19th-century furniture collection. But there are new spectrums that are created, new specialities, and Artcurial has been present at the creation of some of them, like photography, comics, and collectors' cars.'
For Poulain, the collectors' car market follows the same trends as the art market in general, but it also has some specific aspects. This is where the art car came in. The first idea was to link two passions, 'to establish a first connection between two worlds that previously were completely unknowing of each other — one was art and the other was the car manufacturers, the industry, the business. Now, there is not one luxury good that is not made in collaboration with an artist, or one marketing brand that is not working with an artist. But back then it was the first time they were connected.'
The second idea was to publicise the art and to demonstrate to a wider public that
art was not simply for a small, wealthy elite. The first art car was designed by sculptor Alexander Calder, who was famous for his mobiles. 'The public kind of fell in love with it,' says Poulain. 'It was very easy to understand, because it was kind of like a kid's drawing, with bright colours. Calder invented movement in sculpture, so the car was kind of a moving sculpture.' That was in 1975.
'Today, the collectors' car market is strongly related to the generation of the buyers. Collectors are buying the cars they dreamed of when they were a child. The earliest cars were like carriages without horses. Then you had what is called the "golden age" of the automobile, when everything was custom-made — you buy just the motor, and then you go to a professional who does the outside and inside. But the real collectors' market is for sports cars. Collectors don't just want to keep a car in the garage and stroke it in secret, they want to drive it. With post-World War II sports cars, you just insert the key and off you go.'
In the French market, the buyers are looking for the famous Sixties sports cars, just as in England — Aston Martin, Jaguar, Ferrari. 'We did a Citroën sale last year, for example, and we obtained very strong prices, but the market is less wide than for Ferrari, because… yes, it's very French.
'It's a global market, and I think there is more difference between Paris and London on the one hand, and the US on the other. Contrary to what we think usually, there are very few people from emerging markets like China or Brazil, or these kinds of places, who are buying collectors' cars. The Middle East… they're not really active. It is still a European-dominated market, or US-dominated market, because they have a strong cultural history with the car.
'The emerging markets are not so active for now, certainly not for the older cars, but even for the new ones. The second reason is they don't have the restoration and servicing. And the third reason, especially for China, is tax. If you buy a car outside China and you want to bring it in, the tax is incredible — almost double the price of the car.
'We have seen some buyers in Hong Kong; there are several strong Ferrari collections in Hong Kong. Because you are not in mainland China, the taxes are not the same. Artcurial brought cars to sell in Hong Kong for the first time last October, but there are no collectors' car auctions in Asia usually.'
Poulain joined Artcurial in 2002, soon after the French auction business was deregulated, which allowed auctioneers to build companies together. Before that he had run his own auction house. He was poised to sell 49 per cent of his business to Sotheby's, but then the Dassault aviation family made a counter-offer and he chose to build a new business with a French backer. He is now honorary president of Artcurial.
'Last February, for example, we had strong interest from all over the world about the famous Ferrari. But the market was starting to feel cold.' Sotheby's had done an auction of distinguished Ferraris in New York a few months beforehand, and there was
suspicion that the actual bids had come in below the auction guarantees. Just before Artcurial's sale, Poulain held a meeting with his close team and the head of the model car department. They only had two telephone bidders registered to bid during the sale. Poulain decided he would stop the auction at €20 million and thereafter go up in increments of €1 million. It then went up to €26 million and suddenly nothing further happened.
'As a professional with many years' experience, I have my tricks. I have one hammer for an easy sale and a special hammer for more difficult sales. I really think that if I had been using the easy hammer, I would have stopped. But with the special hammer I worked a lot. And during ten minutes I tried to build the price up, not by one million at a time, but one hundred thousand. And it went to 28.' That was the estimate, and eventually Poulain teased it up to €32 million.
'Of course, it's kind of stupid to think that something has a real price. You can have a notional price, but the price is only made by the auction house because you have the buyers who are ready to pay this amount. The gap between the auction price and a private-sale price could be huge. But you only need two telephones fighting against each other to build the price. If you have only one, even if it's the same piece, you cannot sell it, but if you have two people or three people, it's enough.'
For his own interest, Poulain has collected Cubist drawings, some Pop Art, and personal collections of paintings of musicians and of Native Americans (the French still call them redskins). He had beautiful cars when he was racing and still has the models. Now he has a driver, provided by BMW, for whom he serves as an ambassador because of the art cars programme, which was relaunched two years ago.
The global financial crisis had little negative effect on the classic car market. Indeed, it was after the crisis that the prices of collectors' cars began to surge, as HNWs turned to alternative assets as a safe haven. The market is too high for Poulain to be a buyer, 'because the official price will be two million and the market forces you to pay twenty'.
In Poulain's thinking, the collector has a degree of power over death, because he wants his collection to survive and 'it would be very impolite for Death to come and take the life of a collector who is still working on his quest to complete it. So the collection, the pieces that you have, are like a sacred relic. Or like a teddy bear that is taking care of you, kind of protecting you.'