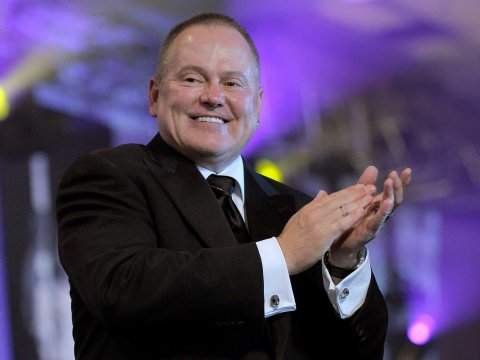 The Arizona-based billionaire, a former US Marine, describes his experience in the Vietnam War and reveals why his professional golf clubs are winning, writes Edwin Smith
You see Bob Parsons coming before you hear him, as the thwack of helicopter rotor blades that have carried him to the Surrey countryside become audible over the pinging of golf balls. But soon the craft itself comes into view above the practice range at the Wisley Golf Club, where a handful of journalists have gathered to check out one of his latest passion projects.
The Arizona-based billionaire served in the Vietnam war as a US Marine and owns the largest Harley Davidson dealership in the world, but he's best known for his bizarrely named company, GoDaddy. Founded in 1997 as a web hosting and website design business, it has since become the world's largest accredited registrar of internet domain names. Parsons sold around 65 per cent of the business to a private equity consortium for a reported $2.25bn in 2011 and stepped down as CEO, but retains a seat on the board. The company went public in 2015.
Today, though, golf is at the top of the agenda. More specifically, Parsons' own brand of golf clubs, Parsons Xtreme Golf, or PXG, which was launched in 2014. On a stand near the practice range, one of the club heads from the latest iteration of PXG irons has been cut in half to reveal the company's USP — a thermoplastic elastomer (TPE) core that has been the key to executing the brief that Parsons gave his designers. He says he wanted 'a sexy set of irons that look like blades, launch higher, go farther, feel softer and have a sweet spot the size of Texas'. And he reckons the team has delivered.
The light TPE core means that proportionally more of the club head's weight is around the perimeter, rather than in the centre. This effect is exaggerated by the use of tungsten screws around the outside of the blade, which can be configured to a golfer's individual preference. The face of the club, which covers the TPE core, is also unusually thin — at 58 thousandths of an inch — which accounts for the soft feel that Parsons was so keen to create.
The overall result, according to PXG, is a forgiving club that sacrifices nothing in ball height or distance. There are various versions — some of which are more suited to the major-winning professionals whose bags are filled with PXGs, including Charl Schwartzel and Zach Johnson. But the basic concept also sounds like good news for your correspondent, a very amateur golfer whose handicap has never looked like dropping below 20.
Out on the practice range, even my miss-hits with the irons meet with passable outcomes and, by the time I move on to the the newly released PXG driver, I am managing to strike one or two straight down the middle of the fairway. 'Crushing it' as the pros might say. Although, I can confirm, even with the patented technology in Parsons' clubs — and their hefty price tag of $2,400 for a set of irons —  it remains possible to launch a wicked slice into the undergrowth.
After finishing up on the range, I meet Parsons in a room that overlooks the course. He is stout but stylish, dressed in a black cashmere jumper, dark grey suit with a subtle Prince of Wales check and black patent leather dress shoes. He wears black glasses with thickish frames and his silver hair and goatee are neatly cropped. His voice is a little raspy but booms, and maybe still carries a trace of Baltimore, where he grew up 'poor as church rat'.
It was in his youth in Maryland that Parsons first discovered golf by accompanying his father to the local public course, Clifton Park, where 'one of the hazards' in addition to the bunkers and lakes 'was that you would probably get robbed!'
Littering his speech with aphorisms and pithy words of wisdom about high school, dating, doing what you love and one friend who's a big gambler, ('the reason casinos send jets to pick him up isn't because he always wins…') Parsons speaks quickly and with an easy, relaxed flair for anecdotes. It would take a whole book to do them justice. But there are three occasions when he changes rhythm and slows down. Perhaps that's significant. Perhaps it isn't. But I'll focus on them.
The first is when he describes the moment he was struck by shrapnel in Vietnam. 'We were walking through a village at night,' he says, his voice thinner and more distant for a moment. 'I was on the point team. I hit a tripwire. the trip wire had a hand grenade or an explosive on the end of it, but that's what happened.  Both legs, left elbow – shrapnel. As a matter of fact When it happened, I didn't even know it was me. I figured that out very shortly after. But sometimes when an event like that takes place, it takes a while…' he tails off.
Some of the shrapnel remains in Parsons' body to this day, but it didn't prevent him from working in a Baltimore steel mill on his return to US, training to become an accountant, learning computer programming, or launching a financial technology business, Parsons technology, in 1979. Proceeds from the $64 million sale — less half, which went to his first wife — were used as capital for GoDaddy.
Having sold most of his shares in GoDaddy, Parsons now has more than a dozen other business interests including PXG, which, he says, is already 'just a little bit' profitable despite the shrinking golf equipment market. There's also a private members golf club in Arizona, the Scottsdale National; a furniture design and manufacturing business; several motorcycle dealerships; a portfolio of shopping malls worth 'probably $700 million'; a company that does 'big-ticket bridging loans'; a film production and audio recording studio; and a charitable foundation.
Other than golf, motorcycles are Parsons' major passion. But aren't they a bit dangerous? 'You gotta die somehow, brother!' he says, with a smile. He's had six accidents, but one of them led to him marrying his second wife, Renee, who's in the room with us, along with one or two other members of his team.
This is the second time that he starts to speak a little more softly. He explains that after this particular accident, he was initially discharged but had to return to hospital when some swelling flared up. He called Renee, whom he'd been dating on and off. 'She showed up – like she is today, the most beautiful woman I ever laid eyes on – and we haven't been apart since. So that's good.'
The third and final time Parsons breaks his verbal stride is when he's asked to recall the most fun he's ever had on a golf course. There's a moment while he thinks and a flicker of mischief flashes across his face before he seems to settle on another occasion. 'It was years ago, at the Cedar Rapids City Amateur,' he says. He had a handicap of 15, but entered 'on a lark' with his 14-year-old son as his caddie and managed to card a first round score of 71 to put him up with the leaders. 'Friends of mine thought that it had to be fraudulent! It was almost a religious experience,' he says, before slowing down. 'Everything worked. And the fact that he was my caddie was the most fun for me.'
But after this, he's back up to full speed, volume and signature style. A few moments later he's holding court  in front of a room of golf industry people, where he bluntly sum up how good he thinks his golf clubs are: 'Simply put,' he says, they are 'the duck's nuts'.
Edwin Smith is a freelance writer