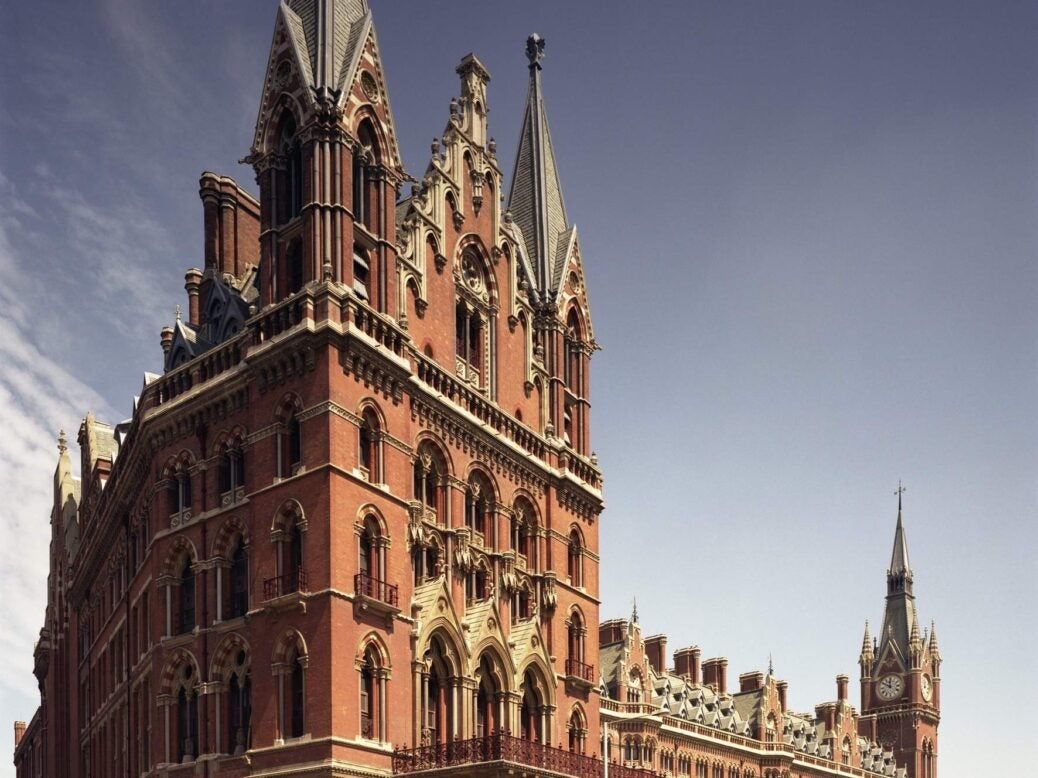 From his love of the garden square to the 'crap' Battersea redevelopment, Harry Handelsman, saviour of the St Pancras hotel and the Chiltern Firehouse, talks to Spear's about his vision for the capital.
London is never finished, and neither is Harry Handelsman. A property developer with a cause, he is perhaps the closest thing to a personification of the 'capital of the world' in the early 21st century. He came to the metropolis via Germany, Belgium, France, Canada and the US, where he founded Manhattan Loft Corporation in 1992, but he is coy on his journeyed background — place names and labels are no substitute for the places themselves. 'I feel very much a Londoner, and London is very international,' he says.
As a Londoner he has brought more to the urban dialogue than most. After only a few minutes in his sunlit office overlooking Marylebone, it's clear that the only thing he shares with developers who build only for profit at the expense of community living is proximity: 'If we feel as a company that there's a vision and we can add value and it's something out of the ordinary, something different, then I'm interested. Over the years I've looked at many commercial sites that might have been fine, but to be honest a housebuilder would have done a better job than we would. Money is important, but unless we can add value I'm not interested.'
That value, he says, lies in the comprehension of community through the space you create, 'so buildings become neighbourhoods in their own right. I think if I'm successful in that then it's a very interesting template for us to follow, just like I did with the lofts, giving people the opportunity to decide how to live within your space; here it can become a catalyst for people to integrate, to interact and create a kind of friendship and balance.'
London's citizenry of passing ships is surprising, he says, given the popularity of clubs and associations in the city. He points to the phenomenon of the garden square and shared gardens 'that are so unique to Britain, a place where people do interact. By creating that in our developments I hope it's going to be a catalyst for that interaction.'
He's referring to his latest project, Manhattan Loft Gardens. 'Europe's most ambitious residential tower' incorporates three sky gardens into its 42 storeys, looking to bring a communal glue to a resurgent post-Olympic Stratford when it opens in 2018. It's impressive in its scope and seductive promotions, but when it comes to a broader sense of community, how does it fit into a city intent on pricing its own residents out of living spaces?
'I get these comments from people: "But Harry, you're so much more expensive for Stratford than the neighbourhood. I can buy a house for £400,000, £500,000, £600,000 and you're selling one-bedroom apartments for more than that." I get that — but first of all my development is probably the most expensive high-rise tower in London in terms of construction. Secondly, let me ask you something , who do you think is going to be living there? Local people who can afford £400,000-500,000, you're going to have a bunch of Londoners living there. Now what do you prefer, living next to those people or next to Asian investors who are buying it for the sake of a pied-à-terre or maybe selling it? No, you don't create neighbourhoods by pied-à-terre.
'You'll have a situation that you have in places like Cannes, where the shutters come down for most of the months and then during the summer they come back up. I believe living among affordability is a positive because, at the end of the day, a location becomes populated because there's activity. Part of the reason Stratford is of interest to me is that there's an affordable element there, we're creating community, where there's a mix between the richer and the less wealthy. That is really what gives a city, or an area, a life.'
Residential wealth defining social cohesion rather than preventing it is welcome in a city where the contrasts to his vision are obvious: 'You go past One Hyde Park, rarely do you see more than two or three lights in the building at night. This is not what brings life to cities.'
Although London's property market has remunerated his ventures well, he admits: 'I personally liked the Nineties better because you could buy things and do things. I'm not at all averse [to London's attraction of wealth], but as a developer today being able to buy something and make sense out of it, it's becoming very, very difficult.'
It's easier to sympathise with Handelsman's sensitivities over more commercial projects: Gehry and Foster's Battersea development has been roundly criticised for lack of affordable living and the emphasis on selling to overseas investors, which has an impact on the quality of living space: 'It's just too dense. I met Frank Gehry probably about fifteen or sixteen years ago. He is the most charming man, but the problem building this is they're just using the name, it's just crap. To me Battersea Power Station was one of the most iconic buildings in London, it was incredibly beautiful and it's probably a good thing the site is being redeveloped, but it's just too dense.'
He points to the recent renaissance of King's Cross and the public spaces there as an example of what can be achieved. The success of that redevelopment and the authority of Handelsman's opinion both stem from his work on the St Pancras Hotel, the refurbishment of which proved seminal not only in saving the area but also in returning another of the capital's most iconic buildings to a fickle public psyche.
Initially brought in to provide two floors of loft apartments, Handelsman ended up taking on the whole project when the initial hotel partner pulled out. 'When we undertook the [hotel] construction we realised this building was fraught with problems; it was a very, very difficult financial time for me because the cost just escalated, almost doubled. But you become enamoured, this became a very important thing for me — to be honest I felt almost a synergy. If [original architect] Gilbert Scott put so much effort into this building, I think it would be a travesty for me to try to minimise my criteria.'
London can be grateful for such a commitment to criteria. Without it the Chiltern Firehouse would be a Malmaison and Ealing Studios a Sainsbury's. 'It's the longest-working studio in the world and to lose that legacy would be a great pity. One of the attractions is you go to the studios and you see the stars and that's kind of fun,' he says before showcasing a photo of himself grinning next to Gollum.
London's landmarks are not guaranteed and require imagination, courage and commitment if we are to enjoy them. But does he believe the hype of 'the world's greatest city' that he did so much to ghostwrite? There's an 'embracing friendliness', 'vast cultural DNA', as well as 'good leadership'. But perhaps Handelsman's own achievements express more than his response to the question — the creation of interesting and interested places, rather than obscene margins, a testimony to his belief that a city is much more than the sum of its buildings.