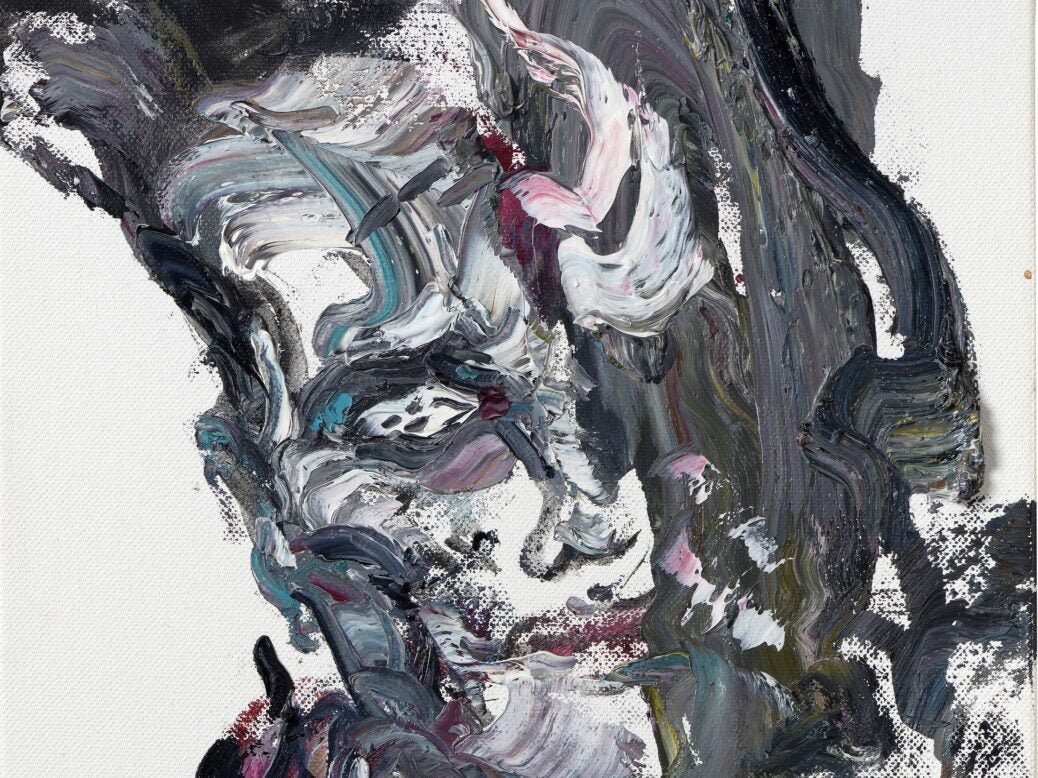 Maggi Hambling has brought her wry humour to an exhibition alongside four similarly charismatic artists, writes Christopher Jackson
It's best not to say stupid things to Maggi Hambling. I am standing before a diptych from her latest show, The Quick and the Dead, at the Jerwood Gallery in Hastings. It's called Julian Simmons, tsunami whirlpool, and was painted in 2013. On the right is the artist Julian Simmons, half-naked; on the left, the chaotic waters make me think of the Leonardo drawing A Deluge (1517-18). The similarity fatally makes me ask Hambling whether she considers herself in dialogue with the Old Masters.
'The Old Masters haven't cornered the market in painting the sea,' she says, adding: 'The moment you pick up a brush or a knife you're in dialogue with the whole history of art. At Canterbury cathedral once, there were Craigie Aitchison's crucifixions and some of mine. The BBC stuck a microphone in my face and said: 'Are these in dialogue about the crucifixion?' Certainly not. But we may well have had a dialogue about neckties.'
Besides, the presence of the sea – a leitmotif in Hambling's art – shouldn't give the wrong impression. This is an exhibition of portraiture – and all the artists share a sense of humour. 'People are so earnest about their work, and about politics,' she says.
Hambling, who became the National Gallery's first artist-in-residence in 1980, is rightly discussed seriously, but she herself is full of wit. Simmons is painted topless because she thinks he has 'nice tits': 'If you can't say that you can't say anything nowadays!' There are also depictions of her near neighbour Sarah Lucas ('I always thought she was the best of the YBAs'), the artist and photographer Jürgen Teller, and Hambling herself emerging out of a fluster of paint, owlishly wry and wise.
Perhaps the most vivid subject is Sebastian Horsley. Soho dandy, wit, writer, artist, Hambling paints him – as she does all her dead subjects – as if he's still alive. 'He was just an extraordinary creature – there'll never be another Sebastian,' she says.
Here he is, magicked back to being by Hambling in swirls of crimson and black paint. The right side of his face has lost its structure, but it's predominantly a generous act of resurrection. 'At the funeral, there was a long procession to the church,' she recalls. 'He was a great friend of the prostitutes, and there were all these tarts in winter with bare legs and they all loved him. He called me "mother" and I called him my wicked son.'
But Hambling is driven by a different form of compulsion from Horsley: 'Reality for me is in my studio making something. The rest is a sort of a charade or a pantomime'.
I am continually drawn back to her tsunami, and she turns to me: 'Aeschylus described waves breaking as "unnumberable laughterings". It's great, isn't it?' For a brief moment
I don't know whether she's referring to Aeschylus or her own picture. It's the right word for both.
The Quick and the Dead: Hambling – Horsley – Lucas – Simmons – Teller is at the Jerwood Gallery in Hastings from 20 October to 6 January 2019
Maggi Hambling: New Portraits was at Marlborough Fine Art in London from
24 October to 30 November.
Image: Maggi Hambling, oil on canvas 2011 
Christopher Jackson is the deputy editor of Spear's