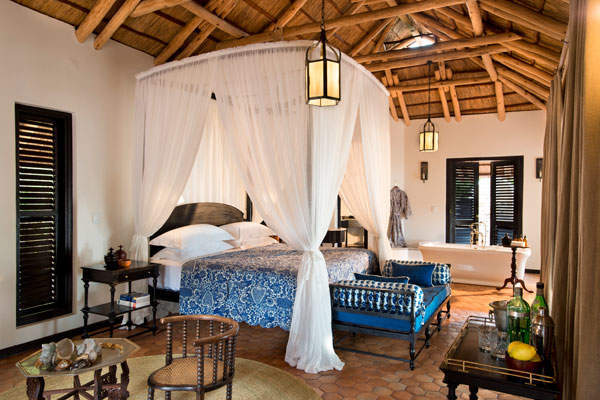 From the air, the sandy bays of Benguerra Island run in extravagant golden curves beside translucent turquoise waters twinkling in the sunshine. This is a private place of sublime beauty. Where shoals of iridescent fish dart among the colourful coral gardens of this vast protected Marine Park.
In a quiet corner of this remote island, sitting peacefully on a soft sandy beach beneath shady trees you discover Benguerra Lodge. Before the owners spent US$5.5 million on it, the lodge was a pretty remarkable place. Now it ranks as one of the finest ocean hideaways in the Southern Indian Ocean.
Some Indian Ocean islands are filled with massive resort hotels, others are becoming crowded as package deals make formerly remote places readily accessible. Now, if you're seeking a more private, authentic barefoot in the sand place, with just twelve simply luxurious thatched cabanas (pictured below) we'll take you to Benguerra Lodge.
The island is seven miles of pure soft sand, forests and lakes and sits ten miles off the coast of Mozambique – once a political and economic basket case – now with peace and investment becoming one of Africa's most exciting success stories.
The cabanas have been carefully designed to create a cool space under a massive thatched roof with big windows and wide doors to admit the ocean breezes. Within the white walls, flooring and furnishings have a touch of Portuguese colonial style and a huge four-poster bed faces the ocean.
The bathroom is a relaxing haven with a bath for two or if you prefer you can shower outside gazing into a deep blue, star-filled, African sky. Outside, walk onto your large deck to sit and contemplate the ocean as it laps rhythmically against the sand, or immerse yourself in your rim flow pool.
It's tempting to allow yourself to descend into happy indolence here, not knowing or caring which day it is as the world's troubles fall into a distant perspective. But it would be a pity to not experience the more active delights on offer. You can take a horse and trot inland to watch the freshwater crocs basking in the lake, then canter along the desert island beach with a joyous smile and the wind in your hair.
If you're a diver, this is diving heaven where the strictly enforced Marine Park has preserved the shallow reefs and challenging walls which line the sides of the deep Mozambique Channel. There are humpback whales, rays, whalesharks, leatherback and loggerhead turtles and even the rare dugong. If you've never dived and fancy trying it, there can be no better place and the friendly staff at the new Dive Centre will delight in showing you their underwater wonderworld.
Your own, ocean facing, four poster bed
If you'd like to be Ernest Hemingway for a morning and don't mind an early start, take the deep sea fishing boat and charge into the deep Mozambique Channel to fish for black marlin, bonito and sail fish. Later, watch the big red sun sink to the horizon from the old dhow as the perfect prelude to dinner.
Then you can enjoy the fruits of the labour of chefs who work with just caught fish and the freshest ingredients to create an inspired cuisine. Challenge them to create the ultimate seafood curry and marvel at the succulence of those legendary Mozambican langoustines.
Africa Exclusive (+44 (0)1604 628979) has been creating superb handcrafted holidays to Africa since 1990. They are passionate about Benguerra Lodge and dozens of other secret hideaways. Their experts will be delighted to arrange your trip to Benguerra, perhaps combined with an unforgettable safari or a few days in the Cape.