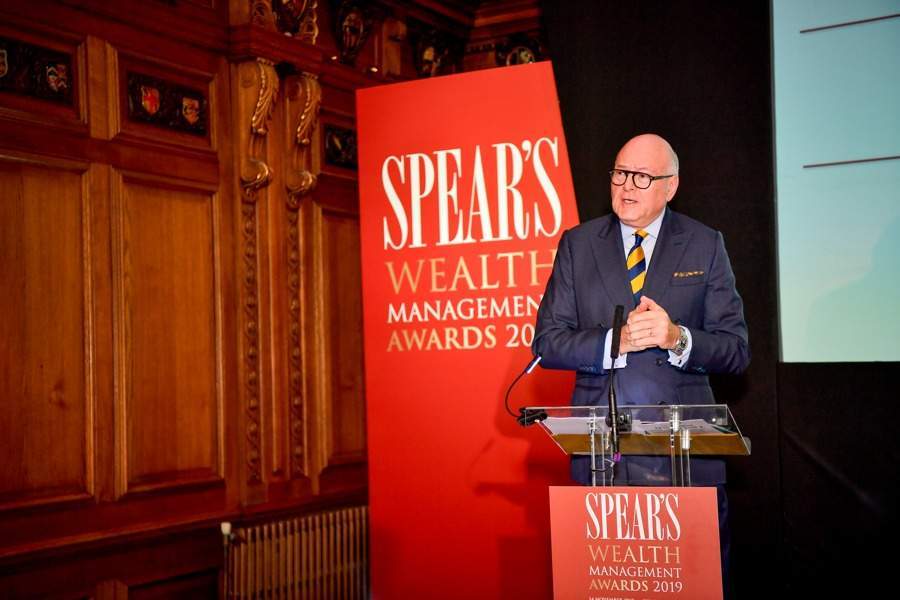 Travelex founder Sir Lloyd Dorfman won the Philanthropist of the Year at the Spear's WMAs, and addressed a packed Skinners' Hall event, reports Arun Kakar
Travelex founder Sir Lloyd Dorfman spoke of 'privilege' of giving after he was named Philanthropist of the Year at the Spear's Wealth Management Awards, which were hosted by Sky News economics editor Ed Conway.
Speaking to an audience of more than 400 at Skinners' Hall, Dorfman said it was a 'huge honour' to receive the award, which last year was given to Terra Firma's Guy Hands.
'I wouldn't want to over-intellectualise the whole philanthropy experience,' Dorfman told the audience in a sttiring speech. 'You support things you want to support, give back to organisations you believe in: it's just about trying to make a difference.'
A force in arts philanthropy, Dorfman was praised by the judges for an 'incredible contribution over a long career of giving'. He is best known for donation of £10 million to what was then the Cottesloe theatre, which now bears his name, as well as the revolutionary £10-a-ticket scheme with the National Theatre, widely credited with bringing a new audience to the theatre.
'We could be forgiven for thinking that the state doesn't have all the answers, nor does capitalism, or indeed market forces,' Dorfman told the audience. So I think it is really important that we have a strong third sector.'
A board member of seven charities, Dorfman continues to give prolifically. He is the chairman of the Prince's Trust international, which is expanding its work into more and more countries, including Barbados, Jamaica and Trinidad and Tobago. He is also giving around £500,000 to Westminster Abbey for the creation of the Queen's Diamond Jubilee Gallery, the first major addition to the Abbey since the 18th century.
'It's not just about giving money, it's about giving time and skills,' said Dorfman. 'I've been a donor, a fundraiser, a sponsor, a trustee, a chairman…I've seen charities at the best of times and charities at the worst of times.'
Citing a survey in which less than 10 per cent of UHNWs said they contribute philanthropically, Dorfman spoke of the 'huge need for improvement' from the UHNW community when it comes to giving, telling the audience that 'over the last 25 years, a lot of people have made a lot of money'.
'Personally, it's a privilege, and it's a great pleasure to be able to do that, to make a difference in whatever way you want to make a difference,' he added, before quoting Albert Einstein's maxim that 'It is every man's obligation to put back into the world at least the equivalent of what he takes out of it'.
Read more