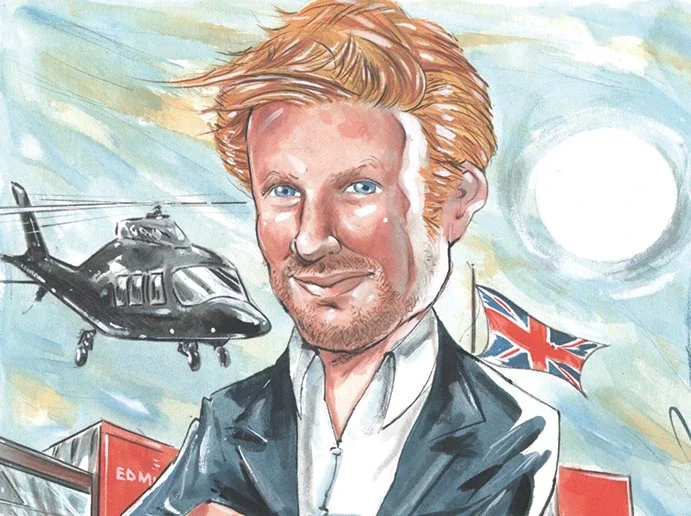 Liquid Lunch: Yacht broker Jamie Edmiston tells Rory Sachs how he has expanded the family business – and how he chanced upon a new opportunity with immense potential
The planned rendezvous between superyacht supremo Jamie Edmiston and Spear's has not, so far, been plain sailing. This is our third attempt to meet, the previous two having been postponed due to Edmiston being under the weather. And, as I arrive at his family firm's offices on the banks of the Thames at Battersea, it becomes clear there has been some miscommunication amid the rescheduling efforts. No sustenance has been arranged for this Liquid Lunch interview, which takes place at 1pm.
Nevertheless, Edmiston's team are otherwise effervescent and offer me sparkling water and coffee as we take a seat on the sofas in front of his desk to talk business. 'Chuck the cushions on the floor if you like,' he laughs. 'There are so many cushions here.' However, he adds, the interior – replete with bright modern art, varnished wooden fittings and warm lighting – is a reflection of his own 'absolutely rigorous attention to detail'. 
'We're a service-based business – we don't actually make anything,' says Edmiston, who is a youthful 47 and speaks in a soft yet confident tone. 
A new dimension to branding
Edmiston Yachts is a brokerage – a connector, a facilitator, rather than a manufacturer or designer. In this guise, the firm is a market leader. In 2021 it sold 47 yachts, generating more than €1 billion in revenues, and was behind three of the six biggest deals of the year, including the sale of the 65.7-metre Ventum Maris, an Amels motor yacht from shipbuilder Damen. The company says it held a 30 per cent global market share for yacht sales longer than 50m that year, and a 50 per cent global share of the market of vessels beyond 70m.
Edmiston explains how his love of branding gave a different dimension to the business founded by his father Nicholas in 1996. 'When I joined in 2001, we had a relatively small business… with a different brand identity to what we have today,' he says. 'I had an idea to develop a luxury brand in the yacht space. And I went to my father and said, "This is my idea, what do you think?"'
Nicholas, who has been described as 'the sailing king of Monaco', ran with it and gave his son 'the platform, the canvas on which to paint'. In his first year in the role, aged 25, the young Edmiston's manoeuvres included redesigning the firm's logo and developing its signature red branding.
Coming out from under the shadow
These creative interests also played another useful function – leaving him 'fortunately able to carve out my own success independently', he says. 'I was very focused on the brand, and the brand was quite heavily associated with me.' It also helped him to navigate the 'intrinsic challenge which can exist' in family businesses when bystanders question whether 'you're there because you're your father's son'.
After university in Grenoble, Edmiston says he 'tried and tried and tried to get a job working for a Formula One team' but was later put in touch with luxury PR operator Julian Walford, head of comms firm LSW. 'He had a business that did this thing called strategic brand development,' Edmiston says. 'I learned a lot working with him. And I realised, I think I sort of understood it. You know when you sort of get it? I think I get brands – what works, what doesn't work, visual identity, images – and how they portray themselves.'
Edmiston's early creative touches and entrepreneurial instinct combined well with his father's expertise and industry connections. 'Between 2001 and 2008, we were the fastest-growing business in the yacht space. Our brand was becoming recognised very quickly and very widely. We were involved in some of the big landmark deals in the yacht business.' 
How Jamie Edmiston made his comeback
A hiatus followed in 2011, when he stepped away – 'not 100 per cent, but 95 per cent' – to run furniture-maker and design firm Linley, founded by David Linley, cousin of King Charles. 'It was a part of my life which I really enjoyed,' Edmiston says. 'I wasn't there that long.'
In 2014, Edmiston's father stepped aside so he could serve as CEO of the family business. 'When I came back in 2014, I said, "Look, I'm going to run it. We can't both run the business. Either you run it, or I run it." He said, "Fair enough, you run the business." And so he gave me the freedom and stepped right back, let me run it my way.' 
 

View this post on Instagram

 
Today, Edmiston says, the firm and wider industry are firing on all cylinders. The unpredictability of the pandemic helped to fuel a tsunami of client interest. 'A client of mine called me and said he wanted to buy a boat. He said, "You know, I've realised I've been putting it off, what's the point of being successful if I don't enjoy the fruits of my labour?"' During Covid, 'a yacht was able to give you an environment in which you could live your life in total security in terms of biosecurity'. 
A chance encounter
Edmiston made his own acquisition during Covid – not of a superyacht, but of a large stake in an innovative climate-technology company called Levidian. It came about quite by chance.
'My car broke down,' he explains. A man living in the flats above Edmiston's offices came to help him fix it, and once he got it started he implored Edmiston to travel to meet a friend of his, a scientist working on a project linked to graphene. 'By this stage, I couldn't really say no,' says Edmiston. 'It was more of a favour to him.' But he went along and met the friend, Professor Krzysztof Koziol, at Bedford's Cranfield University. 
'Honestly, my plan was to go in, be polite, listen to him, come home.' But that's not quite how it panned out. 'We got there and after 20 minutes I was like, "Holy shit – this guy's fucking clever. And he's on to something."
'I thought, "Why are they talking to me? Why are they not talking to, you know, Ineos, or BP, or Goldman Sachs?" And it was a clear that it was a brilliant business, but it was being run as a science project.' 
Edmiston invested in Levidian just a month later, on 23 December 2020. 'We brought in a stellar team of people, a brilliant CEO. We invested in the brand and the marketing and then we ran it like a Formula One team,' he says. 
Something good for the planet
Using a patented technology, the company can help factories convert harmful methane emissions into hydrogen and carbon, before a further by-product is generated from the carbon: a high-quality form of 'G1 graphene', a useful allotrope which can be added to concrete, aluminium and paint coatings.
'It'll enhance it. There's a lot of work that needs to happen to get to find all the useful applications for graphene… we've now got to create real-life scenarios.' As well as reducing greenhouse emissions through decarbonisation, the wider process also offers the prospect of creating hydrogen in volume – a green wonder-fuel for the future. 
 

View this post on Instagram

 

The business had a unique appeal for Edmiston, who was already involved in a project to develop hydrogen power plants for yachts. 'A lot of the engineering and technological developments that happen within the yacht business can ultimately, we hope, in due course filter down into the wider commercial shipping arena. 
'I'm not claiming to be some eco-warrior. But I'd love to be able to play a part in driving a technology that can have a real positive impact on the world.' 
Last September, energy conglomerate Baker Hughes bought a 9-10 per cent stake in the company for £12 million. With a roughly 60 per cent stake, Edmiston is the main shareholder, while Koziol maintains around 20 per cent. 
While remaining cautious over the investment, Edmiston is excited about its potential. 'When I met him for the first time, [Krzysztof] said to me, "This business can be as big as Amazon or Apple." The more I got to know it, the more I started thinking, "Shit, do you know, he might be right."'
High-flying philanthropy
Edmiston's other big love is aviation. His firm has been the official sponsor partner of the London Heliport for the past two and a half years, just a stone's throw from his office. Through the window we watch a helicopter rapidly take flight, which he says will arrive in Stansted in just ten minutes. 'In London there's only one helipad – it's right there.' 
He has also partnered with Farnborough Airport to open a new Edmiston-branded private lounge. 'People can look negatively about yachting and even private aviation, but there's a lot of positives that come out of it that people don't really talk about.'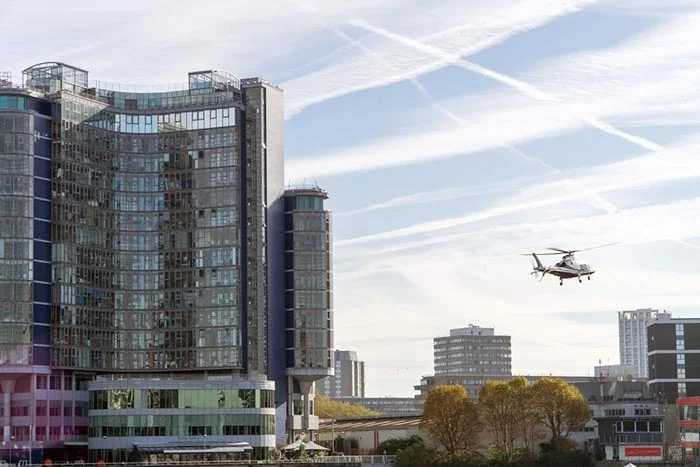 His family's Edmiston Foundation plays a role in marine conservation and runs a Monaco yachting-themed social mobility project for young people, 'which I'm really keen on personally.' He has two children of his own, aged 12 and 14.
'We've done a partnership with an organisation called the United Kingdom Sailing Academy [based in Cowes]. We are sponsoring young people… who perhaps wouldn't have had the opportunity and wouldn't even know where to begin to have a career in the maritime sector. We're sponsoring these children to go through, get a taste for the water.'
'I'm very conscious that we work in an industry which is at the absolute pinnacle of people's success. But I feel quite a strong responsibility, if we can, to help people at the very other end of the spectrum.'
Edmiston adds that 'every single day' he thinks about how he is 'one of the lucky ones'. 'I've had some great opportunities put in front of me. But like everything in life, there's a lot of luck involved. My car broke down – if my car hadn't broken down I probably wouldn't have invested in Levidian. So that was luck. And you know, the pandemic was very helpful, ironically, for the yacht business.' 
What's the best advice Edmiston can give to other entrepreneurs? 'I always say we're in the disappointment business,' he says. 'If you can live with disappointment in life, certainly in our business, then you can be successful.' 
Illustration / Russ Tudor 
Order your copy of The Spear's 500 2023 here.
More from Spear's:
Liquid Lunch: Omar Alghanim talks his family's firm, and how it's inspired his next venture