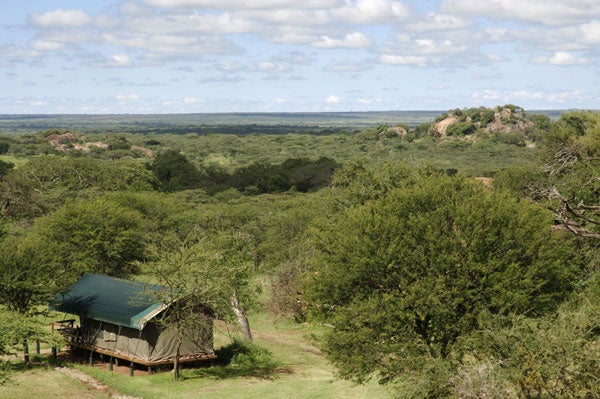 Right now the world's biggest lawnmower is on the move. The great wildebeest migration is up and running, heading south from the Mara Plains across the Serengeti, a spectacle of two million creatures. Unending lines of wildebeest cover the horizon while groups of zebra gather in pulsating masses of stripes under shady acacias. There's mayhem at the waterholes as lions and crocodiles lie in wait.
The migration is always somewhere, but what is the best time and where the best place to see it? We think the perfect opportunity is in January and February when it pauses to draw breath on the vast short grass plains of the southern Serengeti.
In a few chaotic weeks over half a million baby zebra, wildebeest and antelope are born, up and wobbling around their mothers within minutes – bounding with confidence around with the herd within days. Elephant, giraffe, buffalo and cheetah that have the place to themselves most of the year are suddenly mobbed like the residents of Twickenham on cup final day.
Perched among the small trees and granite boulders of a great rocky kopje overlooking it all is Kusini Camp – the only permanent camp for miles around, giving you the chance to have one of the world's greatest wildlife spectacles all to yourself.
Twelve smart 48 square metre tents, each with a big comfy bed, en suite and a spacious verandah with a view of the action below, provide the opportunity to enjoy a properly authentic, remote safari without compromising your comforts.
Move among the herds through panoramic landscapes with an expert guide by open vehicle. The big areas of short grassy plains also make this one of Africa's best places for cheetah spotting. Kusini is part of a conservation project looking out for around 60 of these endangered high-speed cats and you can devote a morning's safari to finding them.
The massive rounded kopjes, flat topped acacia trees, grassy plains and a gigantic sky, cloudlessly blue by day and impossibly star-filled by night, are the Africa of your dreams. Add upwards of two million animals and it's even better. Remember the miserable weather you've left behind in the northern hemisphere winter and it's perfect.
If you want to postpone your return a while you could stay a few days atop the 8,000 foot high Ngorongoro Crater and later wind down amid spice plantations on the Indian Ocean island of Zanzibar. Politically stable, welcoming Tanzania is one of several African countries quietly enjoying low inflation and healthy GDP growth. It has perhaps the greatest potential for eco-tourism within Africa.
Africa Exclusive www.safari.co.uk has been arranging superb personalised safaris since 1990 | +44 (0)1604 628979