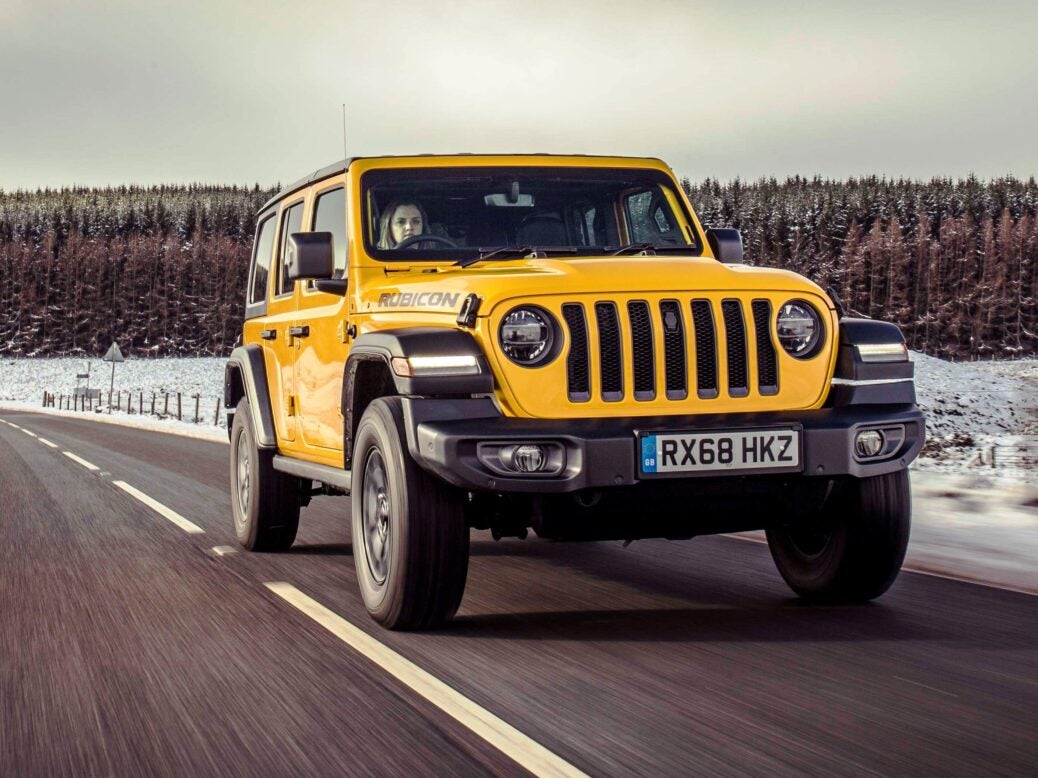 The latest incarnation of Jeep's retro cool 4×4 hero is the best yet, writes Gareth Herincx
It's fair to say that no other 4×4 has the gold-plated heritage of the Jeep Wrangler.
Stretching back to the iconic wartime Willys MB of 1941, it's now in its fourth generation and it's better than ever.
And just like its illustrious predecessor, today's Wrangler still features essential Jeep design DNA including the seven-slot grille, round headlights, trapezoidal wheel-arches and a fold-down windscreen.
We took the opportunity to drive the latest version on UK roads for the first time at an exclusive event in the Lake District.
A genuinely challenging course had been planned for us in the hills overlooking Coniston Water, and sure enough, the heavens opened to make things even tougher.
There are three choices – an entry-level Sahara, a mid-range Overland and the flagship Rubicon, each available with either three or five doors.
Broadly speaking, the more you pay the more equipment you get – and the more hardcore your Wrangler is off-road. It's priced from £46,635 to £48,365 and you get a lot of bang for your buck, though Jeep says most customers spend considerably more than the list price when they raid the extensive optional extras list.
We sampled a three-door Sahara and the longer-wheelbase Rubicon with five doors. The Sahara was fitted with a 268bhp 2.0-litre petrol turbo engine, while the Rubicon was powered by a 197bhp 2.2-litre diesel. Both were paired with an eight-speed automatic gearbox.
Frankly, it's hard to say which was the most impressive tackling the slippery rocks, daunting dips and deep, mud ruts. Engaging the old-school secondary low-range gearbox enabled both cars to crawl over and around every obstacle thrown at them.
The Rubicon made mincemeat of the various challenges with the minimum of fuss thanks to its chunky tyres and low-down diesel grunt, but it was the Sahara that was the revelation. A real mountain goat of a car, it managed the same route as the Rubicon on road tyres.
Of course, all this will come as no surprise to Jeep aficionados – the American legend has always been impressive when the going gets tough.
The difference now is that the 2019 vehicle is much improved on the road too. Not only does it come with safety and driver assistance aids including blind-spot monitoring, speed limiter, rear cross traffic alert and a reversing camera, but there's now an 8.4-inch infotainment touchscreen with Apple CarPlay and Android Auto connectivity, and a built-in sat nav.
Other goodies include an eight-speaker Alpine audio system, a 7.0-inch driver's digital instrument display and new LED headlamps and taillights.
However, it should be noted that the Wrangler only received a disappointing one out of five stars when it was safety tested by Euro NCAP. Odd for a brand new car in this class not to have autonomous emergency braking (AEB), for instance.
That said, the driving position is much improved and more comfortable, while the retro-digital dashboard works well. My only gripe is that the switch from left to right-hand drive means there's little space to rest for your left foot thanks to the large transmission tunnel, which could be an issue on longer journeys.
The cockpit has been well put together and looks visibility fresh. And, of course, it's always a joy to see a bold bonnet laid out ahead of you.
The five-door has plenty of space for adults in the rear, but the smaller version is a little more challenging.
It's a similar story when it comes to boot space. The Wrangler two-door has a city car boot capacity of just 197 litres, or 587 litres with the back seats flipped. The four-door fares a bit better with a 533-litre boot that extends to 1,044 litres when the rear seats are folded down.
On the road, it's hard to forget that the Wrangler is a bit of a beast in terms of its size and weight (north of two tonnes). However, if you drive sensibly and don't try to throw it around like a hot hatch, it's a unique drive and a surprisingly refined cruiser.
It feels more settled than its predecessor, and while the ride isn't as sophisticated as most of its SUV rivals, body roll is kept in check.
The steering is not as sharp as most systems these days, but then again, there's no need to hurry things along in the laid-back Wrangler.
CO2 emissions range from 198g/km for the diesel, to 213g/km for the petrol, while fuel economy is between 25.7-30.4mpg (using the new real-world WLTP data).
In the UK especially, Jeep has always struggled because Land Rovers and Range Rovers tend to be the default first choice for many 4×4 buyers. The new Wrangler is proof that there is an alternative out there. It may have an American accent, but it's just as impressive when the going gets tough.
Finally, few other cars offer so much scope for personalisation and practicality – the list of accessories is eye-watering, as are the colours on offer, including Firecracker Red, Hellayella, Punk'n Metallic and Mojito.
In the absence of the Land Rover Defender, the Jeep Wrangler occupies a unique place in the marketplace. An all-terrain, retro cool legend, it's competitively priced and now a better all-rounder than ever before.
Add Jeep's '5-3-5' offer, which combines a five-year warranty, three-year servicing programme and five years of roadside assistance, and the all-new Wrangler should be on every serious 4×4 shortlist.
Gareth Herincx writes for Spear's