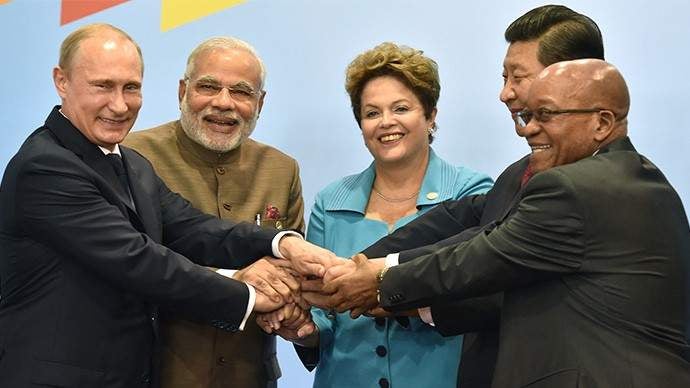 The world's former emerging market darlings are now in distress, says Robert Amsterdam.
Still in its early days, 2016 is shaping up to be a pivotal year in the international arena. At a number of economic summits a common theme seems to repeat: how will various countries ride out the China slowdown, and what will be the geopolitical impact?
It seems like a distant memory when Goldman Sachs first presented us with the 'BRIC' acronym in 2001, fuelling the rise of an improbably diverse grouping of countries in Brazil, Russia, India, and China (and later South Africa) whose main shared characteristic was not interdependency, but rather an ambitious desire to wield greater regional and international influence and disrupt the status quo.
Without a doubt, the world is a different place with these new players. In the past ten years Russia has invaded Georgia and Ukraine, intervened in Syria, and 'probably' ordered the murder of a former spy in London, among other actions. China has flexed its considerable economic power, building islands in the South China Sea and fighting ambitious territorial claims while extending a massive presence across Africa and Latin America. Beijing's creation of the Asian Infrastructure Investment Bank (AIIB), an infrastructure development framework that would rival the IMF, has extended Chinese influence throughout the developing world. Brazil, India, and South Africa have all taken on larger roles.
So with China experiencing its slowest rate of growth in a quarter of a century, are these days of the new multi-polarity coming to an end? If so, who is stepping forward to manage the multiplying conflicts and set the terms of the international order?
This complex process of course depends on how closely we link economic growth (and recession) with diplomatic clout. While it's been clear from the beginning that the unity of the BRICS was long on rhetoric and short on reality, China was the most successful in translating its economy into influence. Its voracious demand for oil and minerals, its creative use of development finance to gain access to raw materials in other emerging markets, and its staggering export economy contributed to a realignment of the international system.
Now that realignment is under serious pressure. While China's GDP is still forecasted to grow by more than 6 per cent this year, other major structural problems continue to shake confidence and send repercussions across emerging markets.
Russia is facing a profound crisis. As leading exporter of oil and gas to China, it saw its economy shrink by almost 4 per cent last year, with a further contraction of 1 per cent forecasted for 2016. With sanctions and sustained low oil prices, inflation ran close to 13 per cent, while the rouble lost half its value against the dollar in the second half of 2014 and fell a further 20 per cent in 2015.
But all this seems almost enviable compared to the trials facing Brazil. After 7.5 per cent growth in 2010, collapsing commodity prices and epic corruption have triggered its worst recession in over a century. After a 3.8 per cent contraction in 2015, the economy is expected to shrink by another 3.5 per cent this year, with forecasts being repeatedly revised (and worsened). Once a rising star with considerable soft power, Brazil is now hardly in a position to take on its presumed role of leadership — instead of UN Security Council seat, now it's an IMF receipt.
Meanwhile, South Africa is suffering from China buying far less iron ore, gold, and coal, and has been reeling from a plummeting rand hitting historically low levels (17 to the dollar in January), while overall Africa-China trade is down by a staggering 40 per cent.
Given that so many of the world's former emerging market darlings are in such trouble, it is tempting to assume a default to the former status quo, with Washington taking a leading role. But the weakening of US influence and the fragmentation of multilateral institutions will not be reversed simply because of China's slowing growth.
The demerging market world order will most likely feature a growing level of unpredictability, with a much stronger role for regionalism. These conditions do not fare well for the deepening of international law or statutory enforcement — which is part of the reason we are seeing the proliferation of sanctions as a primary policy instrument.
The changes the world has experienced since the rise of the BRICS are unlikely to fade quickly. For a number of years, my law firm has worked with clients for whom Buenos Aires is more important than Brussels, Luanda more dynamic than London. Transitioning countries to watch include Nigeria, South Korea, Turkey, and Iran, where new opportunities are coming into play.
Even in a demerging market world, all these new points of contact have created alternative pathways that will continue to shape the years to come.