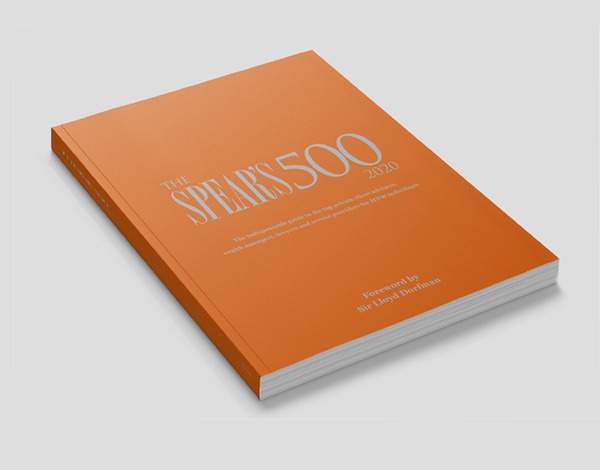 The Spear's 500 2020 is the latest edition of the indispensable guide to the top private client advisers, wealth managers, lawyers and service providers for HNWs. And, says Spear's editor Alec Marsh, this year's print edition is the biggest yet, weighing in at an astonishing 2.1 Kilos
Each year The Spear's 500 private client directory gets bigger and surpasses records. This year's guide runs to more than 650 pages – 180 more than the last edition. And if that's not impressive enough, then consider it now weighs in at some 2.1 kilos: similar to the typical birth weight of a gorilla. That may tell you something about London's seemingly irrepressible private client field.
Indeed, if the 2020 edition of The Spear's 500 is taken as a barometer for the health of the UK industry dedicated to servicing the requirements of the UHNW brigade, then it appears all is set fair. This year's edition contains no fewer than 60 pages of wealth managers – covering everyone from private bankers and wealth planners to asset managers.
We also have an astonishing 50 pages of family lawyers – and a dizzying 60 pages dedicated to property professionals of all stripes. In last year's guide there were in excess of 1,245 individuals or entities listed. This year the number exceeds 1,400.
So what is new this year? In acknowledgement of the international outlook of many of our readers, we have, for the first time, included family lawyers from the United States. For similar reasons, we have also included tax advisers from the other side of the pond. In addition we have refreshed our Life Sciences section – introduced last year – and expanded the health section, which is more comprehensive than ever.
And guess what, this is only our fifth edition. Which in itself is rather staggering; in just five years The Spear's 500 has gone from William Cash's vision – 'to recommend the top 500 professionals across the spectrum of wealth management' – to recommending more than 1,300 individuals across an broader range of categories and geographical locations. I would never like to accuse my esteemed predecessor of lacking ambition – far from it – but the directory has surpassed even his lofty expectations.
And, of course, it's not a surprise. Back when The Spear's 500 launched in 2014, the 1,000 richest people in Britain – according to the venerable Sunday Times Rich List – were worth a combined £519 billion. Now that combined wealth has surged by more than half to £771 billion. At the same time, the number joining the elite billionaires club has grown, too. There are now 151 sterling billionaires, compared to 115 back when we began The Spear's 500.
Indeed, when Spear's started life in 2006, there were just 54 billionaires 'born, living or making their money in Britain'. So it's not surprising that the private client field is becoming increasingly important to the talented professionals who populate this guide. What was once the preserve of boutiques or historic players, is now a ripe market.
And, as the options for UHNWs multiply, The Spear's 500 – the bible of wealth management – becomes a more valuable resource than ever.
Therefore, on behalf of the Spear's team, I hope that you find this edition even more comprehensive, authoritative and useful than its predecessors. It has taken Herculean efforts to compile it, and here I must pay particular tribute to the team of the Spear's Research Unit, as well as the tireless labours of our indomitable managing editor Vicky Oakley. I would like also to praise our brilliant commercial director Wendy Coumantaros.
Finally, as well as thanking all of the commercial partners who have supported this guide, I should like to thank the businessman, investor and philanthropist Sir Lloyd Dorfman for his generous foreword to this year's edition. 'Exceptional advisers, as listed in this publication, can play a pivotal role in helping HNWs become more effective in both their entrepreneurship and philanthropy,' Sir Lloyd writes, 'and thereby in their contribution to society.' Hear, hear.
Alec Marsh is editor of Spear's