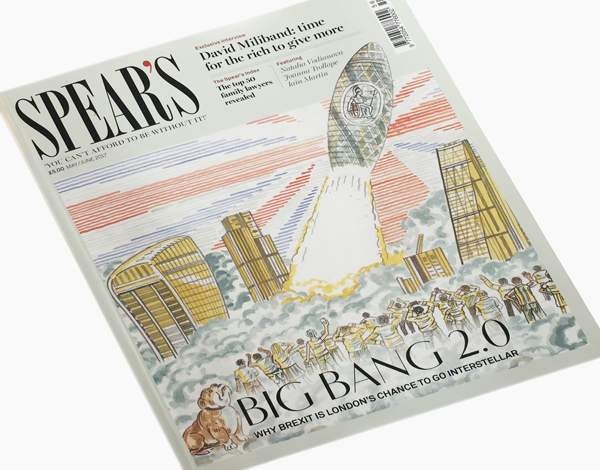 The new-look Spear's magazine is available on selected newsstands from Friday and online at www.spearswms.com
Welcome to the new and improved Spear's magazine, Britain's wealth bible, which lands this week and comes with a fresh makeover and the very best exclusive content for HNWs.
As the May/June edition makes clear, Spear's believes that Brexit offers the City and the UK's £800 billion-a-year wealth management industry a historic opportunity to go global like never before. Our cover story – 'Big Bang 2.0 – Why Brexit is London's chance to go interstellar' – explains all.
This edition features our 2017 power index of the top 50 family lawyers in Britain, the legal high-flyers who deal with the biggest cases. This comes with an exclusive survey of their opinion on London's future as the divorce capital of the world – and their compelling verdict on the Lord Chancellor Liz Truss.
We also have an exclusive interview with the former Labour Foreign Secretary David Miliband, now head of the US-based International Rescue Committee. Miliband gives us his views on what's gone wrong with globalisation, explains why the rich need to give more, and tells us why he's not happy to be described as an 'ex-politician'.
Elsewhere we draw insight from the financial journalist and City historian Iain Martin in our new Liquid Lunch slot. 'Have you ever been to Frankfurt? The idea that it is going to be the new financial hub is complete nonsense,' insists Martin. At Spear's we couldn't agree more.
Finally, as well as offering a wealth of insight into investing, geopolitics, luxury lifestyle and our regular columnists – including Sam Leith, Clive Aslet, Ross Clark, Nick Foulkes and Lucia van der Post – we also hear from the bestselling author Joanna Trollope, who talks about wealth, work, life and her new book, City of Friends. 'Having enough money means, quite simply, freedom and choice,' Trollope announces.
To enjoy all this and more, go to your nearest WHSmiths travel store or pick up Spear's online by visiting www.spearswms.com/subscribe. As it says on the tin, 'You can't afford to be without it!'