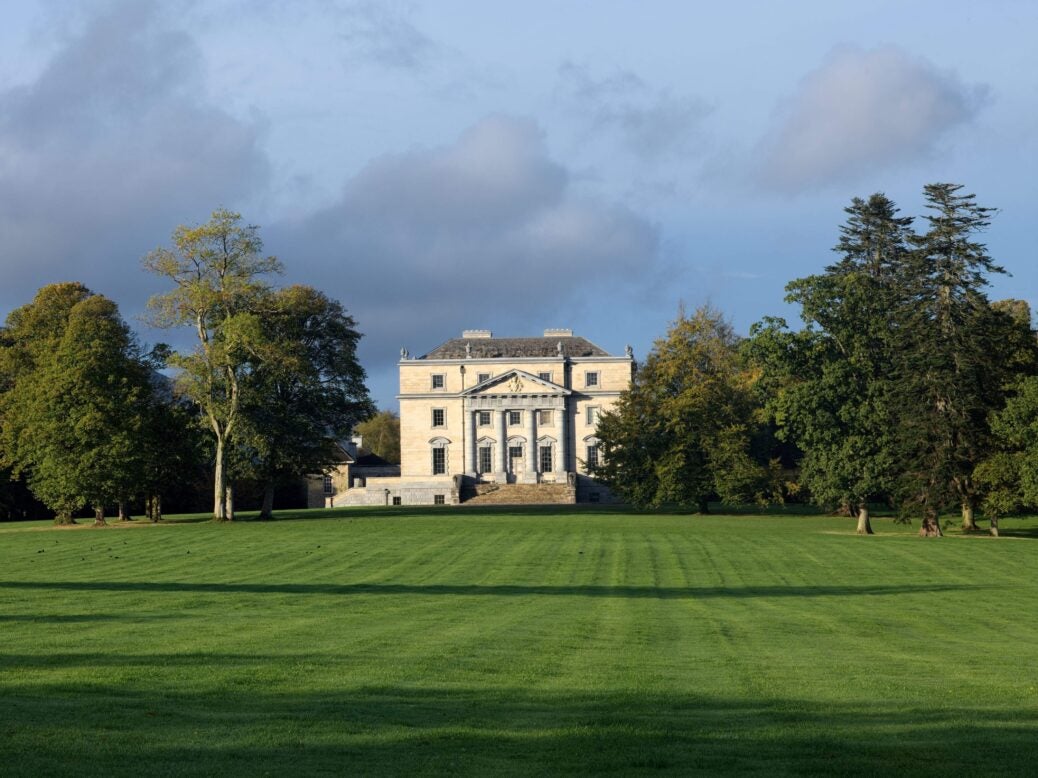 Quinlan Terry had to be steadfast in the face of modernist 'dogma' in order to safeguard the finest traditions of classical design, he tells Flora Neville
To those in the architecture industry, Quinlan Terry is a divisive figure. While the philosopher Roger Scruton calls us to hail 'our greatest living architect', the architectural critic Gavin Stamp brands Terry 'pedantic and unimaginative… a victim of that perennial curse of English Architecture: Palladianism.' Love it or loathe it, Terry's work has been seminal in the revival of classical architecture since the 1960s, a grassroots revolution led by a couple of mavericks at their drawing boards.
At 79, Terry is still sketching, designing and creating. Last year his practice was awarded a prize by the Georgian society to celebrate Kilboy, Co Tipperary, a new house for Shane Ryan (a racehorse breeder) in Ireland. The inaugural Diaphoros prize was awarded for original, transcendent, classical design. Built in contrasting grey limestone and buff sandstone quarried locally in Ireland, the house is entirely harmonious with the natural surroundings. The architectural detail inside and out was all hand-crafted by local stonemasons and references flora and fauna native to this part of Ireland. The front is made up of four engaged Doric columns with a pediment over three bays; the side and rear elevations have added architectural features and the courtyard elevation has Doric pilasters to echo the front.
'Kilboy is a masterpiece,' wrote Jeremy Musson in Country Life, 'a highly crafted interpretation of the Palladian tradition that cannot fail to interest and impress.' It is the culmination of much of Terry's architectural ethic. He always sources local material and workers, ensuring the most sustainable building methods. He is always keen to work closely with the client, attending precisely to their own cultural and architectural interest. And he will always give Palladio at least a look-in.
From his Georgian house in Suffolk, with grandchildren and dogs rustling around the corridors, Terry tells me about Palladio's influence on his architecture. 'The reason for his fame,' he says, 'is that his genius lay in his humility to copy — yes, copy — Roman buildings 1,500 years before him. The reason for his popularity is that he writes in simple sentences that can be understood by ordinary people.'
Terry's love for Palladian architecture was far from inherited. As the son of communist sympathisers and modern architecture devotees, his architectural inclination was an unlikely youthful rebellion. Terry grew up in the thick of the Hampstead set, surrounded by names like Barbara Hepworth, Stanley Spencer and Erno Goldfinger.
Though his relationship with his parents was a good one, Terry wasn't convinced by their belief that the world, and architectural design, was just getting better. If his parents weren't effective enough at provoking the classical impulse, the Architectural Association where Terry studied ironically sealed the deal. He would spend his spare time wandering round traditional squares in the East End, wondering why these working-class homes were being pulled down. 'When we asked, we never got any answers,' he says. 'In spite of their emphasis on freedom and toleration, the tutors at the AA would not tolerate anyone who questioned their agenda. Modernism was a dogma.'
As a scholar, he was expected to bow at the drawing boards of the likes of Le Corbusier. He worked on placement for modernist behemoth Jim Stirling (of No 1 Poultry fame) and rubbed shoulders in class with Richard Rogers. And yet his sketchbooks were full of details of country churches, symmetrical façades, and the monuments of classical Western architecture. He was told that if he didn't design a modernist scheme, he would fail his finals. He swallowed a bitter pill of compliance.
'I prepared a design of an ugly asymmetrical high building in steel and glass, which wasn't difficult,' he recalls, 'and my tutors were delighted. They thought they had a convert.'
Terry spent a year working for a modern architect, during which he created some of his least recognisable buildings: steel and glass office blocks in Victoria Street. 'I became deeply depressed at the thought of making this beautiful world uglier,' he says, and considered giving up all together.
But then he met Raymond Erith, who at the time was almost the last surviving classical architect. Erith was responsible for the rebuilding of 10, 11, and 12 Downing Street, and some college buildings in Oxford, and he was a Royal Academician, but he was also a pariah in the architectural world. Terry says Erith was 'a lone voice in the wilderness' because he shirked the egomaniacal, modernist dogma of the day in favour of buildings that looked like they had always been there. Erith wrote to Macmillan in 1955 of his Downing Street scheme: 'I do not intend to leave my mark on Downing Street, but I shall carry on as best I can in the way the neighbouring buildings were built.'
Erith took Terry on in 1962. 'That was my apprenticeship,' he says. 'He had four daughters and no son, and I think he looked on me as a son. He really taught me.' When there was a lull, Erith encouraged Terry to go to Rome for four months on a scholarship. This was a time when, sleuth-like in a five-piece tweed suit, Terry clambered over the pediments and architraves of the Pantheon taking measurements.
Erith died in 1973, and Terry took on the office. There was little work and he had three young children and a dog to cater for. A few small projects kept him going, including an enormous Doric column for Lord McAlpine, supported on a pedestal bearing a Latin inscription that translates as: 'This monument was built at great expense with funds which — sooner or later — would have been taken away by tax collectors.'
Terry's fortunes improved in 1984, with a commissioned for Richmond Riverside. Scruton wrote of the scheme that 'this harmonious collection of classical buildings, rising on a knoll above the Thames, illustrates Terry's principles; to use an architectural language that puts a building into relation with its neighbours and with the passer-by.'
The jobs kept coming — from Brentwood Cathedral to Royal Hospital Chelsea and private mansions in Dallas, Terry took the classical revival head-on. He became known as Prince Charles's favourite architect for his work at Poundbury, among other projects. He was awarded a CBE two years ago.
He never moved from the small, somewhat poky Tudor building in Dedham, Essex, where Erith started the Classical revolt. The office is warmed in the winter by electric heaters; the stairs lead to unlikely places; and everywhere are rolls and reams of white paper. There is a dedicated room for computers, but all the senior staff draw all their schemes. The beams are low, and Terry is tall (6ft 4in).
He went into business with his son, Francis, and the two worked together for fifteen years until Francis left to set up on his own last summer. Together the two produced Kilboy. 'He was never going to retire,' says Francis Terry, who was faced with living in his father's shadow or making his name independently.
Retiring is about as alien an idea to Terry as designing a modernist scheme — partly because he feels no less capable an architect. He points out rather bashfully that Wren and Michelangelo were designing their best buildings well into their eighties. 'Generally older men have less energy but more wisdom,' he says, and with more than 100 buildings under his belt he certainly has the experience.
But the most significant reason for Terry's continuation of his career is simply for love of the art. 'I enjoy putting a plan, a section, an elevation together,' he says and smiles. 'What else can I do in my old age? Write my memoirs?'