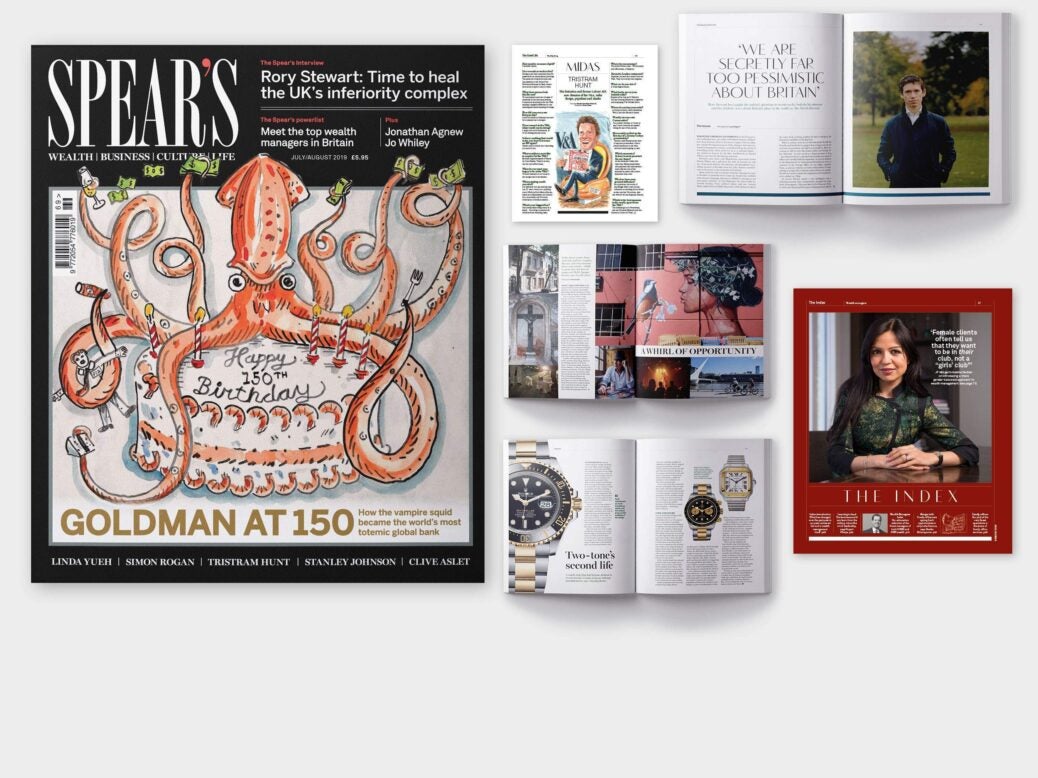 Issue 69 of Spear's is out now, and it's packed to the rafters with everything from Goldman Sachs to Lobsters at Claridges, writes Alec Marsh
I know what you're thinking: why can't every edition of Spear's have a giant vampire squid on its cover? We have Goldman Sachs and its very big birthday to thank for this opportunity – one which was seized upon with alacrity by our cover artist, Adam Dant. It's a good-natured tribute to David Dawkins' cover story, which draws upon the wisdom of Jim O'Neill and Guy Hands, among others, to investigate what's made the bank so successful and totemic on the global stage.
The cover story leads the charge on another richly laden edition of Spear's – one garlanded with our marquee 2019 Wealth Managers' Index of best private bankers and asset managers in the business. Turn to page 67 to find out who is in this year. Continuing the wealth management theme, we have an interview with Peter Flavel, the CEO of Coutts, and we have Annamaria Koerling of Owl Private Office giving her insight on how to deal with a problem like Jeremy Corbyn. Spear's, of course, has its own views on handling the threat of Corbyn: namely by backing Boris Johnson in the Conservative leadership race.
And for this issue, I had an important conversation with the candidate who emerged as the other big figure in the leadership race – Rory Stewart. His social-media-led campaign has been a phenomenon in an otherwise run-of-the-mill sequence of launches. It fits with his outlook too – he famously walked 6,000 miles across Iran, Pakistan, Afghanistan, India and Nepal, and previously told me that he put store in a Nigerian proverb that 'you listen with your feet'. Now he is a well-regarded parliamentarian lately appointed to the Cabinet, with a strong background in international affairs, and I caught up with him to gauge his thoughts on Britain's place in the world post-Brexit. His erudite and damning verdict is compelling.
There is much to command your attention, too: not least our curtain-raiser on the summer of cricket with Jonathan Agnew, our Midas interview with the V&A's Tristram Hunt, our journey into space – conducted by Spear's science officer Rasika Sittamparam   – and other highlights including John Arlidge's report from Singapore: don't miss 'Crazy, really rich Asians' on page 40.
In travel we also have Stanley Johnson's missive from São Tomé and Príncipe in the Atlantic, and whatever you do, don't miss Nick Foulkes' enjoyment of lobster wellington at Claridge's. Finally, I would like to thank the team, and our advertisers and commercial partners. I hope you enjoy this issue, and the squid.
Alec Marsh is the editor of Spear's