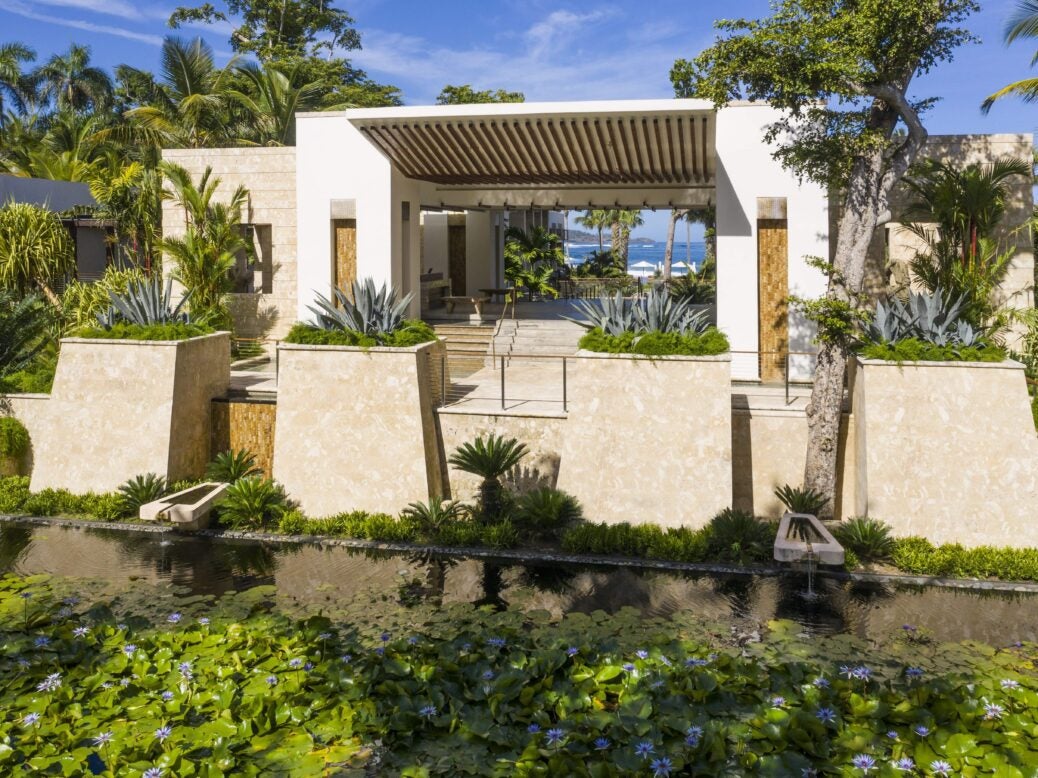 Andrew Harris experiences the delights of Laurance Rockefeller's Dorado Beach resort in Puerto Rico, as revamped by Ritz Carlton
On a rainy morning in central London, George Sotelo, general manager of the Dorado Beach, a Ritz Carlton Reserve in Puerto Rico, is enthusiastically bringing me up to date with the resort's imminent re-opening on the hurricane-battered Caribbean island. Of the three Reserve properties in the world (more upscale than already upscale Ritz Carlton), his, he explains, is pre-eminent, and to which I respond, that it must, therefore, be the best Ritz Carlton ever known to man. In one of those all too familiar whoosh! moments, where British silliness goes flying over the heads of our transatlantic friends, Mr. Sotelo unequivocally concurs; yes, it is.
I never did get to join Uma Thurman, Helena Christensen or Martha Stewart at last November's re-opening party, but I have just returned from the Ritz Carlton Reserve, 30 minutes west of the capital San Juan, on Dorado Beach, and rest assured, there's nothing remotely silly about its general manager's confident appraisal of his property's place in the pantheon of hospitality. It's as Ritzed as a Carlton gets.
Given its pedigree, that's not altogether surprising. Originally the home of early female aviator Clara Livingston, whose father purchased the land to grow coconuts in 1905, ownership transferred in the 1950s to Laurance Rockefeller, both a pioneer of venture capital and also, what would come to be known as eco-tourism. On 1 December 1958, he hosted his own glamorous opening night, inviting 150 friends and associates he labelled 'the fabulous 150', each one a millionaire, to initiate what quickly became a favourite hangout of the American beau monde. With that other Latin-American post-war US playground, Havana, due to fall to Castro's communist forces within weeks, Rockefeller's timing looks to have been as impeccable as his tuxedoed guest list.
The 'footprint' of this original venture enabled a rebuild right next to the ocean, completed just five years before hurricane Maria wreaked its devastation in September 2017. The award-winning Spanish-American celebrity chef José Andrés, overseeing COA, the resort's fine dining venue, was quick to join those responding to the disaster, deploying his non-profit WCK (world central kitchen) to distribute food across the island. Along with support from companies like American Airlines, which, with its deep roots in Puerto Rico, was bringing in aid after only two days, and dispatching employees into support programmes, such knee-jerk behavior contrasted with an official reaction widely perceived as lacklustre. Andrés (a 2019 Nobel peace prize nominee) in particular, has been highly critical of Donald Trump's personal response.
Though most damage at the resort was confined to flora, with over 300,000 trees and plants eventually replanted, the opportunity was taken to give the entire property a comprehensive makeover. The net result is truly stunning, with one of the first impressions to hit home being the tropical tranquillity, complete with crashing waves as background music. A luscious mini-lake of lilies is laid out in front of an elevated open-air reception area, with the ocean glimpsed alluringly, away in the distance.
Forming the nucleus of the private Dorado Beach community, the 1400-acre low rise resort incorporates 114 spacious rooms, presenting more like suites, and only just qualifying as beachfront on the basis that if they were any closer, they'd be on it! Impeccably styled, emphasizing natural materials within a restrained contemporary palette of pale, the rooms incorporate outdoor rain showers and floor to ceiling, wall to wall glass doors capable of opening up the rooms in their entirety, onto a private terrace and into a panorama of ocean-view perfection.
Constructed around a cove, that looks itself as if it were constructed for Instagram influencers, still with Rockefeller's huge boulders across it to tame an unremittingly rebellious sea, Dorado Beach, a Ritz Carlton Reserve in Puerto Rico, tantalizes as one of the most enticing luxury retreats anywhere in the Caribbean. With New York less than four hours away and a paucity of direct connections from Europe, as with its earlier incarnation, it radiates an all-enveloping aura of Americana. In the 1960s, a fleet of prop planes, 'Dorado Wings', used Clara Livingston's airstrip, (from where Amelia Earhart took off on her ill-fated flight), to ferry passengers to and from San Juan airport. These days the airstrip is a children's playground, with no less than three helipads now assuming responsibility for shuttles between private jets, trips to neighbouring islands, or other targets of guest interest such as nearby golf courses.
And being an American outpost of opulence, golf, as in Rockefeller's day, figures prominently, with three courses, and another right next to the property, rather endearingly transformed into an outdoor art installation. An expedient move, negating the potential for golf balls landing in the swimming pool and upsetting non-golfers like myself. Although, with two pools, a crystal-clear ocean just steps away, and Jean-Jaques Cousteau's Ambassadors Of The Environment, ready to organize educational snorkelling adventures, the aquatically inclined are amply accommodated.
Of the three principal dining options, Positivo Sand Bar impressed the most. With half of the tables actually in the sand, a warm wind whipping gently around them as the surf dances its own soft rhythms with the beach, the atmosphere can be irrepressibly romantic. Some of the best Asian-fusion cuisine I've been treated to in a good while makes for memorable yet ultra-relaxed dining. Encanto, with no less a spectacular seascape to chew over, where Mediterranean cuisine takes centre stage, has more of a family-feel to it, whilst the resort's principal restaurant COA, harbours one of the largest wine cellars in the Caribbean and a knowledgeable Spanish sommelier to guide you around it.
His fellow countryman, executive chef José Andrés (from Asturias, but now a US citizen) appears to no longer be there though. Andrés is revered within North American culinary circles and while he was spotted at the November re-opening party, perhaps his altruistic work with WCK and the hurricane-hit poor has taken precedence over the gastronomic needs of the wealthy at Dorado Beach. Whilst COA, a sumptuous indoor/outdoor space, continues to deliver a high-quality fine-dining experience, the oversight of an executive chef of Andrés' stature, is a piece of the gastronomic jig-saw that it might prove prudent to slot back into place before too long.
Oversight of the award-winning Spa Botanico meanwhile, is accorded to a magnificent 80-year-old ficus tree, majestically standing guard over the huge entrance portal. If Indiana Jones sloped off for a rejuvenating rub-down in-between adventures, this is where you'd find him. Spread across five acres of gorgeous grounds, it's more a secret garden of the senses, than any conventional interpretation of a hotel spa. Time stands stock-still amidst tinkling waters and pathways meandering aimlessly through meticulously tended tropical greenery toward tree house treatment rooms! This is the grand vizier's garden. This is a horticultural diversion into decadence. This is not the sauna in the hotel!
As I familiarised myself with the island and its people, it became clear that the friendly disposition of the resort's staff wasn't simply a product of the impeccable standards of service. Like the Balinese, Puerto Ricans it seems, are also gifted at birth with a smiley-happy gene. In fact, with the two other Ritz Carlton Reserves located in Bali and that well-known home of happy humanity, Thailand, I was beginning to wonder if there was a Ritz Carlton apparatchik out there brandishing a smile-ometer, tasked with scouting Reserve locations?
Dorado Beach continues to benefit from Rockefeller's established practice of buying up large parcels of land around his picture-perfect prototype eco-resorts. The cocoon he created, of ocean-fronted grand-luxe leisure space, originally for his 150 'fabulous' friends, is now one where both families and couples contentedly co-exist in splendid isolation from the outside world, should they so choose. Ritz Carlton-branded villas as well as Clara Livingston's original five-bedroom property, Su Casa, can also be rented.
For those keen to explore, Puerto Rico's underwhelming welcome of strip malls and American automobile obsession (it has the highest rates of car ownership in the world), slowly peels back to reveal another island of warm hearts, unstoppable salsa, and some of the best food in the Caribbean. A drive across the interior unveils a lush landscape of undulating tropical timelessness, encompassing the US's only tropical rainforest, El Yunque, the laid-back new-age surfing town of Rincon, and lost languorous Spanish-speaking sunspots waiting to be discovered.
The lack of direct flights can mean Europeans are something of an endangered species, aside maybe from San Juan's pretty old town, where the relentless rampaging of cruise ship passengers, does look like it's all gone a bit out of cruise-control. Miami probably represents the best pivot point, where the airport's leading carrier, American Airlines, is the only one connecting through to San Juan. Not least for passengers in First and in Business (where it was gratifying to find universal aisle access), who can now seek sanctuary in AA's vast 29,000 square-foot, state-of-the-art Flagship Lounge. Opened in late 2017, the lounge, incorporating a dedicated restaurant for First passengers, serves as an expansive retreat within one of the US's more frenetic aviation hubs.
Laurance Rockefeller ultimately had to concede that his pursuit of perfection, was merely producing playgrounds for his HNW friends, at the expense of commercial viability. His 'Fabulous 150' legacy still resonates at Dorado Beach, however, where the Ritz Carlton Reserve's own 21st-century interpretation of uncompromising opulence, remains every bit as fabulous as Rockefeller would have wanted it to be.
Rooms begin at $1099.
American Airlines flies daily from Heathrow to San Juan via Miami, from £1,942 in Flagship Business, and £2,721 in Flagship First
www.doradobeachreserve.com