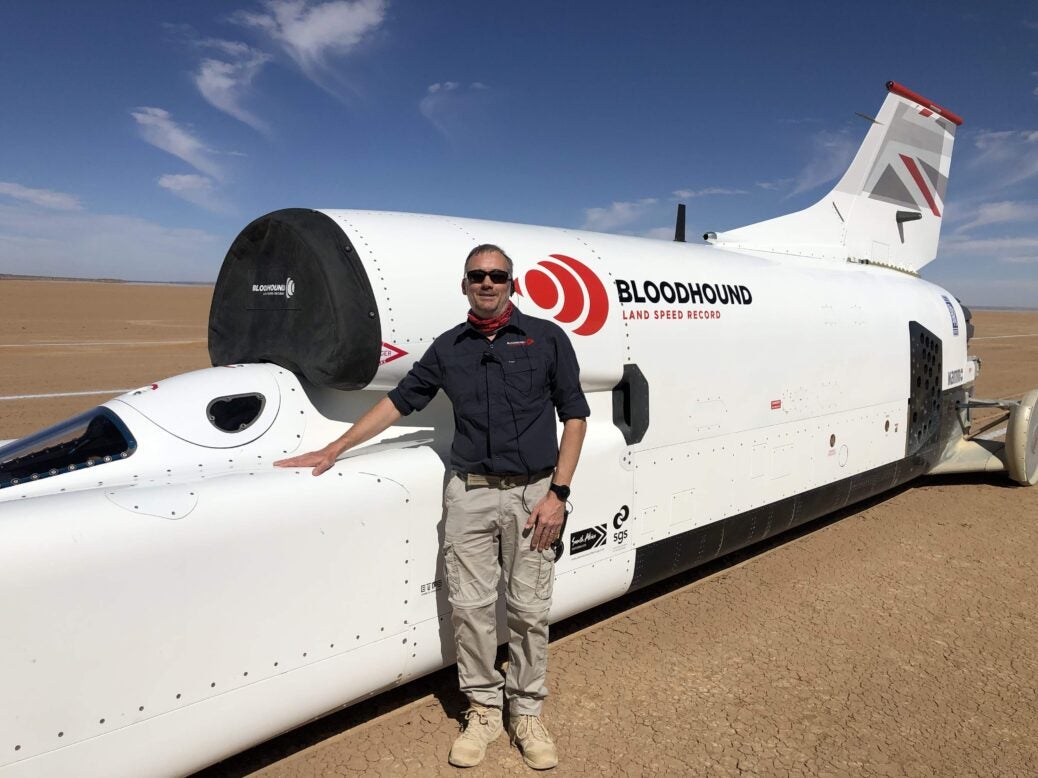 Ian Warhurst, owner of the Bloodhound Land Speed Record project, explains how he is working to break the record in 2021
As told to Rasika Sittamparam
I sold my business, Melett Turbocharging, in 2017 and was going through a 12-month transition period into a corporate entity, with plans to retire in November 2018. Just when I thought I'd got a bit of time off, I found out within a week that the Bloodhound project was going into administration after ten years of operation.
As a chartered mechanical engineer myself, I thought it would be a shame to watch the project just go bust and get thrown in the skip.
I also realised that the sort of money needed to stop this happening was not a significant amount as far as I was concerned. So I bought Bloodhound for a seven-figure sum – it was just for the car and not any of the past contracts and sponsorship it was tied to.
Green shoots
Andy Green is the fighter jet pilot who set the current land speed record in 1997, in a Thrust SSC at 763 miles per hour in Nevada.
Between 2008 and 2010 he searched the world for the perfect spot to run Bloodhound for his next record attempt. He found the Hakskeen Pan in South Africa, a 20km-long lake bed that had dried up. The North Cape government agreed to hire 300 people to clear the desert and move 16,000 tonnes of stones to create a 20 x 3.5km strip by 2014.
I went down there in February 2019 and saw all these people sitting around the track, waiting for the car to arrive. I was told they'd been waiting for years. In September the Bloodhound team flew the six-tonne car over in a cargo plane.
We prepared the desert and had dead-straight white lines painted across the track. Green's test drive achieved a top speed of 628 miles per hour in November, after which we returned to the UK. It's great, the unknown, isn't it? It's the same as climbing a mountain, pushing the boundaries and knowing you're going to a place that no one's been to before.
In the New Year, I want people like me to say: 'Hey, here's a few million quid – let me come and join you.' We will put together a sponsorship and get the design phase started again – we need to fix the Nammo rocket engine to Bloodhound to finally break the supersonic record by reaching 800 miles per hour by August 2021. It would be the perfect time, as it would be a lot cooler in the desert, and as the high-test peroxide used to fuel the rocket engine can be an unsafe liquid at very high temperatures.
Testing times
The highs are when we achieve what we set out to do, which is fantastic – seeing the car run. The lows are the few frustrating moments when things don't all work at the same time. The car is a very clever piece of engineering, but sometimes you set off with it and the engine stops working.
Testing, after all, is about fixing things that go wrong. What's really great is watching the car reach a 'serviceability' curve, where things that go wrong stop going wrong and the car doesn't need fixing again. All these things stop breaking, and then it finally becomes reliable.
Growth strategy
One of my ambitions is to maximise the inspiration that we create. The land speed record is an accessible thing. My mother-in-law, who's not even remotely into cars, told me: 'I remember when Donald Campbell did this in the Bluebird in 1964.'
People relate to it. Bloodhound has been a really successful project to get kids involved in engineering – things like jet engines, rockets and things that are really fast, that's what excites them.
If more kids learn maths and physics and get into engineering, the more chances we have of solving problems of the future, such as climate change. I hope that by setting a new land speed record we can inspire a new generation of engineers to take on the challenges of the world.
Image credit: Charlie Sperring
Read more
Robert Harris diary: 'For connoisseurs of politics, it's the greatest World Cup ever'
Nicholas Coleridge on festivals, social media, ponds and wool – the Spear's diary
Jo Whiley on gardening, Glasto and DJing at Henley – the Spear's diary