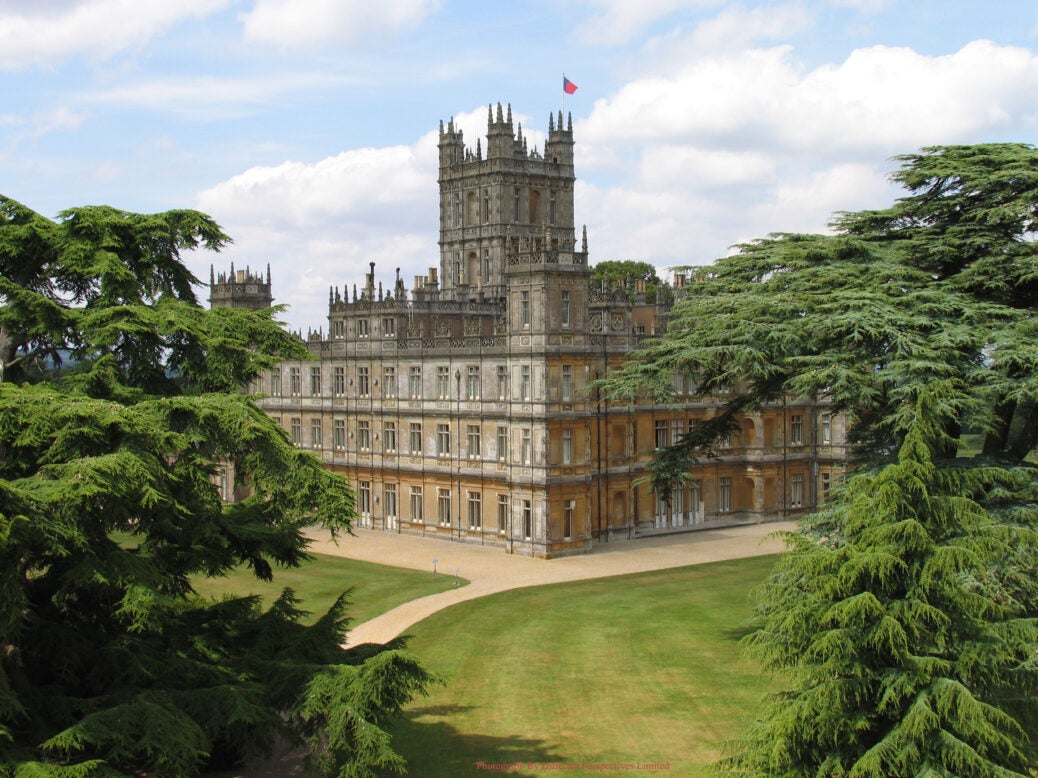 Highclere Castle starred as Downton Abbey, but now the TV crews have gone there's still a business to be run. Lady Carnarvon tells Tanya Ghahremani how her family does it
Highclere Castle, which sits in a beautiful corner of Hampshire near the Berkshire border, is best known as the setting of Downton Abbey, the hugely successful ITV series that aired between 2010 and 2015. But to the Countess Carnarvon, the property is much more than that: it's a legacy to uphold.
'A house is not just the stones,' she says, sitting at a table in the coach house, which has been converted into a cosy two-storey café. 'It's not wallpaper and a nice building. It's about the unique, eccentric, hilarious group of people who live here as a family with us in a broader sense, and how we help each other get through the more tragic moments in our life.'
It is a particularly crisp, cold morning, and next to us is a radiator underneath a window that overlooks the 6,000-acre estate. The castle grounds are busy, and visitors are buzzing in anticipation of Highclere's first Christmas tour of the year.
Lady (Fiona) Carnarvon, along with her husband George 'Geordie' Herbert, 8th Earl of Carnarvon, preside over Highclere Castle, Lord Carnarvon's family home. Together they have turned it into a model for how a country home should be run and marketed. Having a connection to an international TV blockbuster helps to bring in visitors, of course, but Highclere has a number of other projects that help raise awareness and attract new fans: books, a gin brand, podcasts, and historic tours, to name a few.
The story of Highclere and its association with Downton has been told many times – but not necessarily very well. According to reports, when the TV show first came calling in 2009, the castle was in dire need of nearly £12 million in repairs, £1.8 million of which were urgently required. What reportedly followed sounds like a success story for the ages: Downton became a hit, visitors who were willing to pay came flocking to the castle, and the castle was saved. However, Lady Carnarvon tells a different tale.
'That was the press,' she says, flatly. 'As usual, it was slightly wrongly put out there.' In fact, she says, the filming of Downton itself didn't benefit the castle financially all that much.
As a result, the family have set out to run the estate as a business — which she says is necessary for such places, 'unless you have the most immense private income'. And although interest in Highclere from Downton fans remains high, other streams of revenue were needed to help create the business strategy that still exists today.
What are the most important things that go into running a home such as Highclere?
'Reputation,' Lady Carnarvon says, 'and how quickly it is to lose it. And for us here, I think it's all about tone and staying true to yourself. It's not being what you are not. There's no point having something beautiful if you don't market it, so that's what you need to do. Every single business is about marketing. What are you? If you are a restaurant business, if you are a heritage business, if you are an art gallery — what are you trying to do, and why should people come and see you? In my case, my thought was, how can George and I make people love Highclere?'
Understanding what Highclere is was the first step to understanding the tone that needed to be marketed, she says. To establish this, she has released a number of books featuring stories from the home's past, including Seasons at Highclere, published last October. In addition, she runs a blog and records an official podcast about the estate.
Second, decorating the home is important — and for Lady Carnarvon it was important that Highclere be a place that felt 'lived in' and 'homely', despite its grand nature. When she began to decorate, the rooms needed work. 'The bedrooms were not done, and my parents-in-law hadn't done anything to them. Most of them weren't really open; they had upside down furniture. And so I've done a lot of interior decoration.'
The fascination with grand country piles shows no sign of abating. There are now even university courses on the subject: at the University of Buckingham, students can enrol in an MA or a PhD in country house studies. 'New country houses are being built today, and old ones are being treasured and protected — not only as pieces of history, but as living, breathing homes,' says Adrian Tinniswood, the director of the graduate programme. 'Country houses used to be things of the past: now they have a future.'
Lady Carnarvon agrees, and cites that TV show again as the reason for the rising interest. 'I think Downton Abbey actually suggested that history has some value, that what we've done in the past is relevant to today. We're not much different. And in all those ways, I think it's been a fantastic programme for many English castles. And for many of us, it also brings us together. Because you find grandparents and grandchildren sitting together doing something. When else would they do that?'
Image: Highclere Castle