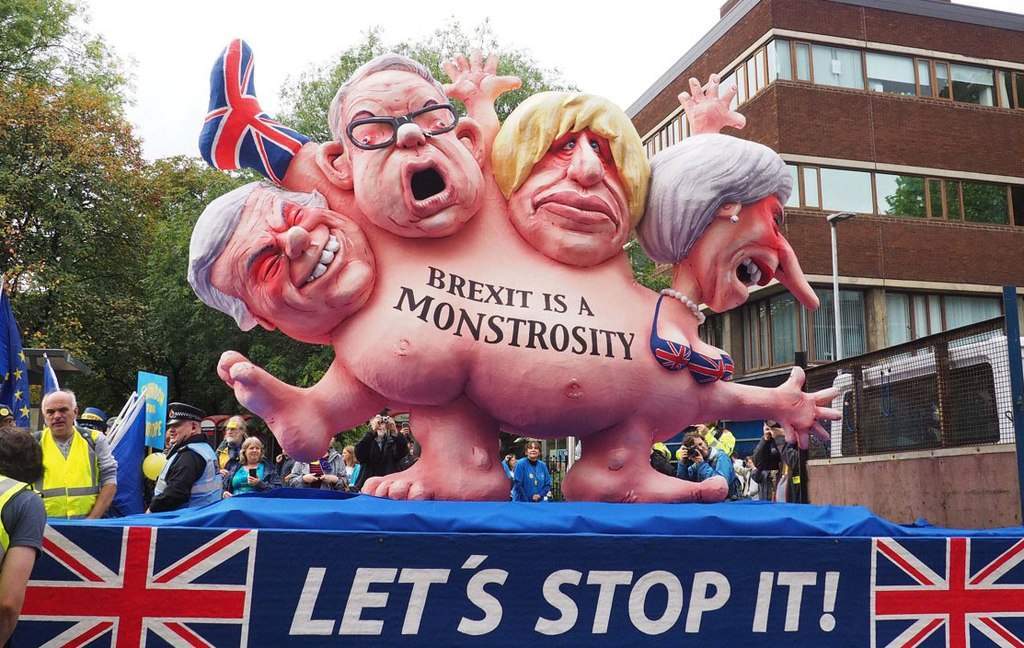 Despite severe warnings from the Bank of England, Britain will likely avoid a recession under no-deal Brexit, according to an authoritative outlook, writes Alec Marsh
If Britain embarks upon a 'hard' Brexit in March the outcome will not be the economic Armageddon that's hitherto been predicted – that's according to economists from the National Institute of Economic and Social Research (NIESR), who have poured cold water over the dire predictions of the Bank of England.
Just last November, the Threadneedle Street's finest forecast a steep 8 per cent recession for Britain – 'worse than 2008' – in the event of the country crashing out of the European Union without a deal in March. But the eye-brow raising forecasts this week from the NIESR go some way to allay fears of an economic collapse if Westminster fails to reach agreement with Brussels, or equally likely it seems with itself.
@maxpixel
That said, it's still not good news – especially considering worldwide growth expectation of 3.6 per cent in 2019. 'We expect economic growth to collapse,' explains NIESR economist Amit Kara. 'The big picture is that there will be a material slow down if we have a no-deal and policy makers respond in a mechanical way.' In that case, he added, 'It's a very sharp slowdown, very likely close to zero.'
But close to zero is not a recession – and depending on how the Bank of England and government responds if a no-deal were to happen, then the impact could be smoothed out over short term, the NIESR makes clear.
Kara said that if the Bank and Government were to make suitable 'policy interventions' – in others words react by cutting interest rates or dropping taxes – then aligned with EU-UK contingency measures (such as cooperating over air transport and road haulage) then the short term economic outlook was far from grim.
@WikiCommons
Under what the NIESR calls its 'accommodative policy' outlook GDP growth would fall from a soft-Brexit outlook of 1.5 per cent in 2019 to around 0.4 per cent, before rising to 1.6 in 2020 and then rising to more than 2 per cent in 2021. Any pleasure to be taken from the fact that this figure is rather higher than its outlook for a soft Brexit in 2021 (1.7 per cent) is offset by the bad news that the hard Brexit growth scenario would fall back in the later 2020s, taking us to around 1.3 per cent in 2025, compared with around 1.6 per cent under a soft Brexit.
@NIESR
Likewise if policy makers don't react to a no-deal by cutting rates, then GDP growth will fall to zero, before picking up sharply in 2020-21 and ending up in 2025 a little higher than under the accommodative policy. 'The long-term outlook remains the same [under a no-deal], it's just how you get there,' adds Kara, who also pointed out that under a soft Brexit, the Chancellor would be unable to meet his fiscal mandate, which has the government committing to keep its structural deficit to less than 2 per cent of GDP – something else to look out for at Spring Statement in March.
@dullhunk/Flickr
The NIESR's data are sure to be leapt on by those on both sides of the Brexit debate – and used as evidence that 'project fear' is alive and well. In comparison to this sultry growth for the UK, the NIESR predicts euro area growth in 2019 of 1.7 per cent, falling to 1.5 per cent in 2020, partly dented by the impact of Brexit of course.
The US will sail on ahead at 2.5 per cent in 2019 and 2.2 per cent in 2020, the NIESR said, forecasting a 0.25 rate rise by the Federal Reserve in August and further quarter point rises at six-monthly intervals thereafter.
China's growth will slow from 6.6 per cent in 2018 to 6.1 per cent in 2020. The institute reserved bad news in particular for Japan, where new taxes will impact growth, which will sit at 1.1 per cent in 2019 and just 0.2 per cent in 2020 – a reduction since the last forecast of 0.6 per cent. The 'central expectation for the global economy [is] still desirable,' it said. 'Global growth will be close to 3.5 per cent in 2019 and 2020. Inflation will be around target in major economies, helped by lower oil prices. Central banks will ease the pace of policy tightening.'
Alec Marsh is editor of Spear's.
Follow Spear's @SpearsMagazine 
READ MORE
ANALYSIS: Wealth managers react as eurozone 'recession' looms
Switzerland: Stuck in the middle with EU.
Lloyd Dorfman on UHNWs: 'You don't see a huge number giving'