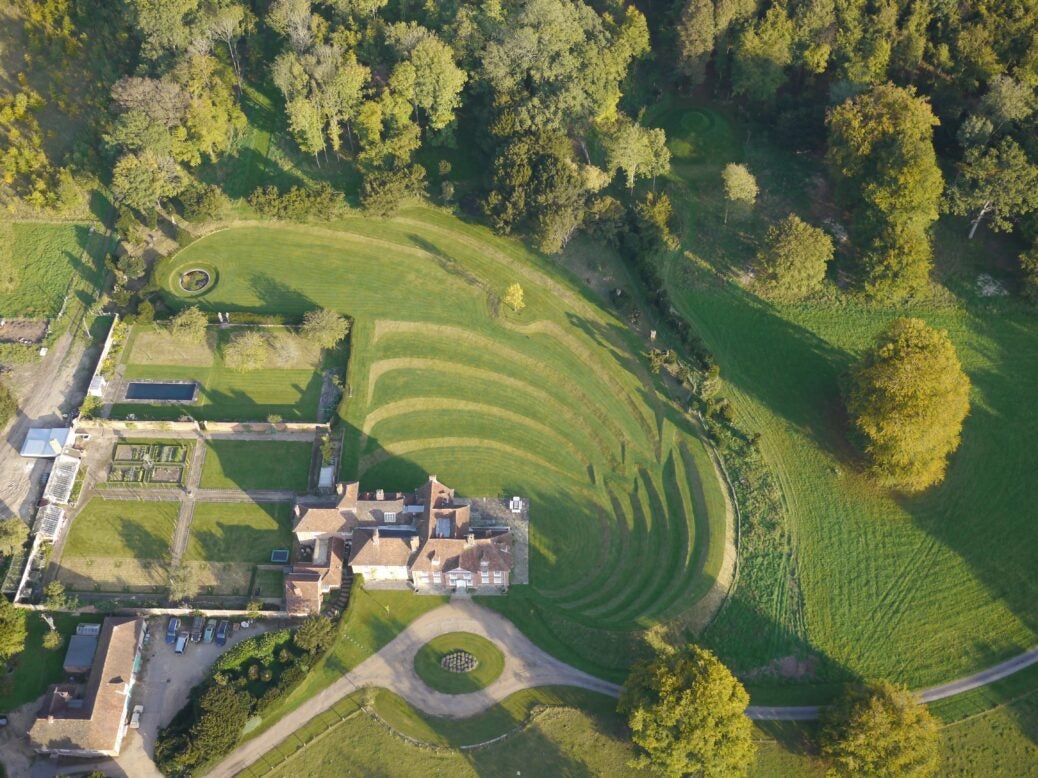 A Kim Wilkie masterpiece in Hampshire reflects the modern inclination for garden collaborations between patron and designer, writes Christopher Jackson
'With a project like this, if you don't know what you're doing, you could mess up,' says Ted Wake, surveying his demesne with a twinkle of humour. The amusement derives in part from the fact that the Holt is the work of someone who doesn't mess up – one of the bravest minds in landscape architecture, Kim Wilkie. Katherine and Ted Wake are his neighbours in this blessed part of Hampshire, so they asked Wilkie to bring the estate into the 21st century.
The estate spills out around a refined Jacobean house – all delicate pilasters and reassuring brick. Below us, Wilkie's curved tiers of grass encompass the house like an amphitheatre. These vast ribs were the result of a monumental effort, using a 20-ton digger to upend and sculpt the soil.
It puts the house on stage. The steps –which one can imagine a giant traversing – are interrupted midway by a zany path bisecting the classical line, sending the eye up towards a gate. 'The zigzag is a crucial and unique element of the design – it's a masterstroke,' explains Wake, as we follow it up, and through.
By any metric, gardening is increasingly on the collective mind. When I meet with Andy Sturgeon, winner of the 2016 Best in Show at Chelsea, he explains: 'In the Sixties, when people got cars and garden centres arrived, people began thinking about gardens in terms of lifestyle – having a G&T, that sort of thing.'
The Nineties continued that trend. Our interest in gardens coincides with the rise in inequality under Blair and post-Lehman: a new, sophisticated client emerged. Jo Thompson, who won the People's Choice award at the first RHS Chatsworth Flower Show in 2017, describes a change among her clients towards those who 'want an involvement and are using the designer as a sort of conduit to channel their likes and dislikes – and who then distil it'.
Wake epitomises this new wave of clients. A senior figure at Kirker Holidays, with a degree in botany, he leads me up genially towards another masterstroke – a mound like a prehistoric burial site. Minimalism – one thinks of Ryoan-ji, or the paintings of Ben Nicholson – gains its power from refusing busyness, and permitting the mind to roam. Here, the existence of this huge earth sculpture beyond the main garden links us back to the main space even once we are outside it.
The top of the mound employs a Le Nôtre-ish patte d'oie [goose's foot] composition: an avenue has been enhanced; another, lined with oak, has been created from scratch. You ascend via a grassy helter skelter. 'It's specified in my will to toss my ashes from the top,' says Wake. 'I don't want it to get too fertile because that would upset the equilibrium.'
As we walk, I begin to think of the garden increasingly as collaboration – indeed, as the record of a friendship between patron and architect. It is this sense of free dialogue which makes the perspectives so effective: it has the feel of a gallant and highly educated conversation.
The Holt opens up the question of what sort of relationship a patron and gardener-artist should have. There are still gardeners today – one thinks of the great 'rock star' (Sturgeon's phrase) of gardening, and key figure in the New Perennials movement, Piet Oudolf – who have a style to which they would expect the client to submit. Oudolf is frank with Spear's about the extent of his influence: 'You see buildings draped with green from top to bottom – I think we had a big influence on people,' he says, referring to his wild and naturalistic style.
Wake and Wilkie are instead concerned to help the landscape on its way to what it wants to be. It is a quasi-mystical approach: a respect for the land is always a concern; no jazzy species must be brought into the garden. When I ask Wake about his relationship with Wilkie, he is cheerful: 'He's very tolerant of my ambitions, and hopefully he might say the same.'
So what does Wilkie himself have to say about his work? I meet him in the courtyard of the V&A, which he designed in 2008. Softly spoken, he says he doesn't see himself as a gardener at all. 'I go back to gardens being a private fantasy,' he explains. 'It's great to do sculptural forms in landscapes [like the Holt] but the underlying pattern is: how do you
get natural systems and human beings to survive?'
At the Holt, humankind and the land are in absolute symbiosis. As Wake and I walk away from the mound through the 'darkling rectangle' ('In the summer, it's this wonderful dappled shade – it's very simple'), we look off towards the distant hills. 'I have plans to put a simple love temple at the top here so that my daughters can return from university to canoodle with appropriate young men,' says Wake.
One is reminded that England at its best is a garden in its own right. From the Holt, you can see trees deckling the distant hills: there's also a gap in the line of trees, revealing a sliver of sky. Robert Myers' garden at the Lexington in the City deploys the same ideas – when looking at your garden it is always worth considering what's in existence beyond it.
'It's all about the borrowed landscapes,' Myers tells me. '[Lexington]'s open to the Bunhill Fields with these wonderful plane trees – it's something you can use even though it's not yours.'
The Holt is in a similarly happy location: corridors of grass keep opening up on to the gigantic question of Hampshire. We enter the kitchen garden. 'This half of the garden was all Christmas trees. Denis Healey was squeezing the rich until the pips squeaked and people were feeling miserable about the responsibility they'd inherited.'
The Holt might thus be said to represent a moment of confidence – when a taxation system kindlier to the rich than Healey's has created an opportunity to move the country home into a new phase: to robe it again in art, and to let the land speak. It is that rare thing in the history of aesthetics: a collaborative masterpiece.
Christopher Jackson is deputy editor of Spear's
This article first appeared in the May/June edition of Spear's magazine. Buy your copy or subscribe here