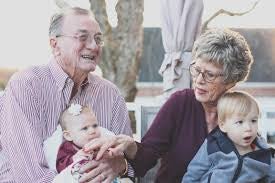 Charlotte Coyle explains what can be done when divorce separates children from their grandparents
When you hear of a family breakdown, you automatically think of the parents and children. It is very rare that you consider the impact it will have on grandparents and their relationship with their grandchildren.
However, it is estimated that over one million children in the UK have lost contact with their grandparents as a result of a family feud with 42 per cent of all grandparents losing contact with their grandchildren when parents separate.
Usually, a grandparent is not directly involved in the day to day life of a child but losing contact can be devastating after a family breakup. A survey carried out for the 'Report: Beyond the Nuclear- Including the Wider Family' in 2009 initially found that before separation 55 per cent of grandparents were directly involved in looking after their grandchildren and it is presumed this figure has only increased 10 years on.
Sadly, a large majority of grandparents are unsure as to what do when placed in this situation and when talking to family members to try and agree contact fails, they are often unaware of steps they can take to reinstate contact.
There are options available to grandparents such as mediation or even making an application to the Court for a Child Arrangements Order. Of course, all attempts to avoid court should be made and grandparents are often advised to try and avoid litigation by talking to family members to resolve dispute. However, if this fails then the first port of call would be to attempt family mediation. It is now a legal requirement for a person to attend mediation prior to making any application (unless there is an exemption applicable). It is only if this fails, that the court process should be undertaken.
This process requires grandparents to first make an initial application for 'leave' to apply which essentially asks the court for permission. If they are successful, they are granted the right to apply for a contact order.
Whilst grandparents' do not have an automatic right to have contact with their grandchildren, the court does recognise the importance of the special relationship between a grandparent and a grandchild. However, there is no doubt that many grandparents are put off applying to court because they do not have an automatic right in the first instance. This need to apply for leave can be seen as a huge obstacle by some and there is definitely an argument for reform as to whether grandparents should even have to ask the court for permission to apply for contact in the first instance.
In today's society, grandparents can take on various different roles within the family unit from those who fulfil the role of a full time carer to those who take on board a considerable amount of childcare prior to a family breakdown. Whether any review into policy and legislation is likely to take place- who knows? It has been a difficult to see any signs of progress or a satisfactory response despite several calls for reform in the last year.
Grandparents should not be put off though. Often practitioners are asked what their chances of success are in obtaining leave to apply and although all cases are dealt with on a case by case basis the court have been vocal in supporting the invaluable role grandparents' play. It is therefore very rare that the court refuses a grandparent permission to make an application for contact, unless there are issues of safeguarding or harm as the child's welfare is the paramount consideration for the court.
So on one hand the court can be seen as encouraging of a grandparent's role within the family unit but then on the other they impose quite an obstacle. This year grandparents Day falls on 6 October, a reminder of the unique role grandparents play, with them providing links to heritage and traditions which can help children build on their own sense of identity and whether now more than ever, there is a need for change.
Charlotte Coyle is a an associate in the family team at Goodman Derrick LLP