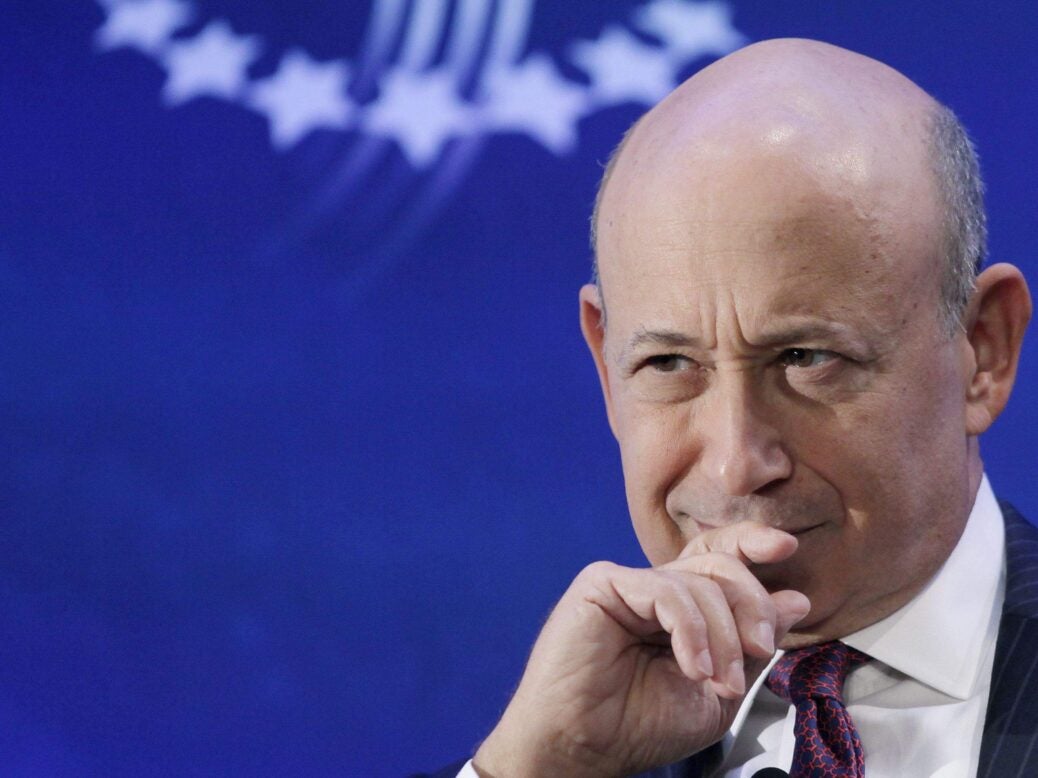 Lloyd Blankfein's Brexit hashtag signifies Goldman Sachs's uncertainties about London's status as world financial centre post-Brexit, and they're not alone, writes Alec Marsh
Is Number 11 listening? For the second time in just weeks Lloyd Blankfein, the boss of Goldman Sachs, has taken to the Twittersphere to issue a not-so-veiled warning to London over Brexit.
First on 19 October the banking chief tweeted that he was leaving Frankfurt, adding: 'Great meetings, great weather, really enjoyed it. Good, because I'll be spending a lot more time there. #Brexit'
Those 18 words made the BBC News at Ten.
Now, accompanied by an aerial shot of his company's forthcoming European HQ in London — which is currently under construction — Blankfein has returned to the theme, tweeting: 'In London. GS still investing in our big new Euro headquarters here. Expecting/hoping to fill it up, but so much outside our control. #Brexit'
The fact that his hashtag didn't indicate the European Commission (or Michel Barnier for that matter) perhaps offers insight as to where he believes due rectification lies. (Anyone remember Emily Thornberry's #chatham tweet?)
It should be noted that this in turn followed a BBC interview in May, where Blankfein said that London's rise as a financial centre would 'stall' because of Brexit. 'It might backtrack a bit,' he told the broadcaster. 'It just depends on a lot of things about which we are uncertain.'
The Wall Street leviathan has already announced that it is leasing space in a yet-to-be completed 37-storey tower in Frankfurt and though the firm currently has just 200 staff in that city now, there will be room for 1,000 in the new structure.
Which could take a decided Brexit bite out of the 6,000-strong staff headcount presently employed by the bank in London, if that's where they all came from. Interestingly, Goldman is due to move into its new London HQ in March 2019 – just in time for Britain to leave the EU.
Like the financial media mogul Mike Bloomberg, who last week opened his new European headquarters in London, the decision by Goldman to invest in its new 10-storey structure was taken prior to the EU referendum. The good news is that Bloomberg, whose enormously expensive new HQ is the biggest stone building in the City for a century, is still backing London as a financial capital ('for years to come'), even if the man himself decried the public's decision as 'stupid'.
The noises from Wall Street are hard to misinterpret. Let's hope that the chancellor, as well as London, is taking heed. Certainty — whether it's passporting or based on a platform of regulatory equivalence — for the UK's financial services post-Brexit is essential. If the Americans all troop off to Paris or Frankfurt, it'll make Kensington much more affordable, but at what cost?
Alec Marsh is editor of Spear's