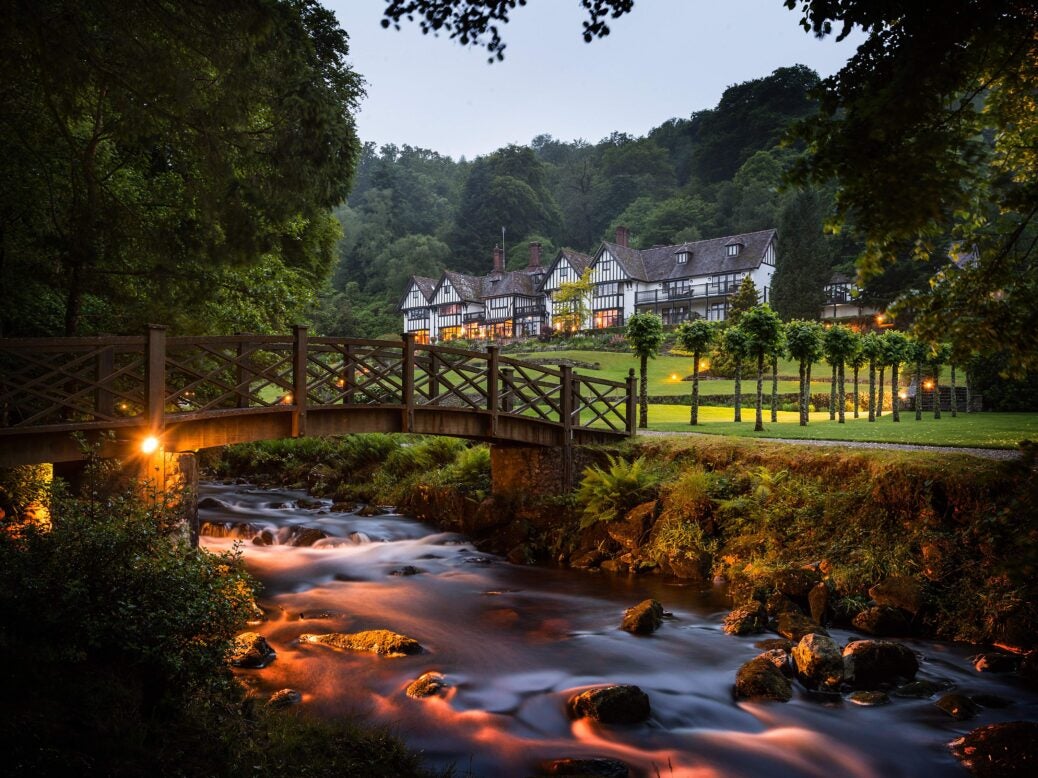 The Gidleigh estate has been recognised since Norman times, and it still maintains an ability to transport its guests to a different place altogether
They say that a truly excellent restaurant or hotel is one that makes its guests feel as though they have been transported – taken from their everyday lives and deposited somewhere else. Even if only for a night, or an hour or two at lunch.
Visitors to Gidleigh park get that even before they've arrived. The drive along the narrow, undulating road that leads there from the village of Chagford is enchanting. You snatch glances of Devonshire fields, farms, stunning homes and the River Teign. When the beautifully tended grounds of Gidleigh Park finally hove into view, things get taken up a notch.
The Gidleigh estate has been recognised since Norman times. The house that stands here now, with its dark wooden beams and white exterior walls, looks Tudor but was built in the 1920s by the Australian farming and shipping magnate Charles McIlwraith as a hunting lodge. In 1978 the house was acquired by Paul and Kay Henderson who began turning it into what it would become. In 2005 that project was taken up by Andrew Brownsword's hotel group, which carried out a renovation in 2007, refitting the restaurant and adding 10 bedrooms, to make a total of 24.
Ours overlooks the hotel's terrace, billiard-table-smooth lawn and, further away, the babbling River Teign. The interior of the room feels comfortingly English, with plenty of dark wood furniture. The bathroom is commodious and has a rainfall shower, as well as products by L'Occitane.
Many visitors to Gidleigh Park come for its reputation as a dining destination, forged largely by Michael Caines, who worked here from 1994 until 2016. The restaurant has held two Michelin stars twice – under Caines and one of his successors, Michael Wignall. The man in charge of the kitchen now is Chris Eden – a Cornishman who has taken up residence in this pretty corner of Devon, and who will hope to be awarded his own star when the next edition of the UK Michelin Guide is published in 2021.
He draws extensively on the estate's own kitchen garden, to create frequently changing and inventive menus which are interspersed by clever little amuse bouches, such as a delicious mushroom parfait. When we ate in the main wood-panelled dining room, the standout dishes were a starter of smoked eel, served with cucumber and dill, as well as a dessert entitled simply 'Clotted Cream' which consisted of 'Thunder and Lightning tart' with droplets of saffron jelly and ginger beer gel on top. The aged filet of beef served with smoked bone marrow, garlic and spinach was not to be sniffed at, either.
For a post-prandial stroll, one could scarcely be in a better place. The hotel staff – who are excellent, friendly and attentive – are happy to suggest hikes into nearby Dartmoor and there's an Astroturf tennis court on site. But for those with more modest ambitions a walk through some of the 107 acres of grounds is ample. You can wend your way over the Teign and alongside it for a short while, before taking a turn through a bluebell wood and then past the Peter Aliss-designed golf putting course. There is a tranquil water garden, shaded by giant trees and full of lilies and moss-covered rocks, which lends the place a fairy tale feel.
It's a shame when it's time to leave, and you have to make your way once more along that narrow, winding road – and back to reality.
Double rooms at Gidleigh Park start from £275 per night on a bed and breakfast basis. For more information or to book, visit www.gidleigh.com, or call 01647 432 367
Read more