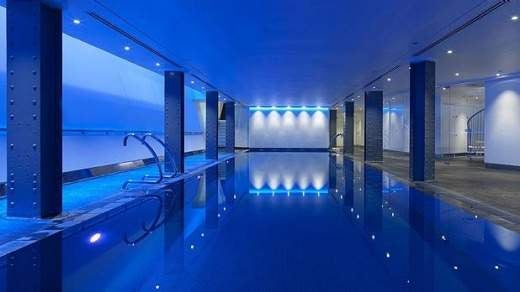 The tide may have turned against iceberg basements in recent times, but they're still doable, writes Stephen Rockhill
Hardly a week passes without famous people wishing to build basements under their properties. Indeed it recently emerged that Prince William has submitted plans to extend 1,500 square metres of extra space in the Orangery at Kensington Palace over three floors – two of which are to be underground.
But these projects are never easy to pull off. Reports abound of botched projects throughout London. Just this week a million-pound house in Wimbledon collapsed while basement extension works were taking place. And a family in Chester Row, Belgravia still awaits repairs to their house worth £250,000 after a neighbour's skip fell into the road during a dig. The Health & Safety Executive reports that 50 per cent of basements sites in top London boroughs failed safety inspections in 2015. No wonder then this type of renovation is often unpopular. Even so, building down remains the only option for some.
Things are coming to a head in this controversial area. Only last year the Royal Borough of Kensington & Chelsea applied a new planning policy restricting the size of basement excavations.  This angered many within the borough, and the policy was challenged in the High Court by a local resident and subsequently dismissed. Similarly, the London Borough of Camden was also challenged in Eatherley v LBC, in which the court averred that there are no permitted development rights where engineering works are involved. It hardly needs stating that most – if not all – basements involve engineering works.
Emotions are running high. The Chelsea Society – that august organisation founded by Reginald Blunt to protect the rights of Chelsea residents – recently made a submission to the government answering its call for evidence on basement developments. Their argument is clear: local authorities should have a right and duty to consider each application individually, and permitted development rights for basement excavations should be withdrawn.
So what does all this mean for HNWs out there who hanker after a little more space beneath? Well, it doesn't mean you won't be able to build a basement – but it does mean you need to plan your campaign carefully. How's it done?
Well first up, don't forget your neighbours. Their support will be crucial, and it's vital to have them on side from the very beginning.
Don't forget that your property shares foundations with, and provides lateral support to, your neighbours' house. Any movement in your house will affect them. Meet face to face and explain your plans – and most of all, reassure them that you plan to cause them minimal disruption. It's a moment when a bottle of wine can go a long way. The Chelsea Society echoes this, pointing to the importance of meaningful consultation with neighbours.
Then, don't scrimp on the cost. Make sure you find a team with a track record of excellent designs. It's also important to consider any construction problems early on. As Simon Haslam of Basement Force notes: 'The design team need to design something that is not only structurally sound, but is also something that can be built efficiently.'
Thirdly, consider taking out construction insurance. If something does go wrong, you want to be in the best possible position to get the problem remedied. At the same time, it's worth making sure you've complied with any council document requirements. That should give you peace of mind that the insurers will pay out – should it come to that.
To mitigate against a disaster, make sure your contractor is in the Association of Specialist Underpinning Contractors (AUC): a lot of the recent horror stories in the press have involved contractors which have gone bust following their disastrous work. It is essential to check your contractor is financially stable, and has been for some time. Using a member of ASUC (the Association of Underpinning Contractors) helps ensure this.
Keeping any noise to a minimum is another important point. If possible, get the contractor to build an acoustic enclosure around the site.  The scaffold sheeting should be designed and fixed to minimise noise caused by the wind.
If that sounds like a significant outlay, it's worth remembering that cutting corners on the process may come back to bite you. Ultimately, achieving as seamless a basement build as possible requires good planning, the best professional teams and, as importantly, keeping in with the neighbours.
And perhaps that's a small price to pay for the house of your dreams, and further down the line, a handy sale price.
Stephen Rockhill is head of construction and engineering at Stevens & Bolton LLP