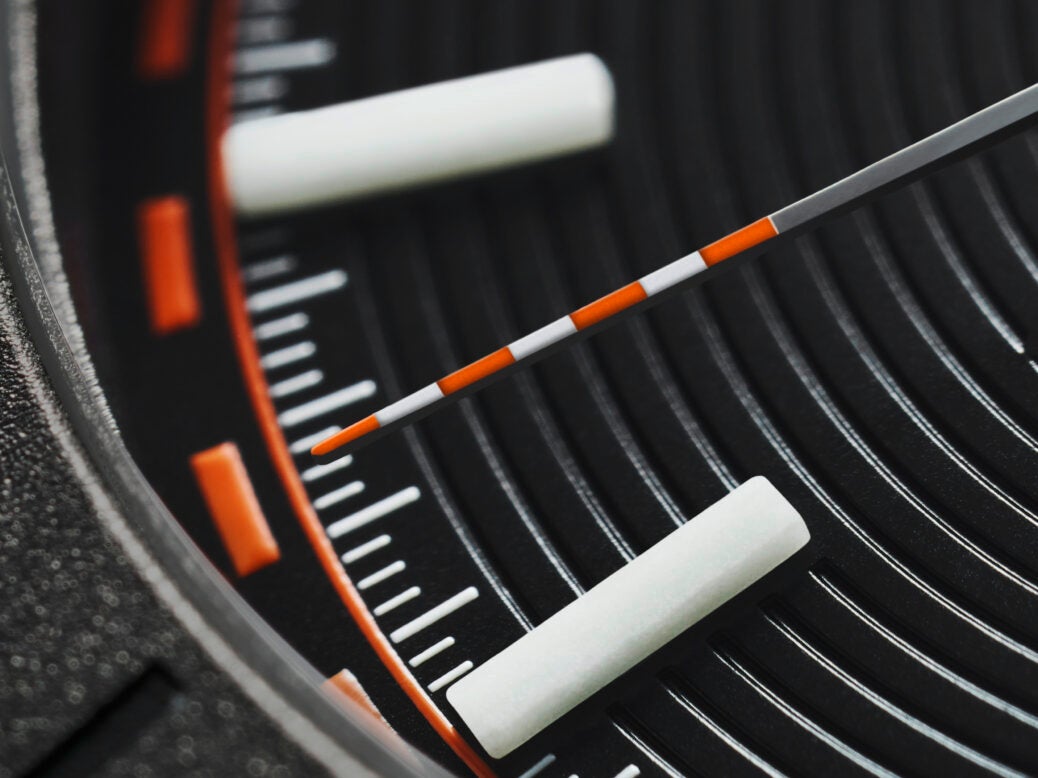 When George Bamford began customising luxury watches he became persona non grata. Now some of the biggest names in the industry are coming round to his way of thinking
Not for the first time in recent months, I'm awaiting the start of a lockdown webcast. In this one, George Bamford, founder of London-based Bamford Watch Department and 39-year-old son of billionaire JCB owner Lord Anthony Bamford, is to be joined by one of very few people whose family's pockets are even deeper than his: Frédéric Arnault. The 25-year-old chief executive of TAG Heuer is a son of the world's third richest person, Bernard Arnault, whose LVMH group owns the luxury watchmaker.
This is not the company you'd have expected George Bamford to be keeping five years ago.
Back then, Bamford may have already become the go-to name in luxury watch customisation, known for adding sheeny black coatings, colourful accents, punky details and even cartoon characters to his customers' tickers. But the discipline was deeply resented by some of the brands whose watches were being transformed, ensuring practitioners like him remained persona non grata in the industry. Largely, the industry's attitude hasn't changed.
Indeed, La Californienne, a US firm specialising in customising vintage Rolex watches in bright, sunshiny shades, was recently successfully sued by the Swiss behemoth for copyright and trademark infringements. Now it makes leather bands for Apple watches.
However, some Swiss makers have warmed to the idea, and Bamford has adeptly positioned himself as their collaborator. In 2017 he ditched modifying Rolexes and Patek Philippes to become the official customisation partner of TAG Heuer, and since then Zenith, Bulgari and Girard-Perregaux have also come on board.
The webcast's purpose is to announce the latest tie-up between Bamford and TAG Heuer: a limited-edition version of the company's Aquaracer sports watch in bead-blasted titanium, with a black dial adorned with orange highlights and concentric circles like a vinyl record.
It has, at the very least, considerably more spark and attitude than anything the watchmaker would produce on its own.
'It's a bit inspired by the Heuer Calculator that was made in the 1970s, which was a weird but fucking cool watch,' Bamford tells me when I visit the Mayfair townhouse from which he runs BWD. 'You go on a kind of Willy Wonka tour when you look at that era in watches. They were just trying to figure things out, and trying a lot of crazy things.'
That could be more or less the raison d'être of Bamford's business, which in 2020 produced a small series of TAG Heuer watches with dials made from coffee grinds. Another features Snoopy on the dial, his arms acting as hour and minute hands. There was even a £149 collaboration with Casio G-Shock, which sold out in moments and is selling at £700 online.
But the essence remains customisation – creating unique versions of watches to order. And for that, demand is booming. 'As soon as we came out of the first lockdown, we had stacks of customers coming in who'd been cooped up thinking about what they'd like to create,' he says.
He works on new watches supplied directly from his partner brands, with his modifications adding a bit over £2,000 to the price of the watch as new. If you don't want to visit Mayfair, there's a tool on the BWD website to design your own custom watch. But you should visit.
The BWD HQ is a Willy Wonka warren of its own, decked out in books, toys, clocks, timers and other ephemera that reflect its founder's giddy infatuation with all things watch. Bamford was trying to make it as a photographer when he got hold of a machine creating anti-friction coatings for industrial drill bits and used it to create an all-black version of a TAG Heuer Monaco.
Immediately pals started asking him to apply the same blackout finish to their own wristwatches.
From there, the Bamford entrepreneurial zeal took over. In dropping the Rolex modifications that made his name and 'going legit', as it were, Bamford has been very canny.
He's moved from outcast to true creative force in an industry that's taking a gradually less conservative attitude towards the idea that many people want something just a bit different, more personal – and are prepared to pay for it.
'It's for the person that's a little bit more pioneering,' he says. 'You choose everything about you these days, and then your watch is a clone of somebody else's. That's fine, but where's the individuality? There's a lot of people who want to find that bit of creativity and passion with this. It puts a smile on your face.
***
Meanwhile, there are plenty of outfits happy to enjoy outsider status in Swiss boardrooms while meeting the demand for pimped-out versions of watches from the biggest brands.
Some, like London's Titan Black and France's MAD Paris, source watches on the secondary market and adapt them on a bespoke basis. Others, like Geneva's Artisans de Genève and Label Noir, work on watches that clients already own, adding anything from colour coatings and dial designs to gemstones and mechanical interventions.
Firms are understandably cagey on pricing, though £2,000 is seen as a minimum spend for basic coatings, and prices easily stretch to five figures and up for more elaborate interventions.
'Anything is possible,' says Emmanuel Curtis, founder of Label Noir. 'We're like a star in the middle of a galaxy of watchmaking expertise. Our passion for watchmaking and our know-how allow us to create customisations that are out of the ordinary.'
To be borne in mind is the fact that, with any such modification, the original warranties offered by brands are voided, though the customisers mentioned do offer their own service warranties.
Indeed, Bamford Watch Department also offers its own warranties for its authorised customisations, while collaborations like the Aquaracer retain the brand's cover. I asked Bamford if he misses his old status as the bad boy outsider.
'Am I the punk still? It keeps me up,' he admits. 'We're still challenging, still doing crazy things, but in the right way.'
Read more
Why Swiss smartwatches are on a different planet from Apple
Journeys back in time: The rise of the watch museum
Is the dress watch set to make a comeback?