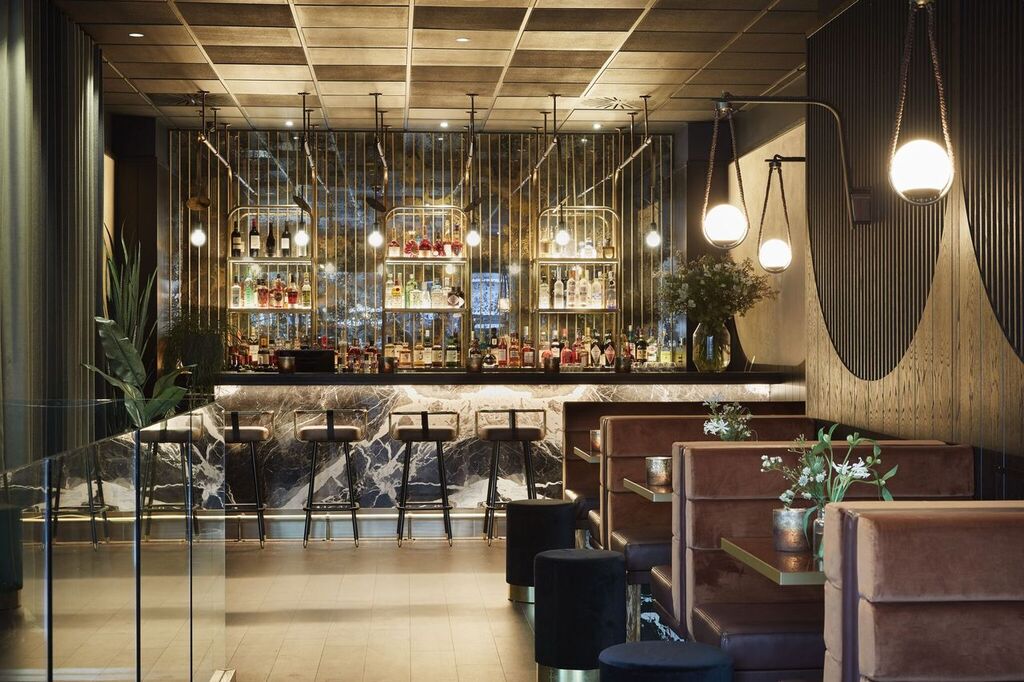 Arun Kakar visits Gaucho's revamped Charlotte Street branch, and finds that simplicity is a virtue
In a steak-heavy city like London, it's easy to forget that Gaucho was among the first to offer a simple proposition, one that is now ubiquitous across the capital: high end, low-fuss steak in a sumptuous setting.
It's a winning formula that the Argentine steak restaurant group has stuck to successfully for some 25 years now. But it's not afraid to reinvent itself, as we find out at its newly revamped Charlotte Street 'concept'. The sleek new redesign is moody, modernist, all low lighting and smooth surfaces.
The new décor is the first example of what it is calling 'Gaucho 2.0', a broader set of developments across its restaurants that places social responsibility at the core. Ten per cent of the workforce is set to come from charity partnerships, and the company is also working with suppliers to reduce its carbon footprint.
At the ground floor bar I'm quizzed on my tastes by the bartender and invited to try a New York Sour, which proves to be a primer with a punch.
Before long, we're escorted downstairs to the main restaurant area, which keeps to the same style as above but transposes it into a much cosier context (the chairs are remarkably comfortable . It's also packed, but never in a way that feels stifling.)
It's time to meet Nestor, our amiable waiter for the evening. After setting us up with bread and butter and the obligatory Argentine Malbec, he delivers a trio of fish starters: tuna ceviche, scallop ceviche, and yellowtail.
The tuna ceviche is my pick of the bunch – it's lip-smackingly sharp, grounded in the earthy freshness of the tuna. The yellowtail, meanwhile, is wonderfully sweet, while the shallots are creamy but not too rich.
You might not need an encyclopaedic knowledge of cuts and cooking to navigate your way around Gaucho's steak menu, but it does help to understand what you're ordering, as we find out when Nestor presents us with the selection of the cuts for us to peruse.
It's a formidable plate of meat, comprising of Cuadril, Chorizo, Ancho and Lomo. The Cuadril is its leanest cut, the ancho more marbled, the Chorizo tender and succulent, while the lomo is lean and delicate.
All the steak, we're reliably informed, comes from premium Black Angus cattle bred and reared in the famous Pampas province of Argentina.
We're not in a fussy mood: after being sold on the selection, we boldly decide to share the Gaucho sample, which encompasses each cut on a 1.2 kilo dish (a 'normal' portion of steak is probably around 180-200 grams). Then we get excited by the range of sides, and select some spinach, creamed mash potato, mushroom confit, buttered lettuce and skewers of Argentine Gambas (wild prawns).
By the time the order is placed, we're left slightly nervous, hoping that our eyes aren't too much bigger than our stomachs. Our main is ready quickly, but it takes a while to assemble it on the table.
We get to work. First, the lomo, which is so tender one could eat it with a spoon if they so desired. It's succulent and moreish, yet hearty and just the right level of juiciness. It's a world-class cut.
The Cuadril is the meatiest steak, one that would surely be rendered tough in lesser hands. It's a tasty, sturdy chunk, benefiting the most from the grill here, which imbues it with a delicious smokiness and texture. The ancho is chunky and tasty in the way that all good ribeyes should be, while the chorizo steak retains that best kind of fattiness.
It's an astonishing set of cuts, and we're relieved that we opted for them all. It's all knitted together brilliantly by our selection of sides, too, especially the greens, which are packed with buttery flavour.
We're asked if we want to try a selection of desserts. Why not? Then, along comes some sticky toffee pudding, salted dulce de leche cheesecake, and some chocolate fondant. The cheesecake is one of the best I've tasted in a long while – the subtle caramel really takes it to the next level – while the sticky toffee pudding is exemplary, the kind of cosy winter treat that braces us for the rain outside. The fondant, though delicious, possesses the sort of chocolate-upon-chocolate decadence that has to be consumed with care.
By the end of all this, I'm wondering if I'll be able to eat again for another week. But the way we progressed through the menu shows why Gaucho inspires such loyalty from its customers. The dishes are served with neither fuss nor frill, the service is unpretentious and warm. It's no surprise that people keep coming back to the Argentine steak restaurant collection for more.
More from Food & Drink: