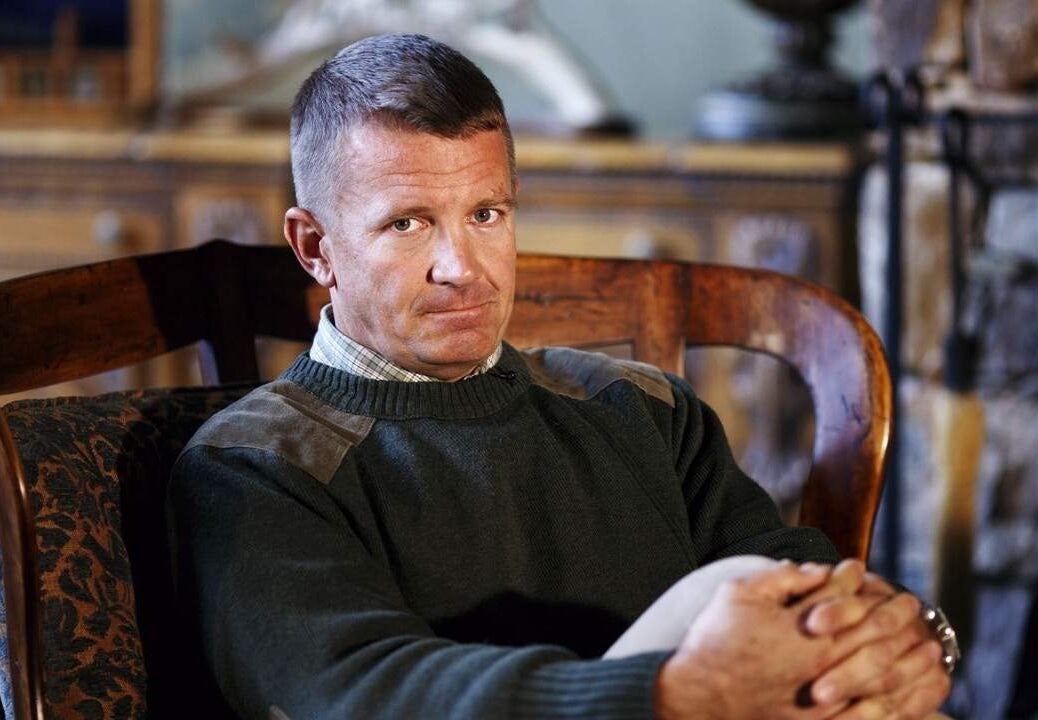 An Ex-Navy SEAL, American businessman and the founder of the notorious Blackwater but what is Erik Prince's Net Worth?
The youngest of four children, Erik Dean Prince was born to Edgar Prince—founder of Prince Machine Corporation, a die cast machine manufacturing firm, in 1965—and Elsa Zwiep in Holland, Michigan, USA on June 6, 1969.
Although heir to his father's huge empire (which sold sun visors to General Motors in the 1970s before spreading its network to other car parts, shopping malls and real estate) Erik Prince joined the United States Naval Academy. He discontinued after three semesters, going on to graduate from Hillsdale College, Minnesota in BA Economics (1992), where he was a volunteer firefighter, a cold water diver for the Sheriff's Department and an emergency medical technician.
In 1990, Prince also interned for George HW Bush in the White House and later for Ronald Reagan's former speechwriter and California Congressman, Dana Rohrabacher.
After college, Prince became a commissioned officer in the US Navy followed by three years as a Navy SEAL.
After his father's death in 1995, Prince quit the SEALs to take over operations of Prince Machine Corporation until his mother sold it to Johnson Controls for $1.35 billion, in 1996.
The following year, Prince established the private military company Blackwater Worldwide and also launched a special ops school on 6,000 acres of the Great Dismal Swamp of North Carolina.
Between 1997 and 2010, he won US government security contracts worth about $2 billion for Blackwater. The CIA too awarded Blackwater and its affiliates classified contracts to the tune of $600 million. Blackwater soon became the best among the State Department's three private security companies.
Prince had a shooting range installed on his Virginia land (as a training facility) due to its proximity to the CIA's headquarters in Langley. He was also reportedly part of a CIA anti-terrorist task force.
Following several controversies, Prince resigned as CEO of Blackwater in 2009, but remained chairman of the board. However, in 2010, the Barack Obama administration surprisingly granted Blackwater a $120 million US Department of State security contract plus new CIA work to the tune of $100 million.
In late 2010, the company which was now called Xe, was sold for over $100 million to a band of investors headed by Forte Capital Advisors and Manhattan Growth Partners. It has now been renamed Academi.
Hired by the crown prince of Abu Dhabi, Prince moved to the UAE where he established the firm Reflex Responses or R2, with 51% local ownership to avoid highlighting his name in documents. In 2011, he trained a 2,000-strong anti-pirate Somali force in the Gulf of Aden.
In 2013, Prince released his book Civilian Warriors: The Inside Story of Blackwater and the Unsung Heroes of the War on Terror.
At present, Prince is the head of Frontier Resource Group, a private equity firm co-founded in 2014, and chairman of Frontier Services Group Ltd, a Bermuda-incorporated logistics and transport company backed by Hong Kong-based investor Chun Shun Ko and China's CITIC Group. Both his firms support Africa-focused Chinese investment in oil and gas.
Prince also owns stakes in the Kenyan aviation firms Phoenix Aviation and Kijipwa Aviation alongside a 25% stake in Austrian aviation firm Airborne Technologies.
Married thrice, Prince has four children with first wife Joan Nicole (who succumbed to cancer in 2003) and three children with second wife Joanna Ruth Houck. He currently lives with third wife, former Blackwater spokeswoman, Stacey DeLuke.
Younger brother to Betsy DeVos (US Secretary of Education) and a staunch supporter of president Donald Trump, Prince divides his time between Middleburg, Virginia and Abu Dhabi, UAE.