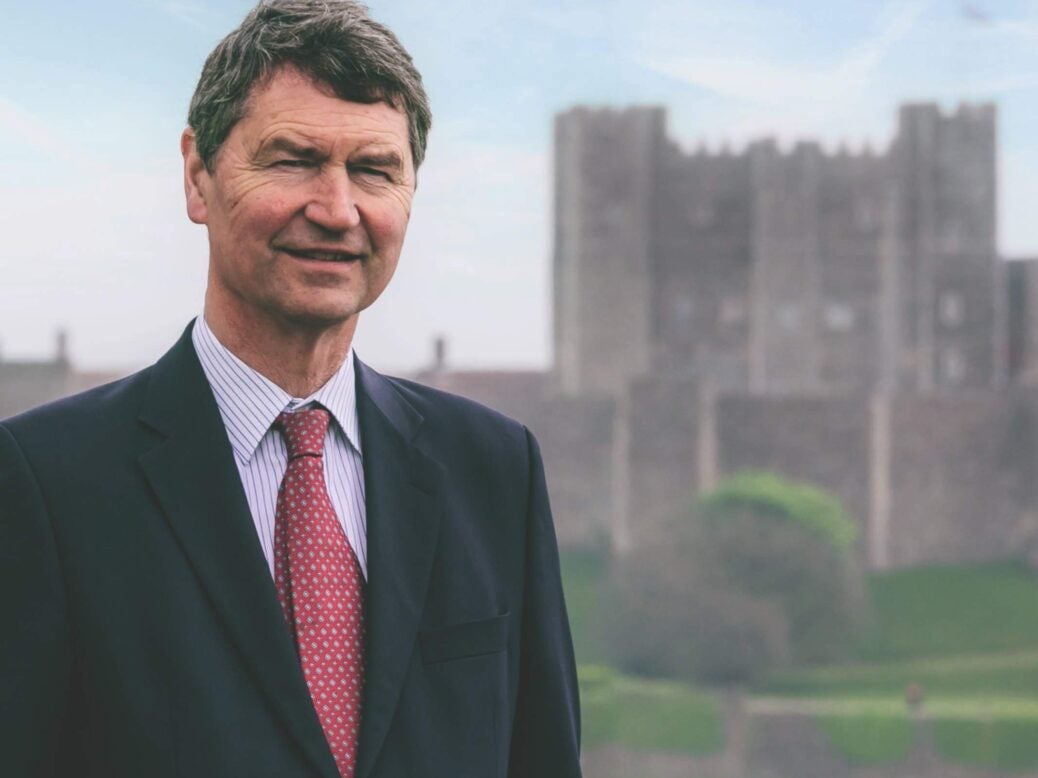 England's historic environment is a cherished jewel, but the charity protecting it doesn't get the sort of public support you'd imagine. William Cash asks Sir Tim Laurence, chairman of English Heritage, how he's getting this message out to philanthropists
The first time I met Sir Tim Laurence, KCVO, CB, ADC, chairman of the English Heritage Trust, was in September 2015, when I was invited to a fundraising dinner at the former London house of Benjamin Franklin, tucked away in a Dickensian street off the Strand. There can't have been more than a dozen or so patrons present and the Georgian dining room, with bare wooden floorboards, had the feel of an 18th-century naval dining cabin, with Sir Tim very much head of the captain's table. A 60-year-old former vice admiral about to embark on an eight-year journey into uncharted waters.
Indeed, his appointment marked the beginning of English Heritage's voyage into the financial unknown. Sir Tim has been chairman of English Heritage since 1 April 2015, when the nation's guardian body of the historic environment was carved up into two parts, in the most radical shake-up of the funding of our nation's heritage since the passing of the National Heritage Act – which gave birth to the Historic Buildings and Monuments Commission – exactly 31 years before.
This journey towards financial self-sufficiency was regarded as necessary but also potentially perilous, as it meant that without the backing of HNWs and philanthropists, the nation's built heritage could be at risk.
The two new parts are 'Historic England', which continues with the statutory protection functions of being the government heritage agency, and a new charity, retaining the name 'English Heritage', that 'tells the story of England' through its 420 sites, ranging from Stonehenge to Iron Bridge, as well as 500,000 paintings and other national treasures and 'artefacts'.
Crucially, this new charitable trust allows English Heritage to unchain itself from government control, and for the body to 'formulate its own vision' for the future. But it also means it can't rely on government subsidy for much longer: the money runs out in 2022. Hence Sir Tim's mission to raise more critically needed awareness for a new wave of heritage philanthropy in the private sector.
So, I ask, are enough private and corporate heritage patrons stepping in to ensure that English Heritage can continue to tell the nation's unique history through its sites? Are would-be donors still under a misconception that our national heritage doesn't really need help, and that the sector is government-funded?
'There is still a lack of clarity amongst people about exactly what English Heritage is,' admits Sir Tim. 'I think a lot of people still think that we exist to stop them changing the windows in their listed house – fair enough, this perception may take a generation to overcome. There is a growing recognition that we are now a charitable body and we are not publicly funded.'
Part of this 'perception' problem emanates from the fact that although English Heritage now operates as a private charity, its 420 historic properties remain in the ownership or guardianship of the state.
Sir Tim points to the recent gift of £2.5 million by Julia and Hans Rausing – the charity's largest ever single private donation – as a landmark moment in public consciousness in terms of making people aware that English Heritage needs private patrons in order to survive. Sir Tim helped to facilitate the gift through knowing the Rausing family personally. 'I explained to them what English Heritage was about, and our charitable status,' says Sir Tim. 'We then showed them some of the various projects that we were doing and I asked, "Do any of these strike a chord?"'
The gift will be put towards the cost of a dramatic new footbridge at Tintagel Castle in Cornwall (as featured on the cover of English Heritage's 2019 handbook). Set 57 metres above the sea, the new bridge (designed by Ney & Partners engineers and William Matthews Associates architectural practice) will open in the summer and will restore Tintagel's 'spirit of place' to when the 13th-century castle on the mainland and island was connected by a strip of land that made the castle especially difficult to conquer when it was the home of the Earls of Cornwall. (The Arthurian legend connection may help with the 250,000 annual visitors, but 'legend' is the apt word.)
The gift is also an example of how personal relationships – as well as targeting a new breed of arts philanthropist – are key in helping to achieve a target of raising £80 million (through 'match funding') by 2023.
The art of engaging
In April, in an innovative move endorsed by Sir Tim, the charity is teaming up with the Gagosian gallery for an exhibition of self-portraits within the Gagosian's übercool gallery space near Claridge's in Mayfair.
The exhibition will showcase one of Rembrandt's most famous self-portraits, which is currently hanging at Kenwood in Hampstead (one of very few London properties in the English Heritage portfolio). 'We see this as an opportunity to engage a new audience,' says Sir Tim, and the partnership involves a series of fundraising events.
This move towards approaching the sort of HNW collector who may be more used to giving money to the Serpentine Pavilion is a testament to how Sir Tim himself doesn't fit into any sort of single chairman's uniform. I have heard him talk passionately and with great command of detail on various occasions since 2015. Behind the checked blue shirt and distinguished naval service CV is an eloquent, ultramodern and unstuffy ambassador for Britain's heritage.
'I think the kind of people interested in giving substantial sums to a charity are not usually people that like to fit into a category,' he says. 'They are all individuals and they are all different, and in a sense I see this from the other side of the fence because people come to me to ask for money and I don't like to be pigeon-holed or corralled into a group or called something.'
It is significant that the charity's fundraising literature doesn't use the word 'patron', preferring to seek 'guardians' (the minimum donation is £2,500) to 'preserve the places where the story of England was forged and where it can be retold'.
Our meeting takes place in a boardroom with a wall decorated with the photo backdrop of the Chysauster Ancient Village in Cornwall, one of the most famous Romano-British villages in Britain (the trust looks after 53 Roman sites). This peculiar sense of 'place' is partly what makes England's literary, political, military naval and architectural history unique, as the story of England is, in effect, the story of our buildings, or what's left of them.
What's important when talking to potential heritage philanthropists, says Sir Tim, is to understand what attracts them personally to a particular project. It may be that it is close to where they live. People often want to invest in something that is tangible and physical, rather than just a straight donation into the pot.
'This was certainly the case with the Rausing family,' he says. 'They did a lot of due diligence. Thanks to their generosity, people will be better able to enjoy Tintagel. It is an inspiring gift for an inspiring site.'
In some cases, donors are happy to give a gift and 'stand back from it', but most people want a closer involvement in where their money is going. Others see their gifts more like an investment, asking what the return will be for the charity, or for society. What do people get out of it?
Naming convention
This brings us to the subject of 'naming'. In an art gallery it's relatively easy to put someone's name up on a wall, I say, but it's different if somebody wants to put their name up on the nave of a ruined abbey or an Avebury ancient stone.
'I think naming has its place,' says Sir Tim. 'I think some people like to have their name associated with an item – one thinks of the Sainsbury wing. There are others who just want to remain anonymous. Everybody is different.'
Interestingly, he adds, two of the most significant gifts to English Heritage have been from non-British origins. The Rausing family are Swedish (their fortune was made by Tetra Pak founder Ruben Rausing), while the largest donation – to support the £3.6 million refurbishment of Iron Bridge in Shropshire (including 2,400 litres of paint to return the bridge to its original red-earth brown colour) – was from a German trust.
'Why did they choose to support an iconic British landmark?' asks Sir Tim rhetorically 'What motivates them to make such a significant contribution to English Heritage?' Such questions are what Sir Tim and English Heritage's development director, Luke Purser (who also hosts various fundraising events), think about every day.
One of the things I have always loved about English Heritage is how it uses an imaginative, sometimes quirky and invariably forwardthinking approach to deciding how best to preserve the array of buildings and structures in its care, as well as awarding blue plaques in London to notable former residents. Every year it protects the new and the old, and has to stick its neck out in deciding where funding goes and what must be protected and preserved.
Trust issues
When I bring up the subject of the row over the increased 'politicisation' of the National Trust, Sir Tim won't be drawn into battle, carefully choosing his words when comparing English Heritage (just over a million members) with the National Trust (more than 5 million). I detect a whiff of rivalry when I bring up the subject. 'I don't want to say things that will criticise the National Trust,' he says. 'They are a fantastic organisation. I have been a member of them for a very long time. A large organisation like that, you can't please everybody.'
Yet they have alienated a lot of their core members, I say. 'English Heritage does not want to politicise our sites. We are interested in the facts and telling the stories,' says Sir Tim, ever the diplomat. When I ask if he has ever 'winced' at some of the NT's pro-feminist or LGBT signage, he refuses to wade in: 'There is a difference in the way we interpret things.' Does he see Brexit as an opportunity for English Heritage?
'For us, it is,' he says. 'Particularly the English identity within the British identity. We have given quite a lot of thought to what English identity is, because it has been hijacked by extreme elements, and actually I think there is a very interesting debate to be had about the brilliant things about being English, going back in history and the extraordinary mix of peoples that live in England, let alone the greater mix in the wider UK.'
Having helped English Heritage raise some corporate money for the London blue plaque scheme, I know that one reason international law firms and banks like to support English Heritage is that they feel that they are cementing their relationship with what makes Britain unique. It's almost a way of celebrating their corporate citizenship.
What, I ask, is his strategy for getting more big banks and law firms to be corporate guardians, and perhaps to give money to an English Heritage project rather than sponsor an art exhibition?
'Part of the reason many international companies are here is because of our great heritage, our stability and tradition, and the thought that London will be a great centre in 50-100 years' time,' says Sir Tim. 'An awful lot of their employees are interested in history and heritage and would want to identify with the first building in the world to be built with an iron structure. It's a great selling point'.
A generous spread
I ask if he ever gets depressed seeing the vast amounts that financial firms give to sponsor art exhibitions. Does he wish they would start being a bit more generous towards our built heritage?
'I'm an optimist,' he says. 'It is easier for London-based companies to support things that happen in London. A big exhibition at the British Museum is an easier sell, so we have a slightly harder task because we are very distributed around the country – but I think that one of our great attractions is that our 420 sites are all around the country.'
To this end, Sir Tim and Luke Purser are looking into new ways of accessing heritage philanthropy on a regional level, as well as building networks of City and private client industry donors. The difficulty is partly that – as former English Heritage chief executive Simon Thurley used to maintain – there exists a form of philanthropy discrimination which decrees that old buildings don't quite have the same cultural status as paintings that need to be 'saved' for the nation. Is this perception changing, I ask? Are buildings catching up?
'I would like to say yes, but I'm not sure it is. Maybe the Rausing donation is an example of that change.'
Finally, partly because Sir Tim is married to Princess Anne, the only daughter of Queen Elizabeth II and Prince Philip, I ask him why there is no royal patron for English Heritage. A smile breaks out on Sir Tim's face. 'Before I approach my adopted family, I would want to make sure that English Heritage can stand on its own two feet.'
Web: english-heritage.org.uk/support-us
William Cash is editor at large of Spear's 
This article first appeared in issue 68 of Spear's magazine, available on newsstands now. Click here to buy and subscribe.