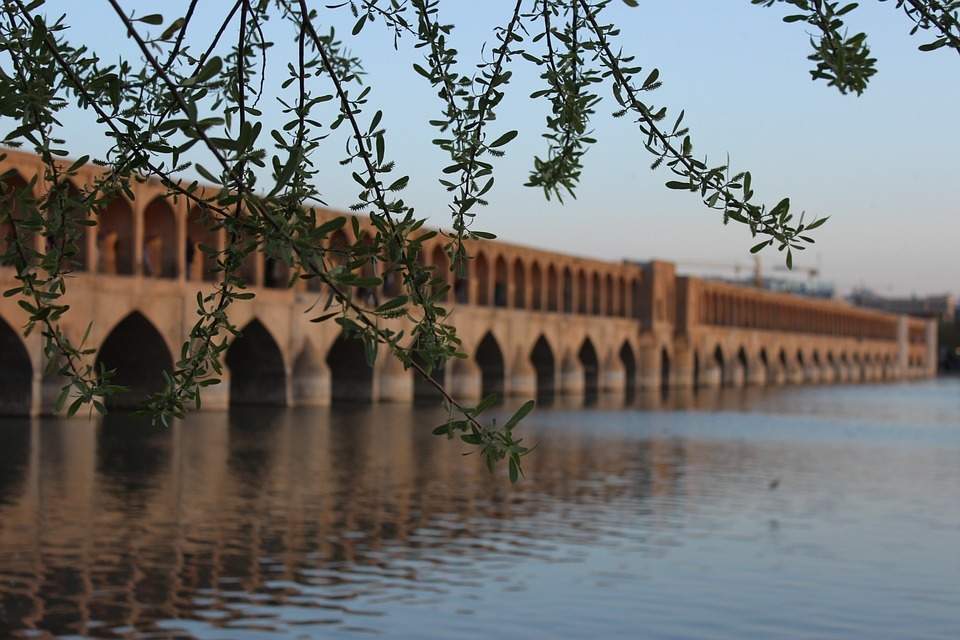 Events of recent decades have kept tourists away from Iran – but now a new train tour is helping to unveil the ornate marvels of Persian history, writes Teresa Levonian Cole
In a railways siding somewhere in the north of Iran, the carriage once used by Reza Shah, the first Pahlavi King, and his young son, Mohammed Reza, sits rusting. The spot at which they were photographed in 1935, waving as they crossed the new Veresk Bridge, is occupied by a primitive air-conditioning unit.
Stripped of its royal insignia, the carriage is now home to two railway workers. With the double portrait of Ayatollahs Khomeini and Khamenei adorning their makeshift living area, the transformation is complete.
These days, the late Ayatollah Khomeini – mastermind of the 1979 revolution that abolished the monarchy – has a less ferocious mien. Gone is the scowl of yore – such as is depicted alongside a toppled Statue of Liberty on the walls of the former US embassy in Tehran – to be replaced by a stern but avuncular stare. Ayatollah Khamenei, the current Supreme Leader, positively radiates warmth.
Their portraits – whether in photographs, posters or murals – gaze down benevolently from almost every vertical surface the country over. To this softening of image is added the recent relaxation of enforcements by Iran's fashion police.
Although the hijab (headscarf) is mandatory for women at all times in public places, you will not be arrested for revealing a few raven locks. This is all good news for tourists who are being welcomed into a country whose spectacular cultural legacy has influenced the West, from the domes of Florence (the squinch, which allows a heavy circular dome to sit on a square base, is said to have originated in Sassanian Persia) to the gardens of Andalusia.
Although statistics do not differentiate between religious, business and leisure travellers, by 2017 more than 6 million overseas tourists a year were visiting Iran (but Donald Trump's re-imposition of economic sanctions have since hit the industry).
Facilities for the discerning traveller, however, remain limited – which is where the Golden Eagle, a luxury train better known for its TransSiberian route, comes into its own. Its Heart of Persia tour, introduced last year, transports passengers, hassle-free and in comfort, across 6,000km of changing terrain to 20 of Iran's most significant cities and sites. Forts and palaces, mosques and mansions, shrines and gardens, bazaars, museums and magnificent ruins, liberally peppered with Unesco status, all feature in this cultural smorgasbord.
Shrouded crown
So it was that I found myself rattling towards the border with Turkmenistan, over a railway line built by Reza Shah in the 1930s, to our first port of call: Mashhad, 900km east of Tehran. This, the holy shrine of Imam Reza, is the country's most sacred place. Teeming with pilgrims (27 million a year) and with airport-style security, it proved a baptism by fire – and the only occasion on the trip where women had to don chadors.
In the car park, we duly purchased white synthetic shrouds with tiny flowers that screamed 'tourist' against the stately black of Muslim women, and processed through the 40°C heat like steaming, ambulant shower curtains.
But discomfort was a small price to pay for the warmth and hospitality with which we were received by the shrine's authorities and introduced to a word of bling unparalleled on our journey.
Nine courtyards, 31 porticos, four golden gates, golden domes and minarets, dizzying muqarnas, calligraphic tilework – and an astonishing underground mirror hall, in whose glass mosaics worshippers are fragmented into a million kaleidoscopic pieces, in order, it's said, not to be seduced by one's own image. Courtyards were spread with carpets for worshippers, among whom turbaned imams wandered – a white headdress signifying an ordinary cleric, black a blood descendant of the Prophet.
For all its sanctity, the atmosphere was light – only I, as yet unacclimatised, felt heady within such excess. Expanded by successive dynasties since AD 818, it is the largest mosque complex by area in the world. Mashhad was the only place where I witnessed large numbers of the faithful at prayer.
In 12 days, only twice did I hear the distant call of the muezzin. And I witnessed nothing of that five-times-daily rush to the mosque that you find in more liberal Oman, say, or North Africa. Wasn't that surprising, in a theocracy? 'You were just in the wrong place, at the wrong time,' our guide assured me.
Though a fount of historical information, Shadi – let's call her that – was prickly when it came to any questions about contemporary life and mores. Why, for example, are men not allowed to purchase lingerie for their wives from a shop, yet, in the heaving Grand Bazaar of Tehran, naughty knickers are displayed for all to see, in stalls manned by men?
'Don't think you're not being watched,' Shadi would admonish when curiosity strayed towards forbidden territory. It goes without saying that Brits, Americans and Canadians are not permitted to step beyond the confines of their accommodation unaccompanied by an official guide.
Magic carpets
I felt on more solid ground with the country's artistic heritage. Having grown up playing among my grandfather's collection of Persian carpets, for which many millions of cochineals had given their lives and miles of gold and silk thread spun and hand-knotted, the names of Kashan, Kerman, Isfahan et al were not only familiar, but talismanic.
I would trace their symmetrical patterns and stylised flora and look for the tiny deliberate fault each one contained – because only Allah is perfect. In later years, I associated this world of aesthetic refinement with the poetry of Saadi, Rumi and, above all, Hafez – the 14th-century mystic poet whose ghazals controversially conflate praise for song, wine and his beloved Shakh-e Nabat (the Persian equivalent of Dante's Beatrice), with his love of God.
Unsurprisingly, perhaps, Hafez was from Shiraz, where today vineyards, uprooted after the revolution, are slowly returning ('For fruit and vinegar', Shadi tells us). His memorial, in the lovely Musalla gardens, was packed with young and old, making a wish, as per tradition, around his alabaster tomb.
Carved with verse, it sits beneath a dome in the shape of a Sufi's cap. 'Every household in Iran owns the Divan of Hafez,' says Shadi. 'If someone has a problem, they open the book at random and find the solution in his verse. It's used as a form of divination.'
In the pink
Shiraz is also home to the exquisite Nasir-ol Molk mosque – aka the Pink Mosque. Built by a wealthy 19th century merchant as his private place of worship after a run-in with the local clergy, it is as notable for the rules it flouts as for the exuberance of its tilework.
Gone is architectural symmetry in the façades of its summer and winter halls, the latter adorned with eye-popping stained glass; gone are strictures on representational art, with images depicting buildings and even human figures.
Piety, however, is undiminished. Among the six pairs of barley-twist columns in the winter hall, two pairs twist in the wrong direction – a tribute, as in the carpets of my childhood, to Allah. Cultural overload was relieved by days spent in the bosom of Nature.
I woke one morning in a landscape of steppe and pistachio trees as we hurtled towards Kerman, whence a coach transported us to the desert. We visited a qanat – an ancient system of irrigation on which this largely arid country has depended since time immemorial.
Like a line of giant molehills on the surface, each hole illuminates an underground cathedral of tunnels and chambers – the work of a moqani, whose dangerous job it was to dig down to the water-table, tap the water and channel it, from the mountains, down through a system of underground tunnels.
Mahan is evidence of the qanats' efficacy, the source of the abundant, 12-tier water feature that flows, flanked by sacred cypress trees, through the celebrated Shazdeh Garden. We proceeded into the Lut desert to climb its kaluts (eroded towers of sandstone that rise like a ghost city in the wilderness) and lunched, sitting on cushions, in a local hostelry.
Our hosts provided a feast of fruity chicken, lamb, and aubergine stews, fresh yoghurt and hot sangak (bread baked on river pebbles) while we decompressed with alcohol-free beer. Yes. Abandon all hope of a chilled Chablis after a hard day's sightseeing – in Iran, 'dry' is not merely a meteorological term.
A narghileh puffed with your chai in the teahouse of a local bazaar – great for peoplewatching, incidentally – is as intoxicating as it gets. On the train, the delightful Russian staff kept us well-fed and mocktailed to the strains of Vadim, our on-board pianist-of-the-sorrowful-countenance.
One night we exchanged the luxury of our en-suite cabins for a local chartered train, which was able to negotiate the tunnels of the Zagros mountains. It climbed up to 5,000 metres, enabling us to visit the 1250 BC Elamite ziggurat of Chogha Zanbil.
This side trip included Shushtar, where adobe houses perch on sandstone cliffs overlooking an astonishing hydraulic system of bridges, dams, canals, waterfalls and weirs to tame the flow of three rivers.
Goggle blocks
And what of the fabled ruins of Persepolis, that essential stop on any tour of Iran? Alas, noisy crowds, in 3D goggles to aid reconstructive imagination, do little for the genius loci. I suspect it would be a very different experience after hours. But there were schedules to be met, the inevitable trade-off for the convenience of a train journey being lack of time.
I felt this most keenly in Isfahan – 'The greatest and most beautiful town in the whole of the Orient', in the words of the 17thcentury traveller Jean Chardin. Isfahan reached its architectural zenith under the Safavids (1502–1736) – a dynasty known for its somewhat un-Islamic pursuit of wine (which they coyly termed 'sherbet'), women and song – as witnessed in the murals of the Chehel Sotoun Palace.
Their taste for merry-making reasserts itself in the glorious music room of the Ali Qapu Palace, its tong borie plasterwork carved with musical instruments, with niches for musicians, to play unseen and unseeing.
From the palace's balcony, I gazed across Naghshe Jahan Square to the heavenly-blue tiled Sheikh Lotfollah Mosque, reflected with transcendent beauty in the square's central pool. To the right, Shah Abbas Mosque, in which I would later see an artisan at work, deftly chiselling mosaic tiles to repair the dome.
And to the left, the entrance to the longest vaulted bazaar in the world. I watched horse-drawn carriages with tinkling bells carry couples the 560m length of this magnificent square, whose buildings are connected by an elegant arcade of shops selling chased copper, carpets, minakari enamelware, textiles, turquoise, saffron… No wonder Isfahan was known in the 17th century as 'Half the World'.
It was in Isfahan, cultural soul of Persia and erstwhile home of the celebrated miniaturist Reza Abbasi, that I found what I had been seeking: a fine miniature painting of two dervish Sufis, whirling at the feet of Rumi, to a poem by Hafez: 'Every child has known God…. the God who knows only four words and keeps repeating them, saying: "Come dance with me." Come dance.'
Teresa Levonian Cole is a journalist,author and environmentalist