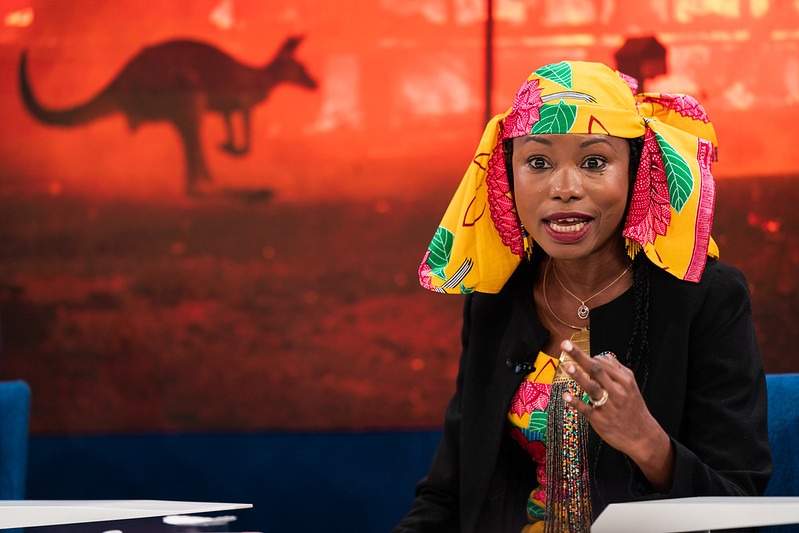 Sleeping rough on hotel doorsteps, digital brands go physical, and the real prospect of a 'climate apocalypse': Paul Blanchard reports from the second day of the World Economic Forum's annual meeting in Davos
People Are Dying
'People are dying because of climate change. They are losing their lives. [Don't talk about] a solution by 2050. Really? Seriously? By 2050 there's no solution for this planet. We need it now.'
That was the view of Hindou Oumarou Ibrahim (pictured above) of the Association for Indigenous Women and Peoples of Chad, who spoke at the panel discussion entitled 'Averting a Climate Apocalypse'.
I admit I've been guilty, subconsciously at least, of failing to envisage what climate change really means right now. Hindou wasn't saying people are being washed away in floods, or starving to death because of climate change, although that is happening. She was saying they are killing each other over a lack of resources. That triggers violence, which triggers migration. The upheavals are huge – and we're barely beginning to understand them. 'Talk about acceleration today, change your policies, change your business.'
No doubt that acceleration will start slowly, but if there's ever a time and a place to set a precedent then Davos is it. On the same panel Oliver Bäte, CEO of Allianz, said he sees business as leading government for the first time. Larry Fink's announcement that Blackrock will re-orientate its investments away from climate changing agents is an obvious example. Bäte pushed the envelope and called for states to follow suit, particularly those with large sovereign wealth funds: 'if there's no funding for these supply chains, there's no business model that will continue to pollute the world.'
So, while the tragedies caused by climate change remain no less real, people are listening.
Arctic Office
I sat next to Rainn Wilson (aka Dwight Schrute from The Office: An American Workplace) the other evening at dinner. I was too nervous to ask for a photo, but I did find out a little bit about the project that brought him here. As a patron of Arctic Basecamp, he'd been sleeping in a tent, along with a number of other scientists and activists, to help 'speak science to power' and demand the immediate cessation of fossil fuel investment. It's not just admirable, it's pretty brave. They're literally on the hotel doorstep, but it was still -17C last night…
Digital Downtown
One of the surreal things here is how brands we know solely from the digital or abstract universe have started appearing in analogue, usually trying to disguise themselves as shops. So far I've seen a Facebook emporium, an IBM 'quantum' dispensary, a High Street Amazon (!) and a Reuters Chalet…
Paul Blanchard is a 'PR consiglieri' for global leaders, CEOs and HNWs. He is the founder and chairman of Right Angles
Read more: