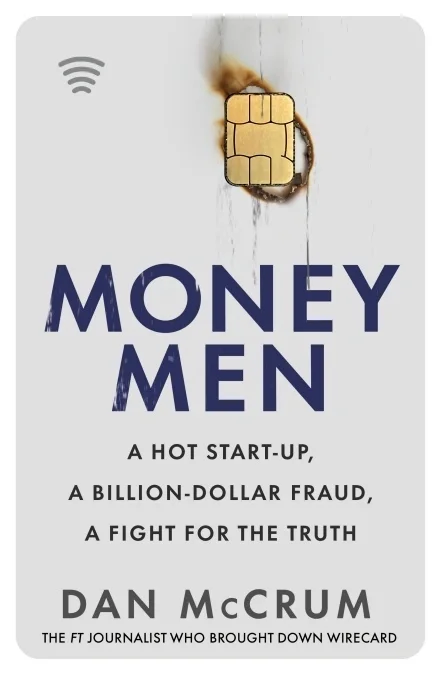 Dan McCrum had to scrap every inch of the way to expose the Wirecard scandal, and his experience makes for riveting reading, says Robert Jackman.
How exactly does €1.9bn go 'missing' from the books of one of Europe's fastest-growing companies? That's the question posed by the collapse of Wirecard, the German fintech which went from being one of the continent's hottest tech stocks to perhaps its most notorious accounting scandal in modern history.
For most, Wirecard's downfall began in the summer of 2020, after the company's auditor – the ubiquitous EY – said it could no longer vouch for a significant chunk of its reported revenue. Within minutes, Wirecard's stock price had plummeted more than 60 per cent. By Christmas its implosion was complete, as the depleted and worthless shell of a once celebrated unicorn was finally booted from Germany's DAX exchange.
Yet as this detailed account from a long-term Wirecard sceptic reveals, the company's fall from grace was a long time coming. As an investigative reporter at the Financial Times, Dan McCrum spent years doggedly pursuing his suspicions about Wirecard, only to be thwarted by the efforts of well-heeled lawyers and white-collar fixers (including many based in London) hired to keep the company's reputation intact.
After Wirecard's collapse, its spell was broken, giving McCrum the chance to delve back through his old notepads to reveal what went on within the company – and the events that precipitated its eventual implosion. With the floodgates now wide open, the resulting tide is as toxic and foul-smelling as anyone could have feared (although it does at least make for a compelling read).
Money Men begins back in the early 2000s, as Wirecard (born from a reverse takeover of a worthless penny stock – a neat parallel of its eventual fate) carves a niche processing electronic payments for 'premium' (read: adult) websites. Its first indulgence in criminality comes early, when an insider develops a sleight-of-hand technique to mask illegal gambling transactions. 'When a bookmaker was turned away, it was as if he stepped out of sight for a moment then knocked on the bank's door again wearing a hat and false moustache,' writes McCrum of the scam.
Soon Wirecard is on the march, snapping up struggling competitors from far-flung destinations in order to present the image of rapid international expansion. On paper, the mergers appear to be business dynamite, driving Wirecard's share price stratospheric (between 2010 and 2018, the stock rose from just over $10 to more than $220). In reality, they hardly exist at all – as McCrum finds out when he attempts to visit the offices of a supposedly lucrative Wirecard subsidiary in Bahrain.
McCrum finds he isn't the only one with doubts. One of Money Men's most riveting sub-plots is the introduction of a ragtag network of amateur short-sellers who research companies they suspect of skulduggery or exaggeration, before making a fortune by betting against them on the stock market.
In 2015, one such short-seller ('an Essex lad done good with a nose for financial shenanigans') begins investigating Wirecard, realising that only a tiny fraction of its apparently thriving Indian workforce have any kind of presence on LinkedIn. The handful who do, he finds, lack any kind of relevant experience. The short-seller goes public with his findings – only to be drowned out by the platitudinous verdicts of the big banks (many of whom continue to believe – or at least profess to – that Wirecard's leadership can do no wrong).
While these amateur sleuths make for useful sources, their presence is soon weaponised by Wirecard, which accuses McCrum of criminal collusion, working with these short-sellers to profit from a drop in Wirecard's share price. At one point, McCrum finds out that one London law firm – notorious for hampering the work of investigative journalists – has been tasked with proving the conspiracy. 'We have not been able to identify any evidence in McCrum's personal life to suggest he has become more affluent recently,' it reports.
While knowledge of the investigation rattles McCrum, it pales in comparison with what comes later. This includes dispatching former spies to trail (and potentially intimidate) Wirecard's critics, as well as an audacious attempt to incriminate his colleagues via a secret recording. When his employers get a whiff of the surveillance, McCrum is told to work in a secret 'bunker' away from the FT's London HQ – a dramatic intervention that you suspect he rather enjoyed.
Of course, we all know what's coming. In late 2019, a dispatch from a brave whistleblower helps McCrum unveil his biggest scoop yet, revealing that many of Wirecard's sales figures have been plucked from thin air. The bombshell leads to EY being called in to investigate. When its damning verdict arrives, McCrum is vindicated – by one of the many corporate behemoths that had previously worked side-by-side with the firm.
Money Men is a riveting read, zipping neatly along from one twist to the next. But while its subject matter plays out like a white-collar crime podcast (comparisons to the likes of We Crashed and The Dropout are hard to avoid), McCrum thankfully eschews the breathless over-narration rife in that genre. Instead he sticks to the plot, describing events clearly and succinctly. Where necessary, he is happy to play the role of fly-on-the-wall narrator (another contrast with investigative podcasters, who are seemingly encouraged to make themselves the heroes of every second scene).
Likewise, it's easy to forgive McCrum (who was at one point subject to a fruitless criminal investigation in Germany) the occasional bit of score-settling. Rather amusingly, much of it comes at the expense of his employer. When his former editor umms and aahs about caving to Wirecard's legal threats, McCrum delights in reprinting a text from his courageous whistleblower: 'Tell the FT to grow some f **king balls.'
If Money Men has a flaw, it's one that can't be helped, in that much of the Wirecard story is still unknown. A senior Wirecard executive with links to Russian intelligence operatives disappears in the closing chapters, remaining a fugitive to this day. Likewise, McCrum places portentous quote marks around the pseudonym of one character – yet is unable to reveal his real name. The book was also written before the criminal trial of Wirecard's former chief executive (which begins this summer).
Then again, these are less gripes about McCrum's writing and more a testimony to the strength of his subject matter. A Hollywood film would inevitably end with a closing montage (including mugshots) telling us what became of the Wirecard crew. Who knows, perhaps one day this story will make it to the silver screen.