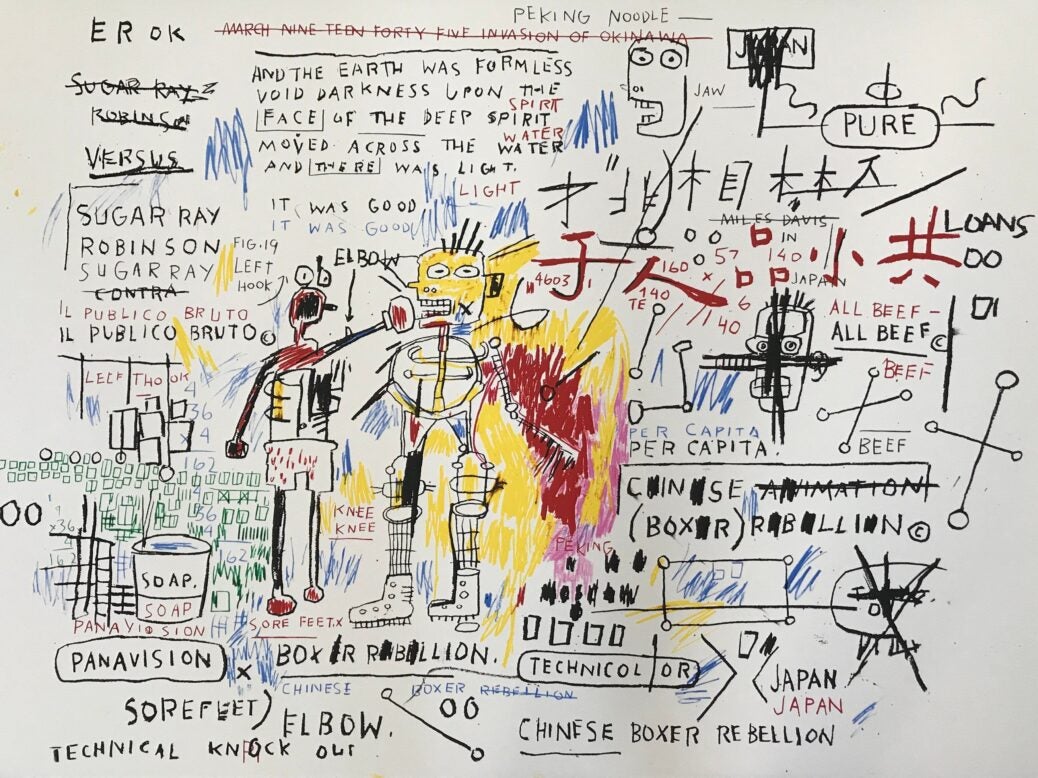 Arun Kakar speaks to the Maddox gallery's creative director Jay Rutland about how he put together its latest star-studded and thought-provoking exhibition
Tracey Emin, Christopher Wool, Ed Ruscha, Jean-Michel Basquiat and Harland Miller are among the glittering names that head up the latest group exhibition from the Maddox gallery, Between the Lines. Running at until the 26th of June, the exhibition looks to explore 'the symbiotic relationship between the written word and visual world', spanning 40 works. Amid the backdrop of the digital age and its effect on language, the show puts together a broad variety of different works to investigate how language has influenced artistic practice, enlisting works from some of the most renowned names in contemporary art to investigate.
Spear's caught up with the gallery's creative director Jay Rutland to find out more about the show.
Talk about how the process behind this show came about. What was the genesis of the initial idea?
There wasn't a specific piece that inspired the exhibition as such, but I am a collector of text-based art and have been for a while. Over the last 12 months, I have noticed that there has been a huge global interest in text-based works. I think this is because everyone can relate to it; the message is more direct in comparison to abstract art. It's a democratic art form and one that feels incredibly relevant in our society as succinct statements and concise sentences reflect the world we are living in now – from social media speak to billboard adverts.
How did you look at compiling together this list of artists – how did you pool together the names that would be relevant to the theme?
It was a fairly straightforward process as many of the artists we showcase have an understanding of pairing language with visual imagery and as such, utilise it in their works. All of the artists in the exhibition are also of the 21st century, which feels relevant to the theme – especially when thinking about the trend of text art on social media and the impact social platforms have had on language.
Speaking of the theme, the 'effect of language'. Did you have any contemporary bearings when arranging things? Is there a particular strand running throughout this show that you think is relevant to today? 
I think the show reflects the urban landscape that we live in. Our Mayfair gallery – where the show is taking place – is just off Regent Street, near Oxford Circus, and there are words filtering through every inch of the area. From protest signs to advertisements, language is all around; it's part of the fabric of our existence.
I think there has been an interesting surge in artists creating text-based work and the reason for this is that it's direct. It's impactful. It feels relevant because in our society, with the current events going on, we need honesty, we need frankness, humour, and poetry. I think this resonates with people and engages them.
What are your personal highlights from the show and why?
A personal highlight for me is a series of unseen Basquiat artworks that I acquired on a trip to New York. They look like they were made yesterday – just phenomenal. I also really like The Connor Brothers' new works, which are inspired by old Penguin book covers with a contemporary, playful twist. Ed Ruscha is also a firm favourite of mine – his works are mind-blowing.
How does this show fit into the broader work that Maddox Gallery is doing at its Mayfair branch? What can visitors expect from Maddox more broadly from the second half of the year?
Following three years of phenomenal growth, we are establishing our roots in the art industry and seeking new artists who we believe are the future greats. We also have a very exciting upcoming calendar of events including the debut UK solo exhibition of influential American artist Brendan Murphy entitled 'Rush of Blood to the Head' opening on the 27th June. In October we will be hosting a major exhibition of new works by renowned fine-art photographer, David Yarrow, which will undoubedtly be sensational.
Arun Kakar writes for Spear's
Between the Lines runs until 26th of June at the Maddox Gallery, Mayfair.