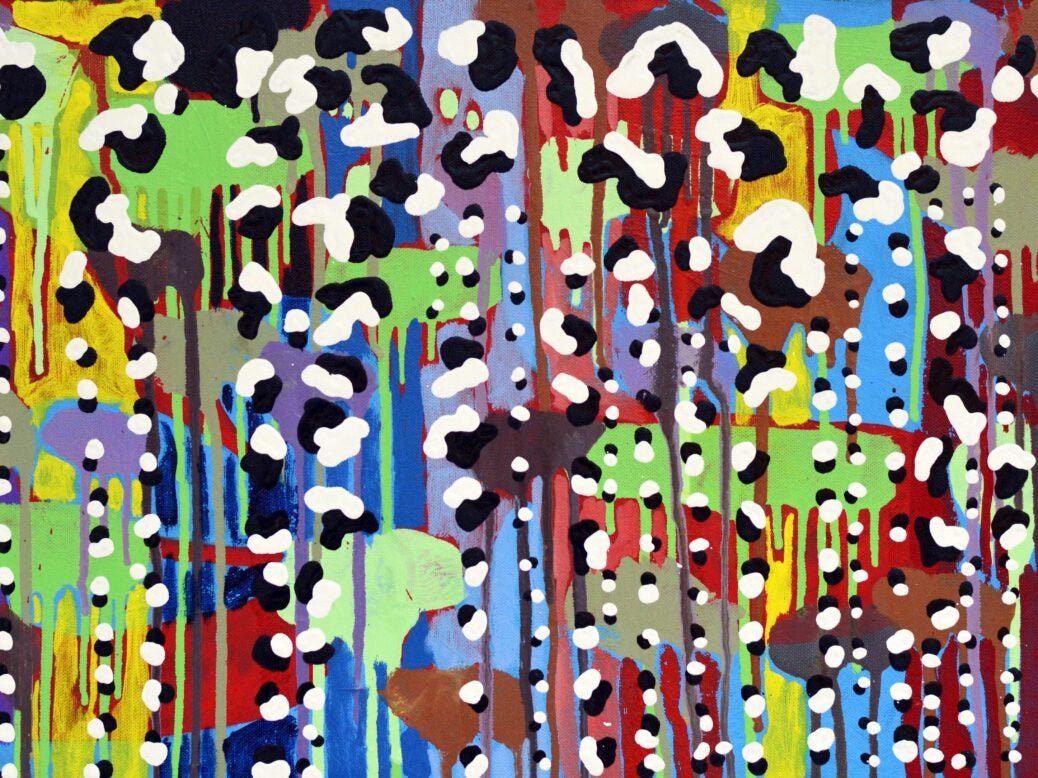 Spear's meets Robert Dunt, a painter in the tradition of Ben Nicholson and Patrick Heron, whose works are on show in London law firm Levison Meltzer Pigott. He's a new star in the making, writes Christopher Jackson
'You can have the paintings in a gallery but if you really want them to be subversive then they need to be seen by people,' says Robert Dunt, before adding with the quiet ambition which characterises this remarkable artist: 'You're painting them to change people's views of the world.'
We'll come to that second claim later – it's not a small one. But first the biography: Dunt, now in his forties, qualified as both a barrister and a journalist before graduating from City & Guilds of London Art School with first class honours. He's since had a number of one-man shows, at Charterhouse and at the Waterloo Gallery.
His latest paintings are exhibited where you might least expect to find them: his current show is in the offices of Levison Meltzer Pigott, the boutique family law firm. The exhibition here consists of a group of what Dunt calls Distortion Form Paintings, and takes place in a room set aside by the art collector and name partner Jeremy Levison for the work of Old Carthusians.
It is an exhibition in a functional workspace: these pictures – full of unobtrusive radicalism, and a quiet philosophical bent – have no doubt provided a background to various divorce or pre-nup negotiations during their stay in this meeting room. They can now be seen alongside Jeremy Levison's remarkable collection which includes, among many others, marvellous work by Fred Ingrams and, unexpectedly, an Andrew Marr.
Dunt's pictures are full of vibrant fields of colour and as with Leon Kossoff and Jackson Pollock one is reminded continually of the paint itself: its dripdown and thickness waylay the eye. Each is painstakingly constructed, with an essentially Fauvist background, into which daubs of black and white – Dunt's 'distortions' – have strayed.
These distortions provide the inspiration for his art. For Dunt, it all began at Charterhouse, when he first heard the band The Jesus and Mary Chain. This 1980s alternative rock group wrote Beach Boys-esque songs and then covered them in noise, distortion and feedback.
Dunt plays me one of their songs with an enthusiasm some 30 years' old. 'They had these broken-up guitars over quite a pretty song,' he says. 'I really responded to that at the time.' This experience would be carried forward into the art Dunt would go on to make.
It's an oft-documented wrong turn in the lives of artists: the awkward spell at law school. Having qualified as a barrister, Dunt underwent a course correction into journalism, becoming a politics and religion reporter at the Surrey Advertiser. At that time, he interviewed a young Nigel Farage: 'He looks the same now as 20 years ago – but at the time, he was a bit of a freak crazy guy, trailing his flag – but he was very polite,' Dunt tells me.
But Dunt 'was desperate for something more creative [than journalism]'. He was writing poems but 'I was obsessed with art the whole time. I had two days off and I went out and bought some cheap canvas and acrylic paints. I had a go – and have never looked back.'
He was kick-started by a sheer love of colour: 'I saw all this yellow,' he recalls. 'It was just seeing that colour on the canvas and knowing that I put it there myself and I thought: "This is what I want to do".' One can easily imagine the Derains and Kandinskys of this world saying the same.
And here we are, many years later, before the results. Who are his influences at the moment? 'I always like the David Hockney pictures,' Dunt says, pointing to that artist's 'hyperreal, slightly hallucinatory world'. But then he pivots to his real hero: 'My favourite artist is Patrick Heron. You could say I'm an abstract artist but I don't think there's such a thing as an abstract artist. It would be better to say that there is a range – some are more abstract and more representational.'
This sparks certain reflections. From the moment we look at the world, we start to name it – and to name it, is to single one thing out from another. It might be said that abstract art follows the process in reverse towards childlike wonder: it is about unnaming the world.
Something like this appears to happen before a Dunt painting: they fizz with enthusiasm, colour and ideas. As with all the best art, its pleasures are on a timer. But they are, in fact, anything but innocent. Instead, they seem to inhabit a fallen world where there is always tension and anxiety between the patches of bright colour.
The distortions testify to the presence of difficulty in the world. This gives his work the virtue of philosophical truth. Life really is like this, bursting with energy and colour – riotous with spirit. But it is also at war, and rife with tension. This fact is something Dunt is aware of even at the level of composition: 'Painting is actually quite traumatic,' he says.
While Dunt may not yet have achieved the widespread recognition he deserves, these paintings exist in a content world of their own, and do not necessarily need the validation of the art market to fulfil their mission. 'The art market is a weird and dangerous thing – and the money involved…' His sentence trails off and he rolls his eyes.
For Dunt, a picture is finished only when others look at it: a painting might be said to obey the anthropic principle – like an electron, it exists only once someone has taken its measure. And perhaps that's why he's continually revisiting them himself, seeing in a previous effort the possibility for the next.
And what does he wish for them in the future? 'What I'd really like them to do is fit in that tradition of British Art of Ben Nicholson and Patrick Heron,' he says. 'To be the next stepping-stone in that line, but with a contemporary twist.'
It's a big ambition – but the more time you spend with his marvellous pictures, you realise it's not unattainable.
Robert Dunt's The Distortion Form Paintings – Music and Colour is at Levison Meltzer Pigott on Ludgate Hill until 14 March