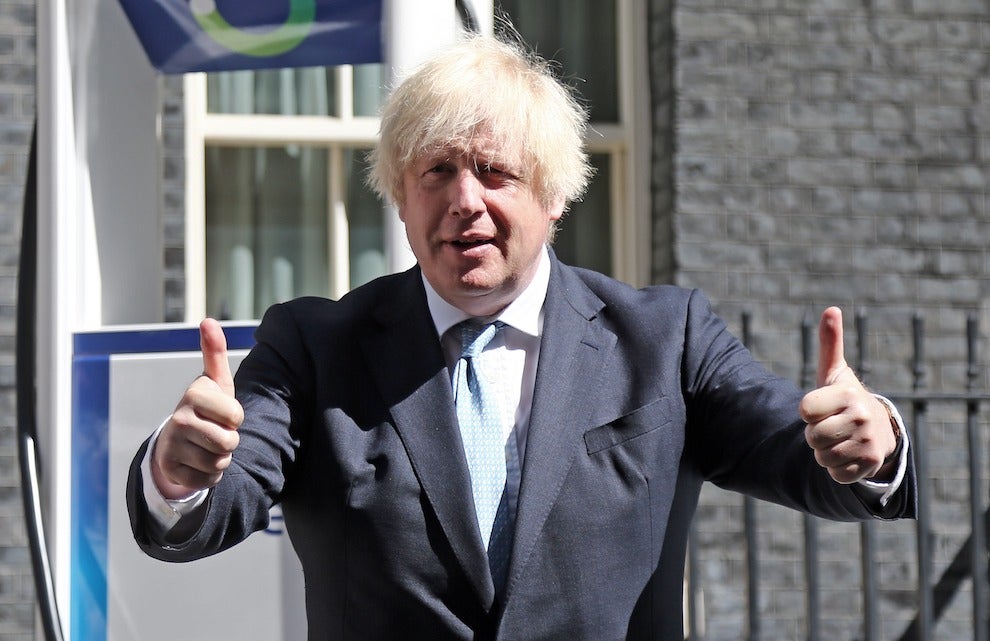 The Conservative Party is looking beyond Boris Johnson. Can anyone barge their way past the two favourites for the top job? Matthew Goodwin, a professor of politics and associate fellow at Chatham House, highlights the frontrunners
'Events, dear boy, events.' So said former Conservative prime minister Harold Macmillan when he was asked to name the greatest challenge for a statesman. It was also a remark that I am sure our current Conservative prime minister, Boris Johnson, has been able to relate to ever since 'Partygate' – an event that heralded the most dangerous period in his already volatile and unpredictable premiership.
In the polls, the Conservative Party's share of the vote has crashed from 40 per cent to 34 per cent while Labour, at the time of writing, has now led in every poll since early December. Take the polls with a pinch of salt, sure, but there has clearly been a fundamental shift in the country's mood. Conservative voters, too, have been losing faith in Johnson; since the last election, the share who say they will not vote at all at the next election, or will vote instead for the lowtax, small-state Reform UK (which has evolved out of the Brexit Party), has more than trebled, surging from 11 to 37 per cent. Unless the Conservatives win them back, the next government will be red, not blue.
More fundamentally, when it comes to the crunch issues of tax, wealth and the economy, the Conservatives also appear to be losing their historic advantage over the Labour Party. When asked which party would best manage the economy, tackle the deficit, get more people onto the housing ladder, keep prices down, 'improve standards of living for people like you', provide jobs and keep taxes low, over the past six months the Conservatives have been haemorrhaging support. The collision of higher energy prices, inflation and new taxes this spring mean that Britain is heading into the most serious cost-of-living crisis since the early 2010s. Conservatives have good cause to worry.
This is why SW1 is already fizzing with predictions about who might replace Johnson if, as expected, he suffers serious losses at the May local elections, which will be held across the all-important Red Wall in northern England. Rishi Sunak, Johnson's chancellor, is widely seen as the favourite. Privately educated before graduating from Oxford in philosophy, politics and economics (PPE), it is perhaps no coincidence that Sunak has hired a communications outfit to work on his own bespoke brand.
Sunak would not only be the first non-white prime minister, he would also be the wealthiest for generations – not just because of his own investments, which go back to his days in the City, but also because of his wife's £700 million stake in Infosys, her father's Indian tech giant. But where would he take the country? A Brexiteer who was also well ahead of the curve by warning about the looming threat of inflation, Sunak is thought to subscribe to the 'liberal leaver' vision of Brexit, anchored in low taxes, traditional fiscal conservatism and a small state. Yet is he really a slash-and-burn advocate of Singapore-on-Thames? He did, after all, preside over the enormous furlough scheme and then the controversial national insurance tax rise, which is firmly opposed by many on the right of his party. Over the past two years, he has also presided over a massive expansion in the state and the arrival of the largest tax burden since the 1950s.
Furthermore – though he famously works with a picture of Nigel Lawson hanging on the wall – is a low-tax, small-state model really suited to the Conservative Party's electorate today? The voters it can reach are generally far more blue-collar, non-graduate and northern than in the era of Lawson and Thatcher. These are all questions that will need answering if Sunak is to win over the right of his party, which is the most dominant faction.
He will also need to outmanoeuvre Liz Truss, who is seen as another potential contender for the top job. She has talked much about lowering taxes while criticising Sunak for failing to do so. Yet Truss, who is styling herself as a sort of Thatcher redux, will also have to overcome notable barriers.
Not least among these is a sense of suspicion among a strongly pro-Brexit Conservative Party membership concerning her pro-Remain credentials and lack of senior ministerial experience. It is also worth remembering that Conservatives remain haunted by their recent experience with Theresa May and so may well be more inclined to support somebody who has played more of a frontline role in tackling the Covid-19 crisis. It might also be that they, like Johnson, recognise that the answers to today's problems do not lie in the 1980s.
There are other names doing the rounds — Jeremy Hunt, Penny Mordaunt, the talented Kemi Badenoch. But there is also a widespread consensus that if Johnson does go then the succession will ultimately be dominated by the Sunak and Truss camps. I'd like to be able to foretell which of them will emerge victorious, but one of the key lessons of British politics from the past decade is that it remains as unpredictable as ever. Events, dear boy, events.
Image: Shutterstock