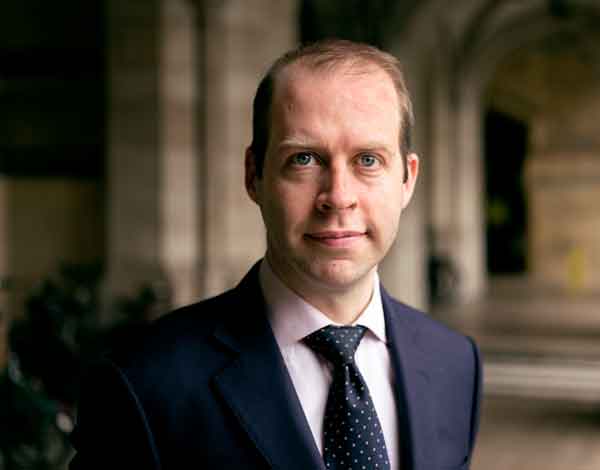 Jonathan Reynolds is the man tasked with convincing the City that a Labour government under Corbyn wouldn't kill the golden goose, writes Christopher Silvester
It's more than three decades since a young Labor MP named Tony Blair was appointed as shadow City spokesman under Neil Kinnock. In the years following Labour's 1983 'longest suicide note in history' manifesto, which had proposed renationalisation of recently privatised industries and nationalisation of banks that failed to lend more, Blair's efforts to make nice with the City must have felt like pushing treacle uphill with a feather duster. Today Labour is engaged in another of its periodic efforts to woo the City, and the person holding the brief is Jonathan Reynolds, a compact man who exudes a cheery, can-do mentality.
Reynolds was elected as MP for Stalybridge and Hyde for the first time in 2010. Before that, he worked in corporate law and was a local councillor in Tameside, Greater Manchester. He says he hadn't intended to run for Parliament, but when his local MP retired at short notice just before the 2010 election he was pressed to stand. 'I was a candidate for 36 days,' he says. 'Not the length of time most people do!' While he 'felt that it was meant to be', he acknowledges that he was 'extremely fortunate'.
He grew up in the County Durham coalfields, which have a very strong Labour identity, but for much of his adult life he has worked in Greater Manchester, where the Labour Party has a very strong relationship with the business community. Reynolds has always placed himself on 'the centre-right of the Labour party, because I have more of a background in business than some colleagues. For me, it's about working in partnership with business to deliver good public services, low unemployment, and good-quality jobs.'
Reynolds acknowledges that the formerly Blairite tramlines have changed over the past few years. He resigned as a junior transport spokesperson in 2016 in protest over Jeremy Corbyn's sacking of Pat McFadden from the shadow cabinet, after McFadden had criticised Corbyn's less than robust response to the Paris terrorist attacks. He also regards himself as a pro-Nato internationalist in the Ernie Bevin mould. He spent some time on the business select committee, which he enjoyed, but when Corbyn was re-elected as leader Reynolds decided to approach shadow chancellor John McDonnell with a request to join his team. He has been in post since October 2016. Although he and his boss come from different wings of Labour, he says McDonnell is 'very good to work for and very professional in his dealings'. They share a determination to address some of the long-term economic problems of the UK, such as regional inequality, public services under pressure, and productivity.
'John and I agree on all of that, and he is very clear that there isn't a secret agenda that goes beyond the manifesto or which he's not willing to talk about publicly and openly,' says Reynolds. 'Obviously, as his shadow City minister, I do a lot of the engagement with the City. But I've been with John in a lot of City meetings and people are pleasantly surprised when they have that conversation with him. I don't think the City or the business community has anything at all to fear from either Labour's manifesto or John personally.'
I started the interview by asking Reynolds about those plans to renationalise certain sectors of the economy, which although not strictly part of his City brief will involve compensating shareholders in utility companies. 'There are precedents in terms of how the postwar nationalisations were done,' he says. 'Alongside policies like that, there are plans in Labour's manifesto for a substantial increase in public investment that will require investor confidence for us to be able to implement them. We're not going to do anything which undermines our chances of doing that.'
Clearly, the last thing Labour wants if it's elected is a run on the pound and huge capital flight overseas. With public spending at around 40 per cent of GDP, having risen to 45 per cent during the financial crisis, Labour has little room for manoeuvre over the general level of taxation. But as far as the deficit is concerned, says Reynolds, Labour's new fiscal rule is 'to bring down the deficit on the day-to-day spend, over a five-year rolling period, but we would take out investment spending from that calculation'.
By investment spending, he means Labour's proposed national transformation fund of £250 billion over ten years. 'Our point is simply that a mixture of investment to stimulate growth, some tax rises, but very clearly spelled out and costed, and a different approach to public spending is a better way forward for the country, and ultimately will leave us with much stronger public finances in the long term,' he says.
On income tax, he doesn't favour going above 50 per cent, but nor does he think income tax changes that would affect only 5 per cent of the population would be unreasonable.
'I don't think the change to a 50p rate above £123,000 is unreasonable – it's not a return to the 1970s and the tax points there. It's a bit like on the corporation tax change: yes, we would put corporation tax up, but it would still be lower than it was under Tony Blair. I think when people look at the details of our income tax and corporation tax policy, they will see there is a pragmatism and a realism in there.'
The biggest challenge for the City is the proposed financial transaction tax, which Labour reckons will raise £4.7 billion annually, based on work done for the party by Avinash Persaud, former global head of research for State Street Bank, the world's largest institutional investor. 'It's not something that's come from someone who isn't aware or hasn't had a lifetime's experience in the sector.'
But Reynolds is keen to emphasise that it's all about the money – about revenue-raising – not some ideological fixation about a financial transaction tax per se. 'John McDonnell's been very clear that we need to raise revenue, but we don't want to do anything that will not raise that sum of money, and if we felt there was going to be an adverse effect from introducing it, essentially that the revenue wouldn't be realised, then we would think again.
'What a lot of people ask us to consider is the impact of Brexit alongside doing something like that. People have had suggestions and there has been a lot of feedback that's come in. We're certainly willing to consider that [response], and there's a lot of things we're working on because we don't know when the next election will be, but it will certainly be our aspiration that what we put in the next manifesto will reflect the kind of feedback we've had.'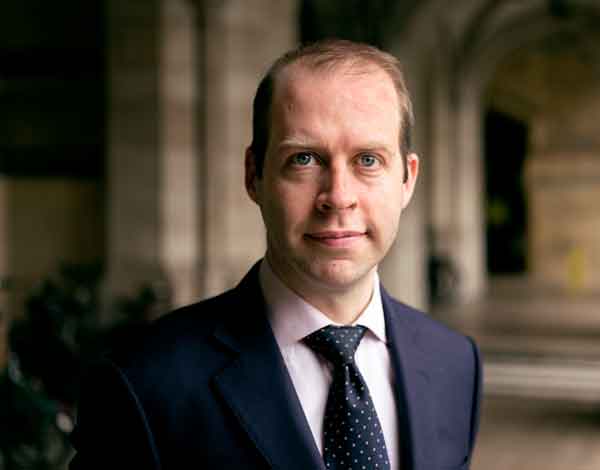 Reynolds understands that the financial services sector is crucial to the economy. 'It's something we're very good at as a country, but the public perception of some parts of the sector is very low. That's a legacy of the financial crisis, and also a legacy of scandals like the Royal Bank of Scotland's Global Restructuring Group, which people are right to be angry about. There is certainly a need to improve the conduct and culture whilst at the same time making sure the public are aware that this is a sector which is vital to the health of the UK. And getting the balance between those two things isn't easy.' He is unafraid to say that 'financial services are a public good, because I want to have good pensions, I want to have good mortgages, I want to have good insurance policies, all those things that people need to lead good lives'.
There are 'different models that could be used' for the national transformation fund. He mentions 'a non-lending model through the banking system, essentially the government providing the finance that they then pass on', which doesn't sound all that different from George Osborne's National Loan Guarantee Scheme. Of course, the old concern about government trying (and failing) to pick winners still applies, and perhaps Reynolds is the good cop to McDonnell's bad cop, but he is determined to come across as cautious and measured. 'It's not a return to the state doing everything,' he insists. 'It's about the state as an enabler.' Reynolds knows that if Labour's plans to transform and modernise the British economy are to succeed, the party needs the City to become its ally and not an enemy.
Christopher Silvester writes for Spear's