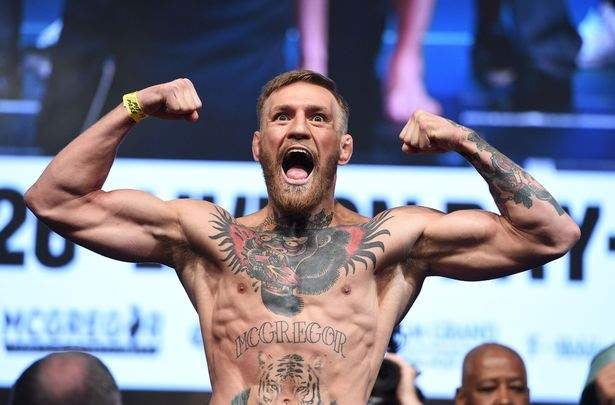 Conor McGregor went from earning £1,300 a year in 2008 to becoming the second richest sportsman under thirty in Ireland in 2018. After his meteoric rise to UFC stardom, his fight against Mayweather in August 2017 was one of the most anticipated contests in sporting history. The Telegraph reported that McGregor earned a fight purse worth a minimum of £21 million and with the inclusion of pay-per-view revenue and sponsorship deals he is estimated to have made somewhere between £60 and £90 million, but how much is he worth, asks Cormac Rae
One of the first hurdles McGregor had to overcome in his professional life was his father's conviction that he could never make a career as a mixed martial arts fighter. He did however manage to convince his mother and long-term girlfriend Dee Devlin.
McGregor soon faced the harsh economic reality of being a cage fighter,  earning an annual income of only £1,300. For five arduous years between 2008 and 2013 he had to rely on state welfare while living at his mother's house in order to get by.  During this period he faced many challenging low points and was said to have been close to quitting altogether. A last minute intervention from his coach John Kavanagh prevented him from quitting and in doing so Kavanagh altered the course of MMA history forever.
McGregor went on to win eight consecutive Cage Warrior bouts, picking up a habit of knocking out opponents in the opening rounds along the way, catching opponents off guard with his frenetic fighting style. After becoming a Cage Warriors champion in two weight divisions (featherweight and lightweight) McGregor's dream to fight in the Ultimate Fighting Championship came true as he landed an opportunity to fight Marcus Brimage at UFC Sweden 2 on April 6, 2013.
While the bout was low on the fight card, commentators talked up the Irish man's prospects and after Marcus Brimage collapsed under a barrage of hammer fist strikes in the second round, the hype intensified. Winning £11,000 for the fight and a £40,000 bonus for 'knock-out of the night', McGregor's fighting career was beginning to pay dividends. His dream of becoming a self-made millionaire began to look more plausible by the day and less like the distant fantasy of a lippy working-class Dubliner.
The Irish man then went on to defeat Max Holloway in Boston, but the joy of victory was short lived after an MMR scan revealed he had torn his ACL during the fight, which would keep him out of the Octagon for ten months. Despite this set back, the McGregor team spent the time well and with an intense promotional and training schedule. McGregor's power and influence grew by the day and his subsequent winning streak would help him secure a sponsorship deal with Reebok, seeing him rake in an extra £28,000 per fight, small change in comparison to what was to follow.
Making his come back from injury against Diego Brandão at the O2 arena in Dublin, he won his first 'Performance of the Night Award'. He then defeated Dustin Poirier at UFC 178 and then Dennis Siver at Fight Night 59 before being offered the chance to fight for the UFC Featherweight title belt. The 'Notorious' McGregor made an estimated £44,000 in official fight earnings and performance related bonuses for these initial fights but the stakes were about to be raised significantly.
After massive build-up, McGregor was due to fight the defending UFC Featherweight champion Jose Aldo, until injury forced the Brazilian to pull out. Chad Mendez stepped in at the last minute as Aldo's replacement at UFC 189 and was swiftly dispatched in the second round.
Eventually he defeated Aldo at UFC 194, knocking him out in thirteen seconds.  More importantly, winning the Featherweight title was essential to McGregor's career development within the UFC and the victory gave the McGregor camp the much sought after credibility they needed to justify the hype. Immediately after the fight, EA Sports announced that McGregor would be the second cover star for their latest UFC video game, UFC 2, further cementing in the minds of fans and sponsors that he was the poster boy of the UFC.
The rematch between Diaz and McGregor at UFC 202 was as promised – an unrelenting and vicious dogfight. Going five rounds, McGregor went the distance as the fighters slugged it out, leaving every ounce of energy on the canvas. McGregor's faith in himself never wavered yet he was redeemed in the eyes of commentators as he won by unanimous decision and picked up around £2 million, making this the highest fight purse in UFC history. His pay-per-view earnings were equally impressive, taking another sizable chunk (5-7 per cent) of the £8 million made.
At UFC 205, he defeated reigning Lightweight champion Eddie Alvarez, by TKO in the second round. This was the first time any fighter held two belts in two UFC divisions while he also raked in at least the disclosed £2 million prize purse and another 5-7 per cent chunk of the pay-per-view earnings.
While this was his last UFC fight before taking a hiatus, he began a social media and publicity campaign to instigate a fight with Floyd 'The Money' Mayweather. After months of to-ing and fro-ing, the fight was finally arranged, and was set to become one of the biggest sporting events of all time. The fight took place in Nevada in August 2017, and while McGregor failed to exert the same dominance he had shown in the Octagon, it was a box office success, earning the fighter a reported £25 – 90 million
As the fight broke box office pay-per-view fight records around the world McGregor's social media presence and popularity surged and labels such as Beats by Dre, Monster Energy, Reebok, Calvin Klein and Bud Light joined his growing list of commercial sponsors. His appetite for publicity clearly pays dividends and his advertising revenue stream is estimated to be worth around £6 million a year. Further capitalising on his enormous social media reach he is set to launch his own fashion brand, August McGregor later this year amid rumours he will be making a return to the Octagon.
Back again on the cover for UFC 3, set to be released at the end of January 2018, McGregor is this time the sole cover star of the multi-million-dollar gaming franchise.
In many ways he is so much more than a fighter, in truth he is an entertainer; his true power lies not only in his ability to strike an opponent's nerve,  but to rile up raucous crowds and cause havoc wherever he goes. He is truly the 'Notorious' one.
Cormac Rae is a graduate journalist at Spear's