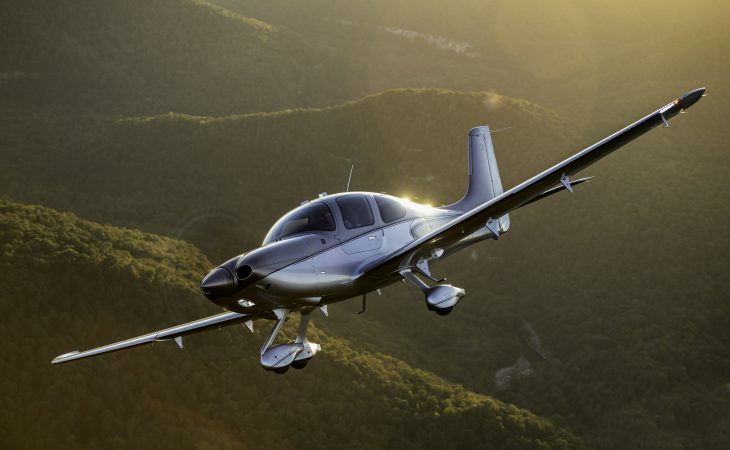 From our partners: Cirrus aircraft have transformed the lives of their owners, writes Irenie Forshaw
Aerobatic champion aviator, Mike Goulian, and entrepreneur, Chuck Surack, discuss the transformational power of personal aircraft ownership – and how joining the Cirrus community can dramatically enhance the life experiences of professional pilots and novice flyers alike.
Competing in the Red Bull Air Race is not for the faint of heart. The elite group of pilots must maneuver a treacherous course of inflatable pylons just feet above the ground in the fastest time possible, reaching speeds of up to 400 knots and enduring forces of 10G.
This stomach-turning display of high-speed, low-altitude flying requires skill, precision and a pilot who is brave – or crazy – enough to take part.
For Mike Goulian, a champion aerobatic aviator who competed in the Red Bull Air Race World Series as part of Team 99, success comes with channeling these heightened senses.
"It sounds weird, but you almost forget you're in an airplane," he says. "If you're really in the zone, you lose all sense of time, you don't hear anything, all fear is gone – you're in this bubble and it just happens magically. That's what makes it so exhilarating."
A sense of adventure
Growing up washing planes and sweeping the hangar floor at his family's flight school, aviation has been part of Goulian's life for as long as he can remember. In search of a competitive sport, the talented pilot took up aerobatics and never looked back. "I competed as a 17-year-old in my first aerobatic competition and, now, at the ripe old age of 52, I'm still flying air shows and loving it as much today as I did then," he reflects.
In competition, Team 99 uses a specialist aerobatic aircraft. For his own personal transportation requirements, however, Goulian is a longstanding and committed member of the Cirrus ownership community. In fact, when "the pilot's pilot" set up his own flight school with his wife, Karin, in 2016, it was with the purpose of teaching people to fly Cirrus aircraft.
"I wanted to build a business that focused on a certain segment of the aviation population. Cirrus Aircraft was the right fit because it has a culture that is very innovative – the company never rests on its laurels," he explains. "I think that's what attracted me to Cirrus because I'm a person who lives my life wanting today to be better than yesterday and tomorrow to be better after that."
It was the right decision. The flight school has gone from strength to strength, operating solely Cirrus aircraft and growing its fleet to include 12 of the SR20 and SR22 models and two Vision Jets.
This is an achievement Goulian will never take for granted. "Growing up my dad knew the value of a dollar and nothing was given to us," he recalls. "So when I walk through the door into our hangar, which is our office, and I see these beautiful brand-new planes sitting on the gleaming white floor, it still evokes these child-like qualities where I almost don't believe that it's all mine."
Five years since starting his own business, the distinguished pilot has observed a set of common characteristics that unite those who gravitate towards Cirrus Aircraft. "It's amazing, our clients come from so many diverse backgrounds," he says. "I think people who are high achievers in their lives seek each other out. They're driven, motivated, passionate and they want the greatest things."
This is certainly true of Chuck Surack, the entrepreneur best known as the founder and CEO of Sweetwater Sound – a leading retailer of musical instruments and professional audio equipment. With over 2,000 employees and 15 different companies, travel is a crucial part of Surack's world.
"As a business owner your time and your commitment to others are very important," he says. "An aircraft is one of the most valuable tools that you can bring to your business. It brings you additional time and that's what it's all about today: to be competitive you have to be faster."
Cirrus Aircraft's Vision Jet, the world's top-selling business jet, seemed like an obvious choice for the entrepreneur. "It's given us a lot of flexibility," he reflects. "If part of my team is going to the West Coast, another part of the team can go to the East Coast. It's a great tool to help grow your business."
Safety first
As for Goulian, he has his own SR22, the world's best-selling general aviation airplane for nearly two decades, which he uses to travel to most of his competitions. The aircraft is complete with special diamond stitching in the seats and personalized headrests embossed with his air show logo.
"Flying a Cirrus is a really fun and exhilarating experience for novices and experienced pilots alike," he says. "I know a lot of professional pilots that use a Cirrus to fly to their airline job – I don't think you can say that about a lot of planes."
So what is it that makes Cirrus Aircraft stand out? For Goulian, safety is a primary factor. "When I look at my plane, I see the Cirrus Airframe Parachute System (CAPS) as the main reason why I trust my aircraft with my family on board – especially my daughter. It's the ultimate safety device, like an ejection seat in a military plane, for if all goes wrong," he explains.
Then, there are the avionics. The Cirrus Perspective+, powered by Garmin, enables safe flying in poor conditions by providing real-time animated weather and traffic information.
When he's not undertaking his grueling training regime to prepare for air shows, Goulian takes the SR22 for regular trips with his family. "My daughter is 14 now but she still loves Disney World, so we make a lot of Florida trips in the plane," he says. "It's quite a long distance for us – about 1,000 miles – but we can still beat the airline there any day. When we land we're in our hangar and home 15 minutes later. We can travel on our own schedule."
The intrepid pilot has also enjoyed watching his wife learn to take the controls. "When I met Karin she thought only military people flew planes," he chuckles. "Now she's a pilot herself, and I love to watch her fly. She's becoming a great aviator all on her own, which is really fun to see."
Whether it's easing business travel, or building an entire fleet for his thriving flight school, it's not an exaggeration to say Cirrus aircraft have transformed the lives of both Goulian and Surack, albeit in quite different ways.
"The thing people don't know about Cirrus Aircraft is that it's much more than an aircraft. It's a lifestyle and a community," he says. "You're part of something special."
To learn more about joining the Cirrus community, visit cirrusaircraft.com/ownership
Main image ©Cirrus Aircraft