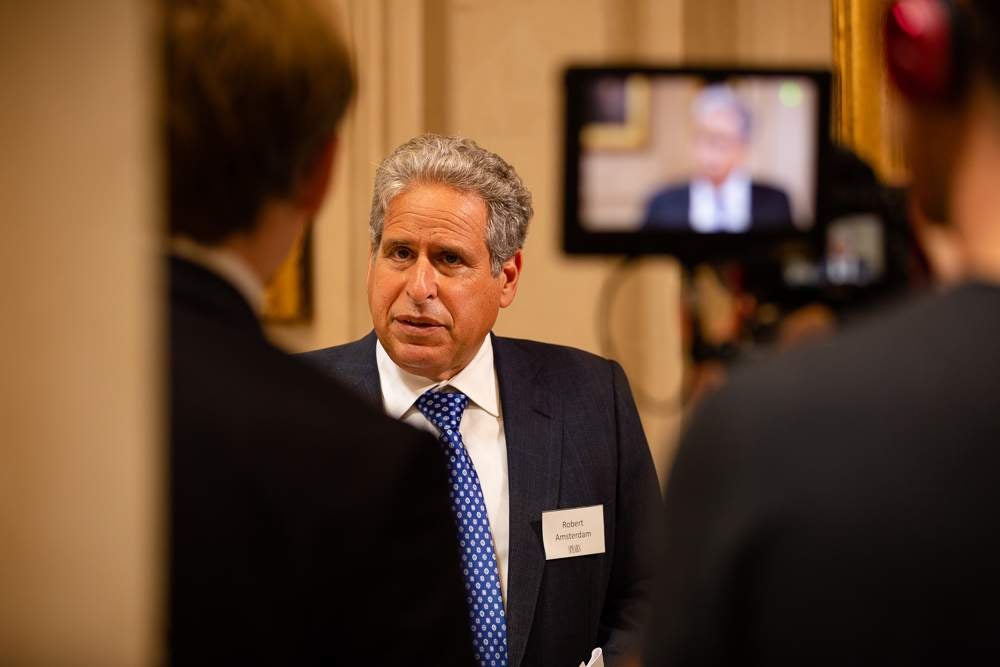 Top international lawyer Robert Amsterdam says the world governments need to change the way they do business with Africa and the Pacific if they plan to complete with China in the years ahead, writes Alec Marsh
Chinese state owned corporations are out-competing Western companies in many parts of the world and playing by different rules as Beijing flexes its muscles globally – that was the warning from a briefing this week, led by Spear's columnist and international lawyer Robert Amsterdam.
Leading a penal discussion with legal and public affairs professionals with a worldwide expertise, Amsterdam warned that China's economic heft and political backup was changing the rules of engagement in trade and undermining civil society and rule of law.
'One of the most important things to understand about china is its historical memory,' Amsterdam told the audience at the talk, 'Transitioning to Chinese Hegemony' held at the Lanesborough. 'When Mao Tse-tung said in 1949 that it was time for China to stand up – it was time to stand up from 100 years of repression from the West; time to stand up from a period of time when 35 million Chinese were murdered by the Japanese; time to stand up from a period of time when the Opium wars infected the country with opium addiction so that the West could balance its trade. Living memory today in China of their history animates every action of which they are engaged. To truly study China one needs to understand that in the West, history and the future are seen as separate, but in China they are seen as part of one path.'
The cancellation this week by the Trump administration of the 1987 Intermediate-Range Nuclear Forces treaty with Russia was part of the US's efforts to 'up their response to China in the South China Sea,' he added. 'Trump's trade war is much more than a trade war,' Amsterdam declared. 'You need to understand how grounded the Chinese reaction to this is in all their history.'
'Lenin was right when he said that foreign policy follows domestic policy,' said Amsterdam, noting that the concerted projects like Belt and Road were a response to Chinese economic overcapacity, and designed by Beijing to ensure that growth would remain above 6 per cent a year, the benchmark at which China's elites believe the political status quo will prevail.
Penalist Chris Flynn, partner of Gilbert and Tobin in Sydney, noted that by bringing the investment power of the Chinese state together with that of their corporations – particularly through programmes such as Belt and Road, Beijing was rewriting the playbook on global trade. 'This is really a change not just in the software of international trade – it's also in the operating system,' said Flynn, who has experience in advising companies across the Pacific region in energy and resources.
Reviewing Australia's position in respect of China – described as being around five years ahead of most Western countries – Flynn said: 'We are the most integrated Western economy in Asia by any stretch of the imagination. Australia is as reliant now on trade with China as we were on trade with the United Kingdom in 1941. In terms of Western countries Australia is the canary in the coal mine.' Highlighting fears over the extent of Chinese ownership of strategically important national power assets in Australia, Flynn said there was now the 'beginnings of a policy debate' in Australia: 'There are concerns being raised by our allies including yourselves and the Americans, in terms of compromise of our infrastructure,' he added.
Across the Pacific region, he warned, 'we are seeing the centrally focused approach, the ability of the Chinese organisation to reply on a centrally planned and mandated approach is something that's increasingly difficult for our businesses to compete with. That is because they take a strategic approach to investment rather than a market-based approach. It's becoming increasingly difficult for us to compete.'
One consequence was that Chinese companies were starting to insist that the contracts were drawn up under Chinese law: creating additional concerns for parties to those agreements. 'Suing China,' declared Amsterdam. 'You can do the math.' Meanwhile, states long-traditionally within the sphere of Chinese influence in past centuries – Thailand, Laos, Cambdodia and Indonesia, were increasing falling back under Beijing's influence.
A similar story was being played out in China, where China – whose modus operandi was likened to that of the British East India Company. When considering the scarcity of rare earth metals – vital for non-fossil fuel generating power sources – Flynn noted: 'It's in our national interests to make sure we can compete.' Amsterdam pointed out that Chinese involvement in African countries was leading to an erosion of civil society and a rise in corruption. 'It smells a lot like bad colonialism,' said Amsterdam 'The Chinese are going to have clean up.'
Stuart Leach, from Pagefield Global Counsel, advised companies competing with Chinese powerbrokers in Africa or Pacific, to leverage their reputations as a means of winning over local, national and international players. Leach cautioned that it was important to form key relationships regionally before engaging in the territory and then advised companies to conduct scenario planning to preserve their reputational lead once in place. Soft power and appropriate reputation management would help them encourage 'global actors to help you'. Furthermore, working to expose corrupt practices by competitors through public relations campaigns or the courts was another way of levelling the playing field.
'It's not about fighting with China,' said Flynn. 'It's about competing with China in the new environment – and that's not one that's going to be completely designed by the West.' Crucial for success in future for Western companies was political support by governments, agreed the panel, which cited the UK government's 'fusion' programme, one intended to help government 'line up behind business'.
Alec Marsh is editor of Spear's