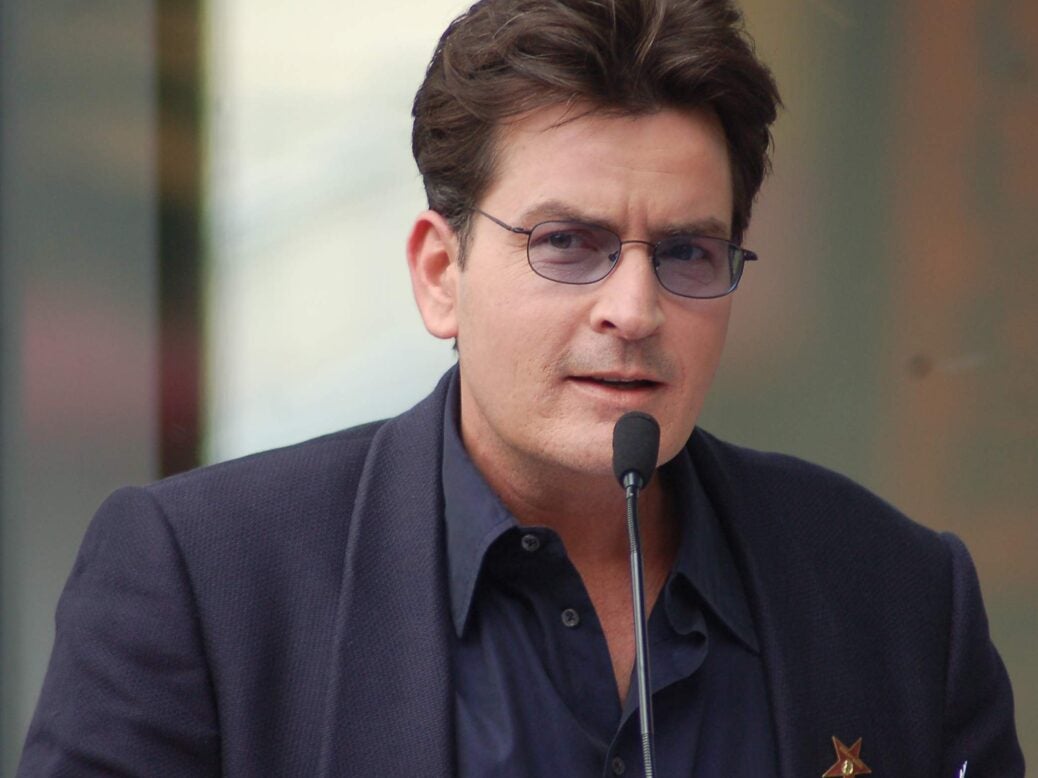 Famous for his alcoholic, jingle-composing role of Charlie Harper in the TV series Two and a Half Men, how much is actor Charlie Sheen's net worth?
Born Carlos Irwin Estévez to artist Janet Templeton and actor Ramón Antonio Gerardo Estévez (aka Martin Sheen) in New York City on September 3, 1965, Charlie Sheen has Spanish and Irish ancestry. The third among three boys and a girl, he adopted his dad's stage name while anglicising his first name.
After his dad's breakthrough role in The Subject Was Roses (1968), the family moved to Malibu, California.
Studying at Santa Monica High School along with Robert Downey Jr., Sheen was a baseball star and a budding actor. Banding with his brother Emilio Estevez and school pals Sean Penn and Rob Lowe, Sheen began making amateur Super 8mm films.
His first movie appearances were uncredited roles in his dad's films Badlands (1973), The Execution of Private Slovik (1974) and Apocalypse Now (1979). Choosing the acting profession following expulsion from school due to poor grades, Sheen landed a role in Grizzly II: The Predator Concert (1983, although never released).
He soon got starring roles in the films Red Dawn (1984), Silence of the Heart (1984) and The Boys Next Door (1985).
Sheen's breakthrough, however, came with Oliver Stone's Oscar-winning Vietnam War movie Platoon (1986), where Stone made him undergo a month-long military-style training regimen along with Willem Dafoe, Johnny Depp and Forest Whitaker.
Other starring film ventures include: The Wraith (1986), No Man's Land (1987), Young Guns (1988), Tale of Two Sisters (1989, narrator), Major League (1989), Courage Mountain (1990), Men at Work (1990), Navy SEALs (1990), The Rookie (1990), Hot Shots! (1991), Beyond the Law (1992, TV film), Hot Shots!: Part Deux (1993), The Three Musketeers (1993), Terminal Velocity (1994), The Chase (1994), Major League II (1994), All Dogs Go to Heaven 2 (1996, voice role), The Arrival (1996), Money Talks (1997), No Code of Conduct (1998), Rated X (2000), Good Advice (2001), A Glimpse Inside the Mind of Charles Swan III (2012), Foodfight! (2012, voice role), Mad Families (2017) and 9/11 (2017).
Sheen came to be better known for his TV roles in Spin City (2000-2002, for which he won the Best Lead Actor Golden Globe), Two and a Half Men (2003-2011) and Anger Management (2012-2014). But his most famous role was in the CBS sitcom Two and a Half Men as Charlie Harper, which earned him $1.25 million per episode and an Alma Award for Outstanding Male Performance (2008). At the time of his final season, he was reportedly raking in $1.8 million per episode. His annual salary during this period was estimated to be $48 million.
Earning a Western Heritage Award for Young Guns (1989), his other accolades include Walk of Fame Star on Hollywood Boulevard (1994).
Sheen owns a Mercedes Benz S600 and also a private jet (a gift from an old friend). Before that he owned a 1966 Nascar Ford Mustang.
Married thrice—first to Donna Peele, then Denise Richards and then Brooke Mueller—Sheen has five children and a grand-daughter (through a daughter from a relationship with Paula Profit, his high school girlfriend).
Currently living in his $9.2 million Mediterranean-style Mulholland Estates villa, in Sherman Oaks (bought for $7.2 million in 2006), Sheen also owns the Beverly Hills-located Valley Ranch mansion. Earlier, he had sold his $6.9 million first home in Mulholland Estates (bought in 2011) for $6.6 million. His second home, a $4.8 million Spanish-style mansion, compensated by selling for about $5,500,000.
Sheen, who tested positive for HIV, is a major donor and fundraiser for AIDS and breast cancer.