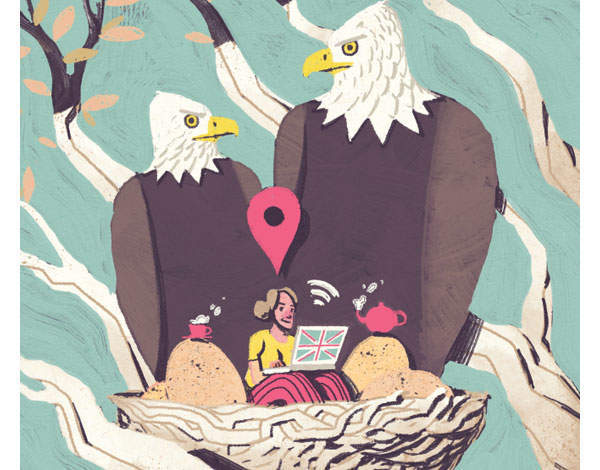 TECH FOR GRANTED
Britain's next generation of tech entrepreneurs look set to herald a golden age of innovation — for California. British universities' bright young things who undertake the Silicon Valley Internship Programme (SVIP) are paid $60,000 to intern for a year in the Bay Area at a raft of start-ups, whose ambitions are boundless.
Paul Wozniak is one such techie: 'We're working on a way to revolutionise email. It's a big problem, and if we're going to tackle anything we want to tackle something big and worthwhile.'
SVIP was established by Michael Hughes, who speaks to me from San Francisco via his own start-up baby: conference call website LoopUp. Wozniak and fellow intern Matt Bessey are also LoopedUp. 'It's a great environment to be working in,' says Bessey. 'We're all in the same mindset, we're all entrepreneurial, we're surrounded by people with the same skill set and it's really conducive to trying new things out.'
Read more on business and entrepreneurship from Spear's
There's little to stop them staying in the San Francisco sunshine once their internships finish, even if Hughes hopes SVIP can encourage them to bring the business environment they see in California back to London. They may not find that too difficult; drinking in a bar in Shoreditch, I could hear just this kind of tech entrepreneur chatting and networking at Silicon Drinkabout, a weekly event for tech industry people based in 'Silicon Roundabout' (aka the back streets of Old Street).
Such an environment should benefit James Olden, creator of TopTradr, an app that assesses your trading abilities and rewards successful users with money for more investments. Olden's latest venture, Echo, is ambitious: 'I thought, "What would be the hardest thing to do?" and that's probably create a new social network. It's voice-based, so you leave a six-second message; then it's the same principle as Twitter: you can hashtag them, you can follow them.'
Read more on tech billionaires from Spear's
However, if Echo is successful it won't be thanks to British policymakers: 'There's a lot of government posturing about how they're helping to grow Britain, they all like the idea of a next Silicon Valley — but I don't think there's much tangible help or assistance from government or major banks. They're still complete blockheads. The government grants are non-existent. I haven't had any help from any government organisation, although you could argue the recent Budget doubling of SEIS is a good help now.'
Eduardo Molina, business developer at Tech City social media start-up Rummble Labs, feels part of a growing business community but also identifies drawbacks. Molina, who came here from Mexico, highlights a counterproductive immigration policy: 'More can be done in terms of employing non-EU students, which could bring significant expertise for specific international markets.'
However he does credit how Westminster has 'raised London's profile in the world as a centre for tech and entrepreneurship. We were part of the 2011 UKTI Mission to [music and tech festival] SXSW in 2011. We have also benefited from the R&D tax credits and the Enterprise Investment Scheme.'
However, skills and enterprise minister Matthew Hancock claims the government has helped thousands of others: 'The success of the Start Up Loans speaks for itself,' he says. 'In just over a year more than 14,000 new businesses have been helped to get off the ground with over £70 million so far; slashing business red tape by around £1 billion will free businesses up to do what they do best.
That big names in the technology sector — along with government — have invested in and backed the East London cluster shows that the UK has a technology industry to be proud of and is one of the leading places to start and grow a business.'
A private function
Those 'big names' in the 'East London cluster' haven't inspired Olden, though: 'The only reason there's a growing number of entrepreneurs is because the barriers to entry are so low: you can become your own boss with a laptop and a sandwich. That means there's a lot of new business start-ups, but it also means there's a lot of crap out there.'
Olden may have a point: despite the recent government push, it seems the biggest waves in innovation and entrepreneurship are being made by those who are aided and inspired by the private rather than the public sector. The private sector has sought to encourage new thinking and identify new markets and has been able to tailor its approach effectively.
A philanthropic example of this is the Sainsbury Management Fellows (SMF) initiative. Set up in the Eighties by Lord Sainsbury, its aim is to bring engineering knowhow to the boardroom by awarding £300,000 worth of MBA scholarships a year to young engineers and later providing them with a business mentor.
One recipient was Phil Westcott, now a business development manager for IBM. Westcott echoes the support he received by floating the concept of 'intrapreneurship', getting the most out of entrepreneurial spirits within large companies through his initiative, Smarter Impact. 'It's something that has now grown into a mechanism for new partnerships between private, public and third sector to drive inclusive economic development,' he says.
Speaking about government-entrepreneur partnerships, Westcott says: 'There are good intentions; the government is making the right noises. Very soon after you start your business, the UK will help you export to Europe and beyond; businesses are global from the word go.' However, he doesn't see the foundations as solid, pointing to a recent survey comparing national investments per technology researcher: South Korea topped the chart with $100,000, while the UK was around a quarter of that.
'Where the financial power and scalability of a big corporate meets the agility and invention of the entrepreneurial SME, that's where rapid innovation is happening,' he says. 'IBM Watson shot to fame in 2011, using cognitive computing technology to defeat the human champions of game show Jeopardy. Now it's using a partnership strategy, picking up a sweep of business offerings, opening up to an ecosystem of mobile app developers, and embracing the rapid invention of the entrepreneur community.'
SVIP founder Michael Hughes, himself an SMF recipient, backs up Westcott's championing of big backers but says there are problems if they're British: 'In the UK the large company will try to strangle all the value out of the deal, wanting the bigger bit of the pie. In the Bay Area large companies see it as potential win-win, where you can generate a bigger pie. That role of big companies being the incubator is critically important.'
Talent contest
If London can work out how best to achieve win-wins, then there's a chance it can capitalise on a post-crisis culture shift, says Westcott: 'The talent in the US was drawn into the big banks in days gone by. Now, as the bonus culture has been driven down, as an unexpected consequence the talent is seeking its fortune in Silicon Valley — that's one reason why they're bouncing back so effectively from 2007. We need to bring that to the UK.'
Perhaps that is happening already. Hughes points to Nokia's managed decline and how it has kickstarted a new tech cluster in Finland, creating a feedback loop of success. 'London is an even bigger example of that. If you're sitting in France, London looks like a breath of fresh air. Every government around the world has basically figured out that the way relatively mature economies grow is through innovation. The best vehicle for this is technology-led small groups of people bashing big problems.'
To turn those small groups into global giants, London needs to attract the brightest and best. On whether he'll return from California, Paul Wozniak is unsure: 'There's a very supportive community here in terms of the networks and the events. I have experienced a little bit of that in London, so it all depends at the moment.'
If the government can help close the loop, encouraging private research and development rather than rhetoric, then the success stories will speak for themselves. A dynamic corporate investment culture can make labels such as 'Silicon Roundabout' and 'the Start-Up Capital' look less like wishful thinking and more like beacons for business. Wozniak might well come home to make his millions.