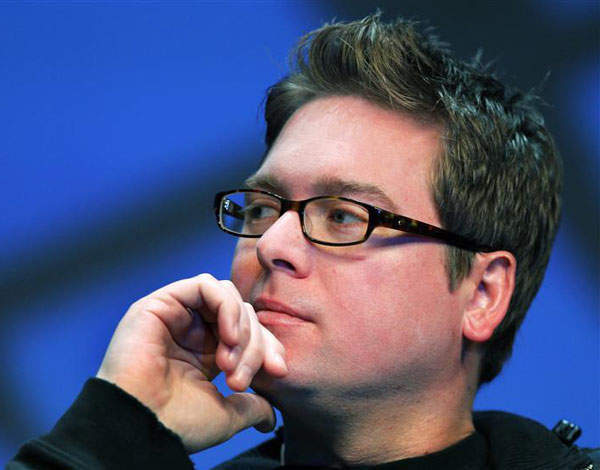 'One of our board members, Peter Fenton, likes to say that Twitter shot itself in every major organ and still managed to survive.' So says Biz Stone, one of Twitter's co-founders, on a transatlantic line. As a tale of a start-up, that sounds familiar: no company makes it big — let alone to Twitter's $23.6 billion market capitalisation — without a few self-inflicted injuries on the way. But as Stone tells it in his new memoir-manifesto, it's easier to count the mistakes Twitter didn't make.
Early-ish adopters — I joined in April 2009 as user 27,892,256, and there are now 241 million accounts active monthly — have seen Twitter's growing pains for themselves. The 'fail whale' graphic used to appear when the service was overloaded at moments of major news, precisely when everyone wanted to use Twitter. Spam accounts were rampant and until recently even harassing or threatening tweets were not seriously dealt with.
But these have nothing on Twitter's internal collapses, as detailed in Stone's Things a Little Bird Told Me: an obscure scrum of founders pulling in different directions; a churn of executives breeding bad strategy and bad blood; the constant need to fix a shaky technical architecture without taking down the service (being 'in the position of fixing the car while it was driving'). One of the 'rookie mistakes' of Stone and co-founder Evan Williams was meeting Mark Zuckerberg when they had no intention of selling. This does lead to the book's best anecdote, though: when Williams asks the Facebook founder whether he wants his office door open or closed, the inscrutable Zuckerberg says 'Yes'. Williams ends up closing it halfway, just in case.
It is not, if one is being honest, entirely clear what role Biz Stone played in the founding of Twitter. He invented the 'follow' button, did the site's initial designs and spun for Twitter in the press, but the name and the technology were other people's ideas. His role, as he himself details, was ill-defined, while the much-read gossip blog Gawker calls him 'tech's most useless big shot'. His current venture, an app called Jelly which allows you to ask your network questions, is not making the App Store quiver.
ADAPT AND OVERCOME
Like many social media sites, the essential idea for Twitter came before — long before — any thought about how to make money, perhaps reflecting a quirk of 21st-century e-capitalism, where technology lets you build your dreams cheaply and investors buy in before you have even earned a dollar.
Stone, who talks about 'adding a profit engine' once the company is already valuable as defined by its number of users (and the data they generate), is clearly on the dreamier side of this spectrum: 'I do feel that Twitter became valuable in many different ways to many different people and in some ways having nothing to do with money.' Indeed, his book advocates a 'new definition of capitalism', which involves 'not only enjoying financial success (which is normal) and bringing joy to employees and consumers, but also having a positive impact in the world'.
Stone has a Californian belief in positivity: in his book, he tells the reader to envisage their perfect office and work towards that. Aiming for 'a funky office space near the ocean' with 'bikes hung on the wall right outside' is certainly ambitious, but would-be entrepreneurs could better use less ethereal tips.
The crucial issue for entrepreneurs Stone touches on is the push-me-pull-you of how consumers can drive a business's products and models, especially in an era where choices are multiple and users vocal. Twitter, to probably a greater extent than any other social network, has followed its users, not led them: 'One of the things we prided ourselves on doing was creating a very simple tool and then standing back and watching for patterns and trying to figure out what people are trying to do with it and then trying to follow up as best we could.' (He later rows back a little on this: 'If you let yourself get pulled along too much by the crowd, you'll find that a lot of times what people are saying they want isn't want they really want.')
You can chalk this laxity up to lack of preparation, insight or innovation, instead of an intentionally laissez-faire model, but either way it has moulded Twitter around its users, rather than vice versa, as those who are beset by Facebook's changes will aggrievedly understand.
Twitter has, in Stone's word, become 'integral'. He doesn't specify whether that's integral to social media, to tech companies, to individuals or to society, but — to quote Mark Zuckerberg — yes. Yes to all of them. A fervent Twittervangelist, I have seen it thoroughly insinuate itself into my life: I interact with (and make new) friends, colleagues and peers; I do a good deal of my reporting on it, whether tweeting from wealth management seminars or art galleries; I read the best (and worst) articles because they are tweeted by those I follow; I contact politicians, the powerful and the distant; and I can observe the rest of the world, in major and miniature, as it goes about living and dying, in revolution and in peace.
This centrality of course breeds problems of authority and responsibility. Twitter has tried to be apolitical, but when the US State Department asks you to delay repairs to the site so Iranian youth, mid-revolt, can tweet, what do you do? To its enduring credit, Twitter did not co-operate with the US government as part of its PRISM data-sweep, unlike other tech companies such as Google, Yahoo and Microsoft, and that libertarian streak seems in part derived from Stone, who asserts: 'It's very important that companies like Twitter continue to make it difficult for any government to request something that doesn't belong to them.'
REDUCED TO TIERS
Stone is evidently worried by our wider social problems which run along the 1 Per Cent/99 Per Cent faultline. Twitter itself, however, has in part engendered them. Take San Francisco, Silicon Valley's dormitory. Well-paid tech workers have rented houses in droves, sending prices skywards and disenfranchising locals (ring a bell, Londoners?).
The buses Google lays on to take its employees from the city to the valley have been protested and barricaded as symbols of this division. And while Stone says he's proud that Twitter, which created 1,600 millionaires with its IPO, moved its headquarters into a rundown part of the city as a regenerative move, the company negotiated a $56 million tax break which came out of the city's coffers. (The regeneration of Mid-Market has, naturally, only led to higher rents all round.)
This is, Stone says, a fact of life: our two-tier society 'seems to be happening in a concentrated form around here [San Francisco] and then in a more diluted form across the United States and potentially the world, and that may just be systemic, the way that we pursue our lives, the way that business works now.' For someone who spends 220 pages promoting idealism and creativity, with all those familiar stories about motivating failures and childhood incidents that spookily echo the qualities that made him the person he is today, Stone is oddly resigned. Whatever happened to your Californian pep of old, @biz?
Things a Little Bird Told Me: Confessions of the Creative Mind by Biz Stone is published by Pan Macmillan