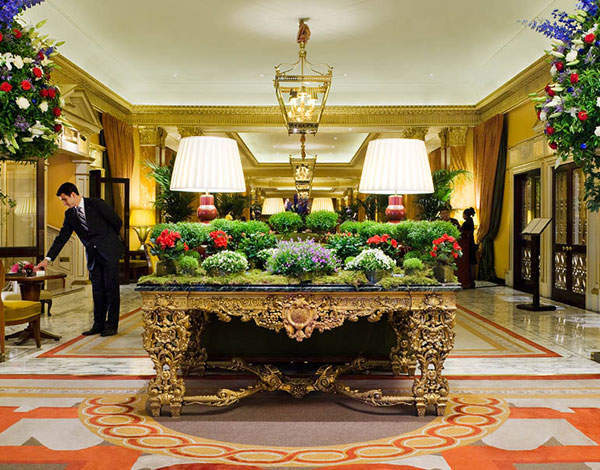 I'd like to say this is the first time an interviewee has taken me into the gents, but it's not. After Nick Appell and I have had breakfast in the Dorchester Grill and talked about his family business, the Casna Group, which supplies cleaners to the Dorchester, the Connaught, One Hyde Park and other luxury haunts, he shows me around the hotel, demonstrating the nooks, crannies, surfaces and spikes which need to be kept clean. The marble which runs over the urinal array is one such space, and – running a finger along it – it does seem dust-free.
Cleaners are, by default and by design, almost invisible. They often work unsociable hours, overhauling stoves and stairs and chandeliers, and any attention they attract is almost certainly unwelcome. When cleaning – front of house, back of house, bedrooms – is done right, it should be unnoticeable. But back over breakfast, Appell is paying attention to cleaners, and he's concerned – not least about how much they're paid.
When he and his parents started Casna in 1989, he paid the cleaners at his first hotel, the Lancaster on the Bayswater Road, £4 an hour, while all his competitors were paying £3 an hour. This gave 'amazing stability', as you'd expect. But given tighter competition and a less buoyant economy of late, Casna are now 'operating at minimum wage, which is amazing when you're thinking about what we're looking after'.
The contrast is pointed: the minimum wage is £6.31 an hour; a Dorchester Suite costs from £3,798 a night; the Sultan of Brunei, who owns the Dorchester and other luxury hotels currently the subject of a boycott given recent anti-gay laws, is worth an estimated $20 billion. A Casna cleaner at the Dorchester would have to work 56 hours – before tax – to afford even an entry-level room.
Why doesn't Casna pay its staff the London Living Wage (£8.80 an hour)? 'We would love to, but we can't because we're governed by what the hotels will pay us. I'd love to.' It is 'a shame'.
There is an economic case as well as a moral one for the London Living Wage, though: better-paid staff work harder and stay longer. Appell sounds both apologetic and frustrated. 'With so many of the hotels, like so many businesses now, it's a lot harder to make money, margins are getting squeezed more and more and more and they have to look at ways of increasing that margin all the time. Because of the pressures, they won't do it and they won't do it while there are people around who will work for minimum wage.' The contrast between the Dorchester's minimum-wage contract cleaners and its maximum-wage guests is bitter.
Appell is not unaware that if you can't provide financial rewards, then you can at least offer career advancement, which is why he set up the Casna Leadership Academy and has so far funded it with almost £100,000. Guest speakers do not just talk to Casna's senior team but also to 'a lot of my managers, supervisors and stars of the future because we've got some super bright guys and girls working for us'.
The path from cleaner to manager is one Appell wants to make clear is open to his staff – all 500 of them, generating his £10 million annual turnover. He talks about spotting the talents of Ngozi, a 'cleaning operative' working for Casna at the Landmark hotel – she was 'bright' and 'passionate' and 'highly educated' – so he invited her to the academy, promoted her to supervisor of a small site and then made her the manager of a team of eight.
Arek was a kitchen porter at the Lanesborough: 'I saw this guy who was a cleaner and it was like, Hold on, you've been there for three years. I had a chat to him and thought, He is a superstar – if I could clone people…' But Arek is now going back overseas to take care of his mother.
With this talk of education, I want to know if it's a myth about doctors and lawyers coming from Africa and having to take jobs as cleaners. 'No, it happens in a lot of cases.' There is education at home but no opportunities, he says. 'They find it difficult but what's great with them is they're real grafters and they're prepared to do whatever it takes to make sure that they can support their families back home.' Britons, on the other hand, are 'just not interested' in cleaning for minimum wage.
Which brings us back to money. Waiters, Appell says, can reap tips, but night cleaners and room attendant don't. That is also 'a shame'.
If Appell ever spent a night in one of the hotels his cleaners maintain, I could tell you what his dream would be. Having taken over a large competitor in 2009, doubling his staff and turnover and increasing Casna's luxury portfolio, he now wants it to become a £50 million business.
He has taken it to £10 million from nothing, so I wouldn't say £50 million is an improbable stretch. His start was improbable too, or at least the kind of start that no longer exists: he started knocking on doors in the City at 9am one day in 1983 and by 3pm had a messenger's job. He moved into trading equities, but when his parents sold their curtain-cleaning and dry-cleaning businesses, he saw the opportunity to start a family business picking up cleaning contracts from hotels.
Appell and his mother ran the operations side, his father the finances, and Nick worked nights for eight years, supervising the cleaners and sorting out problems. His parents retired in 2007 and he bought them out last year, but as Spear's has examined elsewhere, it's not always easy to get senior members of your family out of a jointly-owned business. How did Appell do it?
This is perhaps the trickiest thing a family business has to do: to sort out pounds and pence, shares and seats on the board. It can go horribly wrong, ruining businesses and causing family schisms.
Before the takeover of his competitor, Appell had 'a very informal deal' with his parents where he paid his parents dividends and would be left the business in their wills. While this was fine when the business was smaller and he had no family of his own, after the takeover he wanted certainty, as did his parents, so he got his business coach to negotiate a deal for him to buy the company. The facilitator brought both sides towards a price they could agree on, or rather one which smartly left both sides 'a little bit pissed off'.
Appell's advice, then, to family businesses is to get a facilitator in as early as possible. 'It would've been horrific if I had tried to do it myself.'
Appell doesn't just talk the talk – he has walked the walk (or dusted the dust). When he did nights, he was driving home at 4am and got to a set of traffic lights by Finsbury Park. 'I looked at the clock and it was four and I thought, Good, in five minutes I'll be home, I'll be in bed. The next thing I know, I wake up and I'm still at the same set of traffic lights and it was seven in the morning. Luckily it was an automatic and I still had my foot on the brake.'
He enjoys the work, though he knows it's hard, and he says what he always wants to do is lead by example. I think the perfect example for him to set would be to persuade his clutch of luxury hotels to pay his workers the London Living Wage – or for him, damn the hotels, to do it anyway.
PS The other time an interviewee led me into the gents is here.