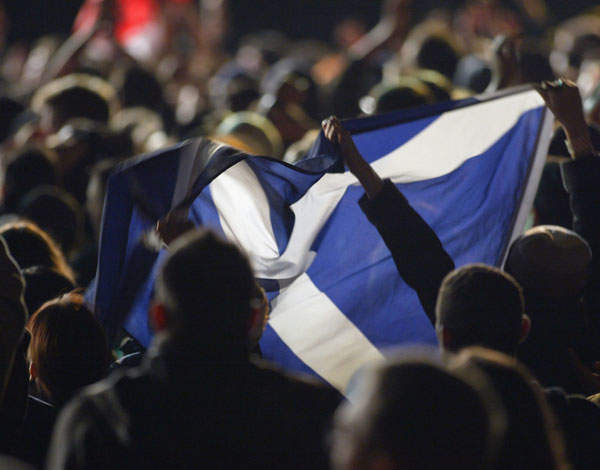 Author: by Stephen Hill
The campaign on Scotland's independence kicked off last Friday. Scotsman Danny Alexander, chief secretary to the Treasury, said each citizen would be £1,400 pa worse off, based on many years of actual historical figures. Every sensible Scotsman should think about that.
The SNP's Salmond, the fishy snake-oil salesman, however, immediately reached for his well-oiled slide rule and said Scotland would be £5 billion pa better off by 2030, because of higher growth. Higher what? The North Sea Bubble is here.
It is difficult to swallow this improbable, wishful assumption for a country which has hardly grown since 2009, has permanently declining oil revenues and has both its major banks still living on borrowed public funds.
Scotland will actually go into reverse if it votes for independence. First, its automatic secession from the EU means it loses the benefit of thousands of trade agreement deals, including with its major trade party, the rest of the UK. Yes, there will be import duties on their exports to the UK, at least while the UK remains in the EU.
Second, it will have the Scottish Thistle for its currency, which isn't exactly comfortable in the trouser pocket. Third, it will lose the benefit of the Barnet Formula worth £20 billion pa. Fourth, as a consequence of three, it will have to raise taxes quite quickly. Fifth, as a consequence of four, the financial services industry, led by Standard Life with its £245 billion of assets, will start the Tartan Exodus south.
Six is the 6,000 jobs on the Clyde that will be lost as the UK's nuclear deterrent force heads south as well, followed by future naval and defence contracts. BP and other UK companies are already halting investment into Scotland. The long tradition of recruitment into the British Army will cease.
Next, many rivers and sporting estates, mainly funded privately by the English, will fall into disarray as they will not trust their future ownership. Then inward investment will divert south too, as will many private companies.
Scotland will have consigned itself to be an impoverished backwater of little consequence to anyone else. Aye, they'll have ter think agen in about three years' time as they descend into chaos – failing economy, falling currency, rising debt, taxes and unemployment, no growth, no future.
And now there's a real joker in the Tartan pack: UKIP, under Scotland's proportional system, has an MEP representing the whole country, unlike the Conservatives. Salmond angrily declared war on UKIP on 8 May and threatened to drive it out of his new republic.
UKIP tactics will be interesting: it is seeking to leave the EU as a policy, whereas the SNP are seeking to leave the UK. The SNP then dreams of applying to join the EU, which is unlikely ever to happen: UKIP can say that staying in the UK union, their biggest trade partner, and leaving the EU Customs Union when the UK does, makes much more sense.
The name UKIP implies it will uphold the UK, which means it can hardly not take a position on this referendum, which could put it into direct confrontation with the SNP. If the referendum ends with a No vote, there may even be the prospect of the UKIP MEP becoming a Scottish MP next 7 May.
Logically, they must support the No campaign, as their name implies keeping the UK together in its own union. If they did help defeat Salmond, however, it could only enhance their political power at Westminster.
UKIP can hardly afford to stay out of this debate: having claimed that they are the new force in British politics, they must live up to that old Russian proverb: 'Having called yourself a mushroom, now get into the basket.' The prospect of UKIP versus SNP makes the mouth salivate.