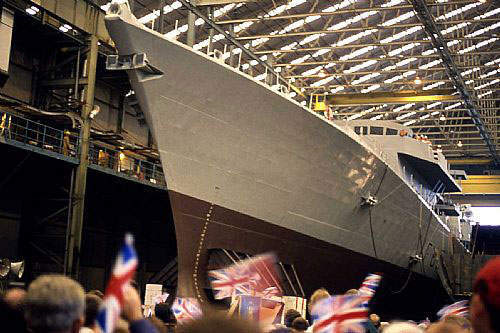 So it is going down to the wire: Scotland is very close to making an extraordinarily brave decision. There will be no going back from a Yes majority, which would throw the country into a live introduction to the empowering philosophy of existentialism.
I never expected that this could happen and the fact that it may is a shuddering indictment of the campaigns of the Westminster-based political parties.
Scotland prides itself on having brought the world so many good things – Robbie Burns, the steam engine, the telephone, the television, penicillin, golf, whisky and even the Bank of England. And soon they may boast a new introduction – the ultimate modern politician.
It is difficult to conceive of a Yes campaign without Alex Salmond and the inconvenient truth for many of us is that he has been utterly accomplished in delivering his 'iceberg' message over the last few months. Iceberg, because he only talks about the 10 per cent we can see, not the 90 per cent that is left up to our imagination.
Tony Blair and Alastair Campbell set new levels of spin and rhetoric fifteen years ago, but Salmond has gone even further and because of this, history may well be made on Thursday. We should be careful what we wish for.
Last Sunday, I took my eleven-year old son to Dortmund to watch the Scottish football team play the world champions. Like many Scots my age, I grew up as a fully committed member of the Tartan Army and it was a membership that has brought me many of the most memorable moments of my life. It gave many in the country an identity and a non-sectarian body to be proud of.
Of course, Scotland tended to lose and they still do, but the Tartan Army always brought passion, fun and bonhomie to every town or country they invaded. I wanted my son to share in these same experiences and Dortmund seemed a perfect start. We are a football nation first and foremost.
About 10,000 Scots made the trip and knowing the drinking habits of the Scots, some may still be there. But there will have been no arrests, because the Tartan Army do self-policing very well – anyone who steps out of line is put back in line by their own. The supporters take no little pride in this and see it as a differentiating factor to the English away fan.
Women and children make up a good percentage of any travelling Scottish support because the crusades are safe and fun. There is a collective effort to be good ambassadors for Scotland and this is constantly achieved without blemish.
The Tartan Army will emphatically say Yes on Thursday because this belief in self-policing is coupled with such pride in their country that the business and economic debate is sidelined. They did not need to be nannied in Dortmund and they do not feel the need to be nannied back home.
The signature tune of the Tartan Army is a ballad called 'Caledonia' and when it was sung by thousands in the beer tents outside the Stadium, I saw many grown men cry. Indeed I may have shed a tear too.
'But if I should become a stranger, you know that it would make me more than sad,
Caledonia's been everything I've ever had'
This is patriotism, not nationalism. It has nothing to do with North Sea oil, taxes, the NHS or Cameron and Miliband, and it is all the better for it. During the singing of 'Caledonia' the hairs go up on the back of one's neck in a Pavlovian way – it is tribal, ritualistic and entirely without any contemporary consideration. That's maybe the point.
Salmond has harnessed these emotions with great agility. This is the bit of the iceberg we can see and all that he wants the Scots to focus on – so that it has become a debate about Scottish self-belief, not Scottish self-financing. There is nothing a Scot likes less than to feel they are not worthy.
Salmond has engineered the polemic, so that to vote No is tantamount to saying 'Westminster is right, we are a crap, feckless country that needs a nanny.'
In stark contrast to the stadia which host the passion, raw pride and zing of the Tartan Army are the padded seats of Murrayfield, the home of Scottish rugby and possibly one of the least atmospheric large stadiums in the world. I refuse to go now because it encapsulates everything that is wrong about Scotland.
It is not just dour and soporific, but Scotland invariably get hammered, the prices are elitist and there is a nagging suspicion that we are all gate crashing a set from Monarch of the Glen. The Buchans, Frasers and Campbells that fill the £100 seats are No voters, but they don't dare raise their voices at Murrayfield and they have been awfully quiet of late too.
I noticed that David Cameron began referring to the 'effing Tories' last week in his plea to the Scottish to vote No. The Yes voters seem to know how to swear a whole lot better than the Noes. I think the Scottish find it liberating to know that they can out swear the English, and also know how to swear well.
The placards of the Yes campaigners who protested outside Glasgow's BBC HQ against the BBC pro-No bias in the campaign were typically blunt: 'You can stick the BBC license fee up your f****** a*******.'
The Murrayfield factor has been Salmond's helping hand. The preservation of the status quo can be a harder sell than change, if those associated with maintaining and supporting the former are seen as elitist, enfranchised and out of touch. There is nothing passionate, uplifting or tribal about eating potted shrimps from the boot of a Range Rover in Murrayfield car park, and its dour and stifled imagery has been the hallmark of the No campaign.
My great-grandfather moved Yarrow shipyards from the East End of London to Scotstoun in Glasgow in 1906. The yard became a lead supplier to the Royal Navy and still proudly exists as part of BAE.
My father is going well at 94, but a Yes majority will do little for his health or indeed the yard's. The Ministry of Defence will not procure frigates from a separate country. Yarrow's business will go to Portsmouth on independence as the Admiralty would be as likely to place an order in Bremen as Glasgow. Yarrow Shipbuilders' proud 108 year life in Glasgow would come to an abrupt end.
I simply don't understand why those spearheading the No campaign (and there have been too many) have not made more of our military efforts as a United Kingdom. The Scots in our Royal Navy are proud to be in a united Royal Navy and the civilian Scots are in turn proud of them.
When Yarrows lost a flagship frigate to an Argentinean missile in the Falklands in 1982, it was not a Scottish-made ship, it was a British-made ship. Yarrows was proud to be a Scottish Yard, but it was even more proud to be serving the British Admiralty.
The Yarrows yard in Glasgow was badly bombed in March 1941 by German planes because it was integral to the British war effort. The 47 men that died that night died as Brits not Scots.
More recently many Scots have lost their lives serving in Iraq and Afghanistan – they may have been serving with Scottish regiments, but they are proud to be in the British Army. Active and ex-servicemen have always been accorded respect in Scotland and it is surprising given their collective bias towards staying together – forged from active duty with English friends – that they have not been offered a greater voice by the No campaign. Soldiers are listened to in Scotland, particularly Scottish soldiers.
The business world will not look fondly on a Yes vote, but we should be careful not to be too apocalyptic. Some of Scotland's most successful businessmen are backing Salmond – Jim McColl, Brian Souter, Tom Farmer and Martin Gilbert to name four. These men are manifestly not fools and their views deserve respect. But generally big businesses doesn't like change and new regulation – it's a hassle everyone can do without.
The Scottish businesses we own in our hedge fund are really only Scottish in name. Weir Group, for instance, only employs 50 people in Glasgow – it simply exports its great Scottish engineering heritage around the world. The board of Weir are proud Scots, but like me they are even prouder to be British. Weir employs 25 times more people in Texas than they do in Scotland.
Wood Group – the enormous Aberdeen oil services business – have had a little spat with Salmond of late over the SNP's bullish North Sea numbers and their shares have been weak. Sir Ian Wood, Scotland's leading oil man, will want Thursday out of the way as soon as possible – he is caught in an invidious situation.
Given that Thursday will be out of the way soon, we have bought the shares on weakness. Ironically of course, sterling's recent weakness has been a huge boost to both Weir and Wood. Salmond's success in the polls has probably helped Weir to the tune of £10 million over the last two months alone.
We don't own the state-controlled banks and never will. In my eyes, they remain uninvestable whether Scotland is in the UK, on its own or knocking around with Richard Branson somewhere in space.
If the 90 per cent of the iceberg that lies below our vision is not troubling enough to deter change, Salmond will have his moment. It will of course be several years before his assurances over the last few months can be judged. But this was also true with the bankers that brought Scotland to its knees in 2008 and they were subsequently socially outcast and blackballed from Scottish society.
If Scotland says Yes on Thursday and then subsequently regrets it, Alex Salmond will need a damn sight more than clever rhetoric and spin to explain why his iceberg sunk the country that was the heartbeat of the British industrial revolution.
The sad thing is that whatever numbers we wake up to on Friday morning, Scotland will never be more divided. Alex Salmond is not a bad man and he is the best politician that this country has seen in a generation.
But his brilliance as a quick thinking and articulate statesman will – in the short term – only have served to make Scotland a less happy place. That was not the legacy he wanted.
David Yarrow is founder and CEO of Clareville Capital, a multi-award winning London hedge fund. He was brought up in Scotland near Glasgow and is a member of the Yarrow shipbuilding family founded in 1865 by Sir Alfred Yarrow and based in London's East End. The firm was famous for building luxury steam launches, yachts and cruisers as well as the Royal Navy's first destroyers, the Havock class, which were built at Yarrow's London shipyards between 1869 and 1908. The famous yard moved to Glasgow in 1906 and made many vessels for the British navy.