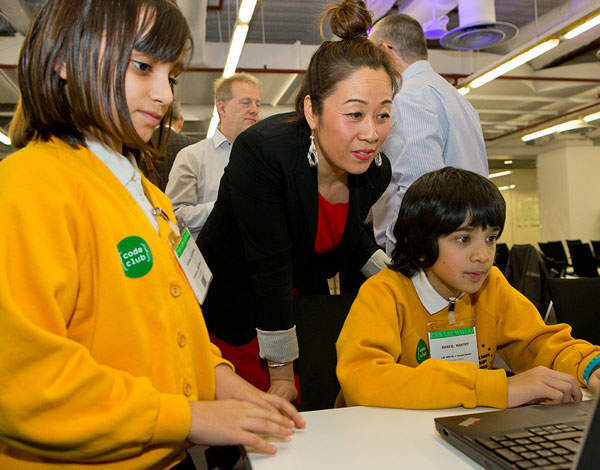 Author: by Chloe Barrow
The City took a turn for the philanthropic this week when it was announced that the IT gurus of Canary Wharf will be helping children learn how to programme computers at Code Club.
The partnership between the Canary Wharf Group and Code Club, a nationwide network of after-school clubs which teach coding, was announced at an event at Canary Wharf Group's Level39 Technology Accelerator.
Speaking at the event, Sir George Iacobescu, Chairman of Canary Wharf Group, said: 'Parents, teachers and the business community all have a role to play in the education and development of our youngsters. This includes investment and mentoring.
'Today is a demonstration of a strong partnership that will help young people compete with the best in the world. Personally, I'm scared of computers because I never had this kind of exposure to them when I was young.'
As part of the agreement, technology professionals from the surrounding financial services and business community will be encouraged to volunteer and deliver the coding classes for primary school children.
Spear's Chloe Barrow speaking to Mymuna Basar of William Davis School
'Volunteers will teach HTML, CSS and Python. We want to teach children about coding while they're young enough to form their own opinion about it and to change its bad reputation,' said Clare Sutcliffe, CEO and co-founder of Code Club. 'It's also good to get in there early before children become aware of gender divides – currently 40 per cent of the kids we work with are girls.'
The goal is to provide after-school coding classes to 75 per cent of Tower Hamlets' 69 primary schools within the first year, meaning around 600 children will benefit from the scheme. Fledgling participants from William Davis School in Bethnal Green were present at the event, including nine-year-old Mymuna Basar.
'It's very fun and we've learned a lot, including how to use a website and make games. When I grow up I think it will be useful,' she said. 'We made one game called "Whack a Witch" which was good,' said Mymuna. 'The next stage is to invent our own games which I'm looking forward to.'
Witch hunt aside, it's already proving popular with the first City volunteers. Charles Clarke, who works in Morgan Stanley's technology and data department, volunteers at William Davis. 'When I first signed up as a volunteer, I had to go and meet the kids and attend an assembly, which was a bit frightening,' he said.
'I only spend an hour a week doing it – I'd encourage anyone to get involved. It's hugely rewarding and the programme is laid out for you so you don't have to prepare anything. You just get to spend time with the kids, which is great.'
Code Club would like more businesses across the UK to encourage their programmers to volunteer. So if your computing skills are up to scratch and you want to get involved in a 21st-century charity, get in touch.
To volunteer in the Code Club scheme, contact Laura Kirson: laura@codeclub.org.uk; 07739490233, or Aleka Bhutiani: Aleka.Bhutiani@fticonsulting.com; 020 7269 9356