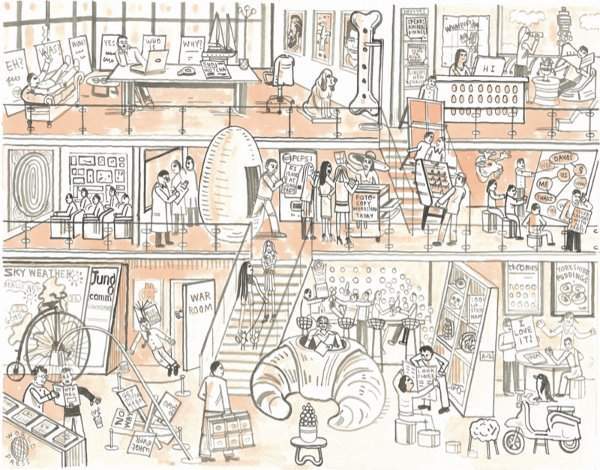 In the Family Way
Alexander Hoare, managing partner of C Hoare & Co private bank, reveals how enduring values underpin the success of a 300-year-old family enterprise
BUDDHIST ECONOMICS IS an unlikely inspiration for a bank, but it is an important chapter in EF Schumacher's Small Is Beautiful, which is an operating mantra at Hoares Bank.
We are a small bank. We have about 10,000 customers, a number which we have kept constant for four or five decades, and which makes us roughly one thousandth of the size of a clearing bank.
If you believe in economies of scale, a small bank providing the same services should not be able to survive in the face of much larger competitors. However, our cost/income ratio, capital ratios, and profitability are all better than the competition. In 2011 we were Private Bank of the Year in the CityWealth Magic Circle and Spear's Private Bank of the Year. What is going on?
First, it is easy to overlook the diseconomies of scale. While you can measure and demonstrate the economies of a larger dealing room, or the savings from merging two small banks, it is harder to identify the impact of colleagues who are competing for their jobs, the incompatible computer systems, the failure of offices to co-operate with each other.
Secondly, while we provide the same retail banking services, we compete on dimensions where we have a clear advantage over a larger clearing bank: relationship, flexibility, care, independence, and speed of service (to name just a few). These qualities are in demand, but we are clear that we can only supply them at small scale. It is important to us to know our customers personally, and we can only accommodate a small number — hence we turn away as many or more applicants than we accept. For example, we are able to turn around all decisions in 24 hours, only because we know each customer personally.
There are fundamentally two ways to grow a business. One way is to do more work, and the other way is to get cleverer. In attempting to remain at the same scale, we confront annually the latter challenge with the same number of staff and customers.
Independence means different things to different people. One facet of it is our ownership: the bank is owned by seven descendants of the founder, and our mission is to perpetuate a profitable family business. Of the seven of us, I am the first of the eleventh generation; there are two men and two women in my generation, one of them a ninth cousin.
The key distinguishing feature of our ownership group is that we are not trying to maximise profits. We are operating with unlimited liability, and consequently trying to optimise quality and minimise risk while making a living in banking.
Customers and staff like the fact that we do not try to push any investment or other financial products we have created (we don't have any), and as unlimited liability shareholders we draw comfort from the fact that we only deal in products and services we fully understand with people we know and trust. It saved us a bundle of CDOs, CLOs, synthetics and other sins!
Values play a prominent part in the bank. The guide to the bank given to all staff and our strategy say we treat customers as we would wish to be treated. In general we adhere to Christian values, and it has worked well for us so far (three centuries).
The second-generation partners built many schools, hospitals, churches and more, and we maintain a philanthropic tradition. We treat our charitable trust, the Golden Bottle Trust, as an eighth partner for drawings, and it is active in a wide range of things, from the Capital Community Foundation locally, to double-matching the staff who do Give As You Earn, to microfinance in the developing world.
AS WELL AS prompting over a third of our staff to give as they earn, we also encourage our customers in their philanthropy. For many years we have hosted seminars to explore topical issues, and more recently we have launched a donor-advised charity account (somewhat analogous to a Charities Aid Foundation account for larger donors). My most recent thrust is to deter people from giving from income without first exploring whether they could invest capital for social impact. The Golden Bottle Trust has made its first tentative steps in impact investing and among other things awaits the outcome of Social Finance Ltd's experimental bond, which expects to be rewarded by government for reducing the rate of reoffending by convicts released from Peterborough Prison.
In general, we never invite our customers to do anything with their money which the partners don't do with theirs. We use all our own services, and our other operating mantra is 'Kiss' (Keep It Simple, Stupid).
We think that partnership is an excellent ownership structure for risky businesses. In our case it has stood us in good stead in the current economic difficulties, as it kept the bank operating on very conservative policies. It also allows us to choose not to maximise profits and to be philanthropic, but it would not be appropriate for everyone: our shares return to the bank when we die or retire, so we are in effect trustees with a life interest. We will never get super-rich this way — but we work hard and are happy.
The partnership adopts modern governance. We appoint a board, chaired by Lord Wilson of Dinton, with independent non-executive directors to support us. The chief executive has a fully professional team to deliver the strategy, and it seems to work. There is constructive challenge between the owners, the board and the executives.
I am sometimes asked how we recruit good staff, and the truth is that while some people want to shoot the lights out at Goldman Sachs, there are plenty of others motivated to do a good job for a reasonable employer and to have a private life, too. We must do something right, as 20 per cent have worked here for twenty years, and some are in the second generation and others are in their third! At all times we try to balance the interests of staff, customers and owners, and try to make it enjoyable and socially useful.
I never wanted or expected to work at the bank — there hadn't been a partner in my line for five generations, but I happened to be a management consultant in it at the right time, 25 years ago. The family has a pool of over 1,000 living cousins to choose from and only needs a few partners with the right balance of skills at any time. In a typically British way, there is no constitution governing this.
During my time, the customer base has changed along with London. We still have landed aristocracy and lawyers, and we have many customers who have been with us for several generations, but London has become more cosmopolitan, so we are also bankers to entrepreneurs, philanthropists and many others. The main requirement of prospective customers is that they must share our values. The world changes (not always for the better), but our values remain absolutely constant, and are in demand.
We do this by remaining small and true to our philosophy, which is not far from Buddhist Economics — the whole system has proven sustainable over the last three centuries, and if we continue to harmonise the interests of profit, people and planet, it should work for longer.
I have often been known to say to other businessmen: 'My aim is to keep our business small,' or to say to entrepreneurs: 'My aim is to keep our family poor'!
Cartoon by Adam Dant
Both Matthew Freud's article Alexander Hoare's are taken from The Brewery Journal, a new publication associated with freud communications.
The Brewery offers a consultancy service to create or identify initiatives that can project the beliefs of a business, an institution or a cause, beyond the straightforward pursuit of profit.
freuds has been doing this work for many years but has now built a dedicated state-of-the-art off-site facility in the Cotswolds to differentiate this area of expertise from its core offering.
This first issue of The Brewery Journal is about businesses where the influence of the founder or subsequent family generations still looms large.
The contributors are a mix of significant figures with first-hand experience of the topic, freud consultants and journalists.
Also in the Journal are pieces from Gordon Roddick on selling the Body Shop to L'Oréal, a contribution from Martin Jenkins on giving psychological advice to billionaires, and Deborah Cadbury on the sale of her family business to Kraft.
Anyone wanting access to the full version of the Journal or to talk to freuds about the issues raised in it should email info@the-brewery.co.uk.