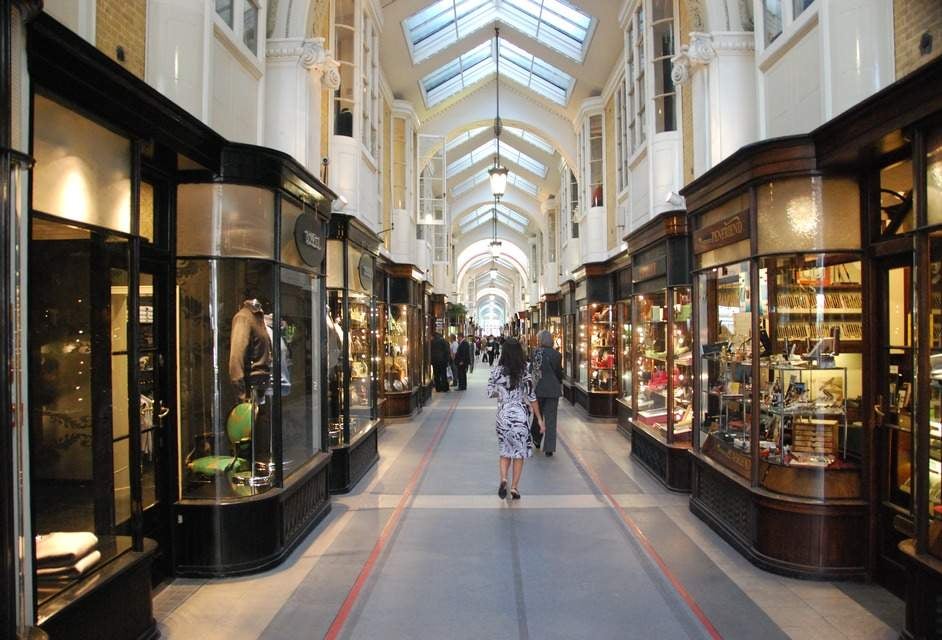 The luxury jewellers and perfumeries of Burlington Arcade continue to surprise and delight, writes Alicia Thomas
Piccadilly's venerable Burlington Arcade, that corridor of luxury across from the iconic Ritz, has come a long way since it was built on the orders of Lord Cavendish in 1819 to protect his property from the pesky oyster shells discarded by passers- by.
Nearly two centuries on, the much-loved arcade is home to luxury stalwarts such as N.Peal, Vilbrequin, Harry's of London, La Duree, and Richard Ogden, while recent arrivals include Chanel and Roja Parfums. That's an impressive list – and it has the architecture to match. Just two years ago, an elegant stonework floor was added by the meticulous architect Jamie Forbert, whose clients have included Turner prize winner Anthony Gormley, Givenchy and the Tate. That addition was inspired by the original early nineteenth century, Regency flooring – but Mayfair can always be forgiven its moments of nostalgia.
Today if you hear 'Burlington' you know what you're going to get: 21st century brands which offer a highly personalised service. Here all manner of good things vie for your attention. N.Peal – the store which also brought us Daniel Craig's sweaters in Skyfall – has a window-display of Mongolian cashmere: this collection has been pleasing the eye with its profusion of colours since the 1930s. Its current Spring/Summer collection includes cashmere capes, gilets and jumpers, in the trademark bold N.Peal style, which nevertheless doesn't preclude that personal touch.
A few doors down, is Richard Ogden, where the eye is dazzled by the great man's range of coloured antique gems. Downstairs is something truly special – the bijou ring room with its displays of engagement rings and old-fashioned cut diamonds. Ogden himself is an impressive and knowledgeable presence: 'There are no challenges only opportunities', he says, proceeding to tell his audience about the increasing dependency of the diamond trade on machinery. Not that Ogden sees any substitute for craft in his business – certainly many clients return to Ogden's store not only to buy rings, but to improve their long-worn pieces.
So far the eye had been the chief recipient of delight. But leaving Richard Ogden, we were tempted by a delightful fragrance – this was the first evidence of Roja Parfums, a luxury parfumerie created by Roja Dove in 2011. We move from room to room, amid a lavish palette of fragrances, until we are upstairs in a silk-covered intimate lounge, sampling exclusive perfumes which are beautifully presented in a multi-coloured array of diamond-lid bottles. To complete the experience, champagne was served. Prices range from £300 for Roja's simple collection to £1,500 for Roja's own fragrance: but the collection itself, 50-perfumes strong, is impressively diverse. No wonder then that Roja's client base includes Middle East royal families, not to mention Beyoncé. And to fashion your own scent? Well, that will be £40,000 to work one-on-one with Roja, choosing from Arabian oud, rose, or earthy tones to create the right fragrance for you.
Finally, a few doors down from the arcade, overlooking Albany and Savile Row is Pickett – a British luxury leather Goods Company founded by the flamboyant Trevor Pickett in 1988. This store relocated to Burlington Gardens in 2014, and has attracted international clients queuing up to try his leather goods – whether your need is for handbags or shoes, game board's covers or suitcases, Pickett can help. The integrated leather library has a variety of sources including ostrich, crocodile, shark, lizard and stingray. Pickett's goods have caught the eye of a healthy mix of clients, from businessmen to Arab royalty.
Burlington remains a weird and wonderful place – it is at the cutting edge of high-end luxury. The word that keeps coming up is 'bespoke'. It's a reminder that nowadays, you must adapt to keep your UHNW clients happy – and those who manage that will have an impressive, and often royal, client base to show for it.
Alicia Thomas is a researcher in the Spear's Research Unit.