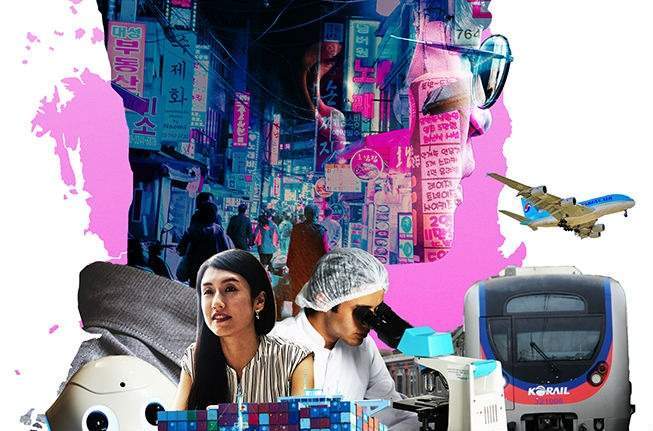 South Korea has reinvented itself and is thriving with the help of free trade agreements – so is it a model for the UK to follow? Ed Targett pays a visit
Seoul, the early hours of the morning: a torrent of revellers pours on to the street as bars in the drinking area of Hongdae begin to close. The aroma of barbecue, kimchi and soju wafts past neon signage as a horde of youngsters enjoying a night on the town declines to disperse. Your correspondent's companion, a battle-hardened cocktail reporter for a major New York publication, raises her eyebrows: 'I have never seen anything like this!'
Later, seeking more sophisticated delights, we'll slip through an unmarked door and past unobtrusive security at the Four Seasons into the Charles H bar – named after cocktail writer Charles H Baker – where head bartender Lorenzo Antinori is mixing devilishly good drinks for a multicultural crowd of cocktail connoisseurs. (We start with a 'Magic Tree': Bourbon, Oloroso, aloe vera, black vinegar and raisin tree bitters. It packs an elegant punch.)
South Korea, the uninitiated should know, plays hard.
Perhaps this should be expected: it certainly works hard. Few countries have transformed as much as South Korea has over the past half-century, with few natural resources to thank. A spirit for innovation, world-leading levels of research and development investment and a famous work ethic have seen it transform from pre-war agrarianism (and postwar rubble) into a global export powerhouse, and, increasingly, a regional cultural hub to boot.
This 'economic miracle' is a complex story that has been told at great length in the pages of many hallowed publications. Spear's was not in town to rake over those coals (though we will note that per capita revenue has soared from just $100 in 1963 to $30,000 today).
Rather, from a well-appointed penthouse in the newly opened Conrad Hotel – sweeping views of the Han river from the city's financial district of Yeouido, impeccable
service and pleasingly capacious rooms – we sought to take the temperature of a nation that is top of the list for a post-Brexit free trade agreement (FTA) and assess whether it is a caution, inspiration or opportunity for Britain.
Dr Liam Fox, the Secretary of State for International Trade, is unequivocal that it is an opportunity.
'The Asia-Pacific region will be a major engine of global growth in the 21st century and strengthening our established trading relationship with South Korea is high on our agenda,' he tells Spear's. 'The UK and South Korea are some of the best places to do business in the world. Trade between our two countries is growing rapidly and will grow stronger in the coming months and years.
'We are currently working with South Korea to transition the EU-South Korea free trade agreement into UK law after we leave the European Union. The UK and South Korea have a trade working group which discusses barriers to trade and investment, wider global trade issues, as well as how to ensure continuity for business and explore future trade and investment opportunities following the UK's exit from the EU. And visitors will note growing demand for quintessentially British products.'
There are certainly more than a few Jaguars on the roads here, a pair of Marks and Spencers, and a trio of Burberry stores. They are a gentle reminder of another surprise South Korea has in store for the casual geographer: despite being home to the world's largest semiconductor maker in Samsung – which overtook Intel after 50 years in 2018 – and well-established automotive and shipbuilding industries, the nation's economy is actually now dominated by services. Consumer purchasing power is also higher than many give it credit for (estimated by the IMF to be $39,387 in 2017 – just below the UK's). Among recent British exporters taking advantage of this fact is craft brewer Brewdog, which has opened a brewery and bar in the popular nightspot neighbourhood of Itaewon.
Investors may be pleased to note that a country once seen as fundamentally hostile to foreign direct investment and somewhat nativist is now ranked by the World Bank as the sixth easiest place in the world in which to do business – ahead of Ireland, the US and, yes, the UK. It is still an export powerhouse today, though: South Korea trades globally via an eclectic array of hard-won free trade agreements – including with the ten-state ASEAN region, plus Australia, Canada, Chile, China, Colombia, India, Peru, Singapore, the EU, the US, and Turkey. It is that South Korea-EU FTA that Dr Fox is working to transition into UK law.
The British beneficiaries of that existing deal have been myriad, and any abrupt return to pre-FTA tariffs would be a kick in the teeth for British exporters from industry and luxury fashion brands, which are increasingly popular with South Korea's well-heeled consumers.
British carmakers have also benefited from UK-Korea trade: in just five years the export of British-made cars to South Korea has soared by 458 per cent. They come with competitively priced fuel from the North Sea too: British oil exports have benefited significantly. Under the terms of the FTA, EU oil exporters can sell tax-free to South Korean refineries, and with Iranian sanctions back in place, exporters have been taking full advantage.
Dr Ramon Pardo, a professor of international relations at King's College London, tells Spear's that while trade deliberations rumble on, British policy-makers could learn a thing or two from Seoul.
'South Korea tops innovation rankings and indexes such as Bloomberg's and the International Innovation Index,' he says. 'While the UK is also very innovative, the South
Korean government spends more in this area as a percentage of GDP and has closer cooperation between government and private firms. This has allowed South Korea to become a world leader in capital-intensive sectors such as robotics, shipping, automobiles or semiconductors. Without such government-private sector partnerships, at least in the early stages, South Korea would not have been able to lead in these sectors. I think the UK government could be better at working together with the private sector to
improve innovation.'
He adds: 'South Korea also has excellent transport and communications infrastructure. Its airports, railroads, internet network etc are top-notch; certainly better than the UK's. This is largely due to the government prioritising investment in these areas in a way that the UK government is unwilling to do.'
That is not to say everything is rosy on this peninsula. A nuclear-armed, sabre-rattling dictatorship is nobody's idea of a good neighbour. More of concern to locals are
other macroeconomic and geopolitical headwinds: China's slump – and its move up the manufacturing value chain on to South Korea's turf – and the increased volatility of long-standing security guarantor and export partner the United States.
Yet whether it is from the streets of Hongdae, a stool in the Charles H bar or a walkway next to the late Zaha Hadid's striking new Dongdaemun plaza in downtown Seoul, the overriding sense is one of energy and resilience. Coming from Tokyo, it feels like landing in Berlin from Paris: one sprawling, faintly anarchic, full of vim; the other ordered, arch; faintly brittle. It feels like the future; a flawed, ingenious, troubled, but nonetheless thriving future. Spear's will be back, FTA or no.
Photo credit: Ben Challenor, Picryl and Pixabay
Ed Targett is editor of Computer Business Review and formerly lived and worked in Seoul