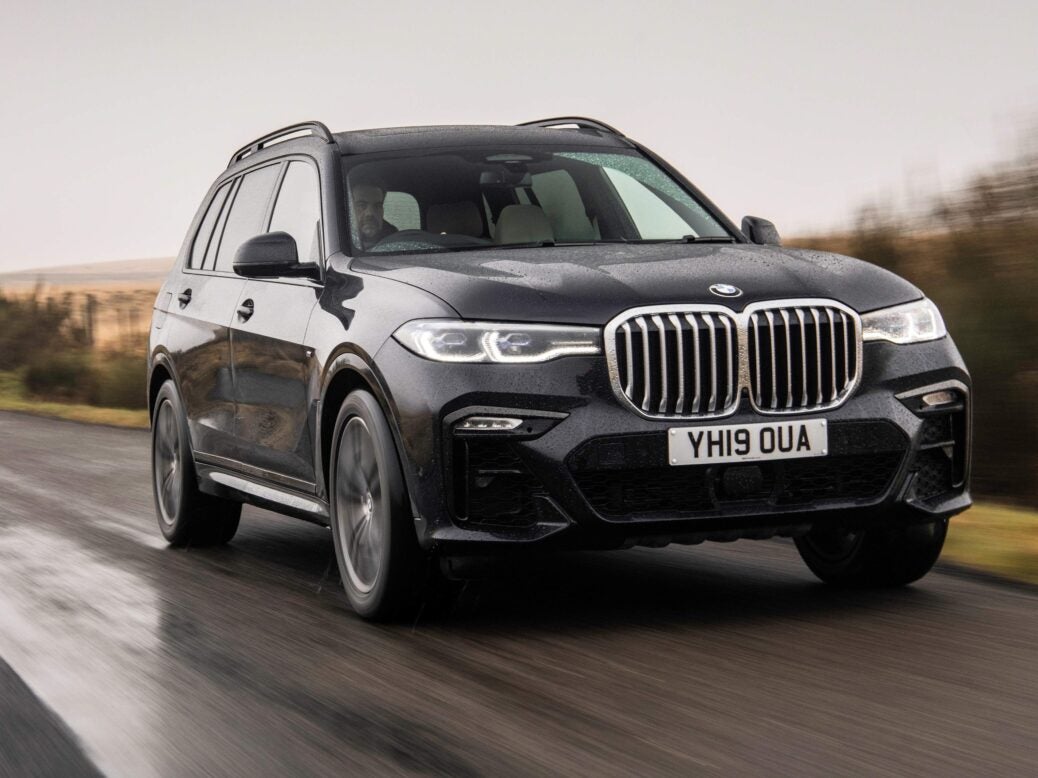 Mammoth 4×4 hides its size well from behind the wheel, writes Gareth Herincx
If ever there was an automotive equivalent of brutalist architecture, the all-new BMW X7's front end has to be a strong contender. Squared off and sporting the biggest kidney grille and 'roundel' badge ever seen on a BMW, its looks are divisive.
All I would say is that it's not nearly as challenging in the metal as some pictures suggest. As you can see, elsewhere it's more like the rest of BMW's 'X' family of SUVs.
However, there is no getting around the size of the new X7, which sits above the X5 and X6 'Coupe', finally giving the German giant a luxury 4×4 to compete with the Range Rover and Mercedes-Benz GLS. At more than five metres long, two metres wide, more than 1.8 metres tall and weighing in at 2.3 tonnes, it's the biggest BMW ever.
Available as a seven-seater as standard, you can also opt for a more limo-like six-seat configuration with a pair of individual "captain's seats" in the second row, instead of the regular bench.
There's a choice between three six-cylinder 3.0-litre engines – two diesels with different power outputs (badged 30d and 50d), plus a (40i) petrol. The 261bhp 30d is predicted to be the most popular. It has a 0-62mph time of 7.0 seconds, can hit 141mph, while fuel economy is up to 33.6mpg and CO2 emissions are 171g/km.
The 50d packs a more powerful 394bhp quad turbo and can make 62mph in 5.4 seconds, topping out at 155mph. CO2 emissions are 185g/km and fuel economy is up to 31.4mpg.
If you prefer petrol, then the 40i produces 335bhp, delivering a 0-62mph time of 6.1 seconds and a top speed of 152mph. Fuel economy is up to 24.8mpg with CO2 emissions of 198g/km.
Frankly, if you're looking for the best combination of performance and economy, look no further than the entry-level 30d. The 50d is a step up in terms of power and sounds fruitier, while the 40i is a smooth and responsive, but on the thirsty side.
Whichever engine you choose, the X7 is a comfortable, refined cruiser and it's expertly assembled at BMW's Spartanburg plant at Savannah, Georgia, in the US.
As you'd expect, there's no shortage of space inside the luxurious cabin. Naturally, there's a commanding driving position and on the bridge it sports BMW's latest infotainment system with two 12.3-inch digital displays – one in front of the driver and the other dominating the centre console.
The tech is slick and intuitive, while the general look and feel is one of minimalist simplicity and quality materials.
There's no problem with legroom in row two, even with the seats pushed slightly forward to allow extra space for passengers in the third row. There's a slight clamber to get in, but it is genuinely possible for six-foot adults to sit in the two rear seats, which is rare.
With all seven seats in use, there are 326 litres of luggage space (about the size of a family hatchback's boot). This can be expanded to 750 litres with the third row flipped, and a cavernous 2,120 litres with rows two and three down, accessible via the handy, powered split-tailgate.
Available from £72,315 – £88,215, the BMW X7 is competitively priced, though it's not difficult to spend closer to £100,000 when you start ticking the extensive options list.
The X7 is surprisingly agile for such a mammoth car. It's more composed on country roads than some rivals with body roll in check, while all-wheel drive traction is excellent, and the steering is both precise and well weighted.
The real revelation comes with the optional 'xOffroad' package which offers settings for gravel, sand, rocks etc. Again defying its size, the X7 is more capable than you might think, effortlessly coping with a fairly challenging route over rough stuff in the Scottish Highlands
.
BMW is not claiming that it's a match for the Range Rover's legendary 4×4 antics, but it's more than enough for most buyers and will certainly cope with those odd days of extreme weather when an SUV comes into its own,
It's safe too. Awarded a maximum five stars in Euro NCAP crash testing, it has a full suite of driver assistance aids and safety kit, plus an autonomous driving feature which will steer the vehicle in adaptive cruise control mode.
The all-new BMW X7 is an impressive piece of kit, filling an important gap in the German brand's SUV range. Spacious, safe, plush and surprisingly dynamic, it's a class act.
Garth Herincx writes for Spear's